Head and brain injury are two of the leading causes of fatal injuries in accidents involving motorcycles. 
Back in 1914, a medical officer who went by the name of Dr. Eric Gardner was stationed at the Brooklands race track. Now, this was from a time where safety standards were extremely lax. Unsurprisingly, he saw a biker with a fatal head injury brought over to his clinic every two weeks. 
Having had seen enough young men come in gravely injured every two weeks, he tried every method possible to find a solution against this. Eventually, he had an architect procure a helmet comprised of canvas and shellac. The material, and by extension the prototype, was considered tough enough to hold its own against a heavy impact.
It was initially rejected by the Auto-Cycle Union (the governing body of motorcycle sport in Great Britain). But upon further inspection, they discovered how important the prototype was as a safety measure against head trauma. 
They found it so important in fact, that wearing a helmet was made compulsory for motorcyclists participating in the Isle Of Man TT races the first time in history, that year.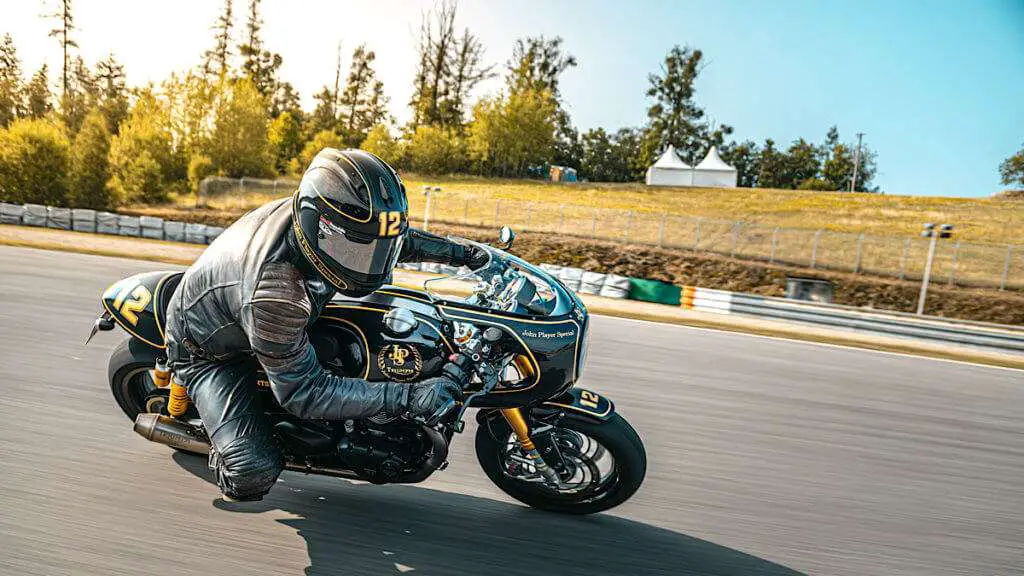 Initially, a lot of riders objected to this. In a time before bike helmets, something halfway between the armor of a medieval knight and the headgear of an 1800s infantry soldier wasn't exactly appealing. Gardner took 94 bike helmets to the Isle Of Man himself, trying to persuade other riders into buying it. 
Ironically, one of the riders who was reluctant at first but grudgingly agreed to wearing a helmet later had the exact same helmet save his life – because he got into a crash. One that would have been fatal without Mr. Gardner's prototype.
And from that point onward, motorcycle helmets slowly gained popularity until they exploded (catalyzed by T.E. Lawrence's tragic death)- into mass production.
Like we said- head and brain injury are two of the leading causes of fatal injuries in accidents involving motorcycles. And wearing helmets reduces the risk of head injury by almost 70% and death by nearly 42%. Which is part of the reason why we've written so many articles on them.
Despite this, a lot of people dislike wearing helmets. Because "they're annoying". In fact, part of the reason so many young people grudgingly wear motorcycle helmets is because it's enforced by stringent fines & penalties (which, ironically, are a better deterrent than, you know, the very real possibility of death).
And that's because safety doesn't usually co-incide with sexy. It's a weird sense of rebellion associated with looking cool.
But what if you could look cool and be responsible at the same time? Because we've found a way around that.
We've compiled a list of incredibly badass motorcycle helmets that also fulfill their original purpose. Full-face helmets, open-face, modular, off-road- these helmets are all across the board.
The following 6 examples of cool helmets are proof of this.
NECA Master Chief (HALO Helmet)
A replica from the HALO series (the flagship video game series of Microsoft's Xbox series), this helmet is an almost exact replica of the headgear worn by Master Chief Petty Officer John-117. It's also limited edition.
The styrene, UV-protective helmet may look warm on the inside with its cyborg badass exterior. But it actually feels very cool to wear- the rear exhaust vents and center pad contours allow for warm air to escape. Adding to your comfort level- the removable EPS cheek pads feel amazing against your skin. 
The helmets also come with a lot of  space. In fact, the design allows you to wear eyeglasses without feeling congested at all.
HJC Marvel Ironman Motorcycle Helmet
No products found.
No products found.
"Well, performance issues, it's not uncommon. One out of five…" (Tony Stark's response to Loki failing to hypnotize him, The Avengers 2012)
Genius, billionaire, playboy, philanthropist. The English diction isn't vast enough to cover the hilarious, cool aura of Tony Stark.
But this replica does a damn fine job of covering Iron Man's helmet.
The advanced polycarbonate composition of the shell makes the helmet very lightweight. The computer-aided design makes the fit of the helmet extremely comfortable and well-fitting. Multiple layers of EPS make up the helmet lining- and this absorbs most of the impact sustained. 
But the coolest part is the one-touch integrated helmet glass, which also comes with UV protection. Your friends are going to be mind blown when you get off your motorcycle and unveil your face Iron Man style.
ScorpionExo Covert Matte Black Helmet
With the cutting-edge LG Polycarbonate shell as its composition, the Scorpion Exo barely weighs 4 pounds. But the weight has no bearing on the sheer badassery this helmet exudes. With the aesthetics resembling a cross between pilots who used to fly WW2 fighter jets and the type of motorcycle helmets dirt-bikers use when shooting montages for RedBull over canyons, you're bound to receive an endless array of compliments.
With a tinted face shield that you can retract at any time, the UV-protective screen eases the pain on your eyes at all times. The visor is also specialized for night-time riding. The design is so versatile that you can switch between a half helmet and a ¾ open-face helmet at any time.
The EPS ventilation system is designed to allow as much airflow as possible in the helmet make it extremely comfortable to wear, even while riding in hot weather.
HJC Star Wars Storm Trooper Motorcycle Helmet
DOT approved, this helmet is perfect for every day use. While serve a dual role as a fantastic piece of memorabilia from the Star Wars franchise.
The polycarbonate composition makes it extremely lightweight (barely 4 pounds). The use of advanced CAD technology makes it a superior fit for most skull sizes as well.
The shield provides protection against 95% of U.V. rays. It's also scratch resistant.
The ACV system allows for full front to back airflow in the motorcycle, making you much less likely to sweat, even in hot weather.
The shield replacement system follows a simple ratchet mechanism – one that offers continuous rotary motion- for tool-less removal and installation.
GDM DK-120 Full Face Helmet – Matte Black
The most traditional looking helmet featured in this list, the GDM DK-120 Matte is as classy as it is badass.
With a sizing chart with fits for everyone from homo sapiens to neanderthals (and that's only a slight exaggeration), the GDM DK-120 is one of the more affordable helmets in this list, partly because of GDM trying to make the helmet appealing to everyone.
With a poly-alloy composition responsible for the helmet's low weight relative to its appearance, the helmet design is also aerodynamic. The cheek pads and liner are removable and washable as well.
Fatmingo German Style Half Helmet with Goggles
No products found.
No products found.
Not all of you ride Harleys with thumping engines. Some of you, due to either age, location or financial constraints (or just personal preference) prefer two wheelers with an engine below 150cc.                                                        
We don't want you to feel left out. The Fatmingo German is one of the most affordable helmets on the market, offering incredible value for money. The shell, comprised of styrene, is impervious. In tandem with the high-density foam lining, it offers tremendous absorption of impact force. 
With extremely comfortable lining and a chin strap one touch buckle, it's also a breeze to use.
Conclusion
The list we've compiled contains 6 of the coolest motorcycle helmets that we picked out, with the criteria matching both popular opinion and our own opinion. That being said, aesthetics should never take precedence over precaution. 
If a cool motorcycle helmet that you think looks great isn't available for whatever reason, do not go with one with subpar safety standards. 
Because good helmets are generally on the expensive side, you need to thoroughly evaluate the safety settings before you jump the gun (which both the Snell Memorial Foundation and Department Of Transportation provide you more than enough information to work with).