I'll say it: 300$ is no small figure. No matter how non-broke you are. For us motorcyclists, that means sorting your budget to help you ride better. But you're here because of the title, so you're already down the right path.
Cardo and Sena are the Apple and Samsung of motorcycle Bluetooth communication systems– and for good reason.
These giants help improve our rides in a way that our biker ancestors, Homo Motorcyclus, would envy.
GPS navigation, voice command, FM radio with decent sound quality all within the confines of your helmet.
Some of you are wondering what the big deal is.
Well…
My first cross-country ride was sort of a rite of passage for me. It included the Utah 12.
Nothing beat those breathtaking sights- the canyons, moonrise, rare animals- that I saw because of the hours upon hours I'd spent getting there. But most of those hours were spent on vast stretches of a boring, sometimes dangerous road. I had to take my phone out every half hour.
The sense of freedom was exhilarating. All between me and the road were two tires, rotating at over a hundred miles per hour.
But… that freedom could have been better appreciated hadn't I spent a huge part of the trip mind-mapping.
That ride fell short of being one of the best moments of my life by a very small margin.
Why?
Because the kind of technology this article is about wasn't present back then.
So this is to help you not fall short.
Pros of each
Cardo Freecom 4+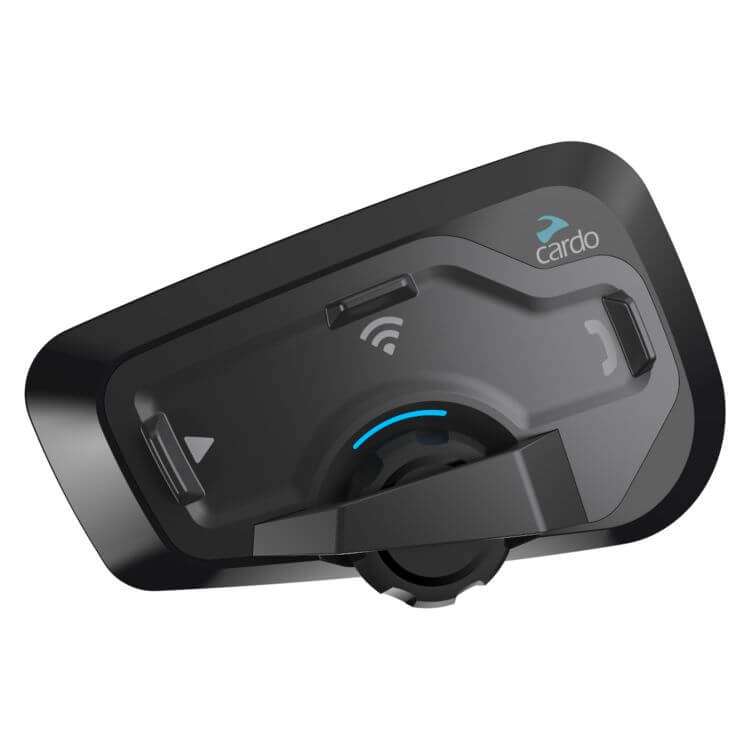 Hey Cardo!.
That's all you need to kickstart the Freecom 4+.
No, really.
Remember the incredible natural voice-command operation present in previous communication lines? Well, it's even better now. But that's not all that this bad boy packs.
Cardo also partnered with JBL. You read that right. 40mm speakers. You immerse in the background.
The Freecom 4+ also comes with FM radio with RDS and hybrid/ corded microphones (exchangeable). Bluetooth 4.1 technology with 2 channels is present too.
It also allows conferencing for a 4-way bike to bike setup at distances up to 1.2 miles. Good news for group rides.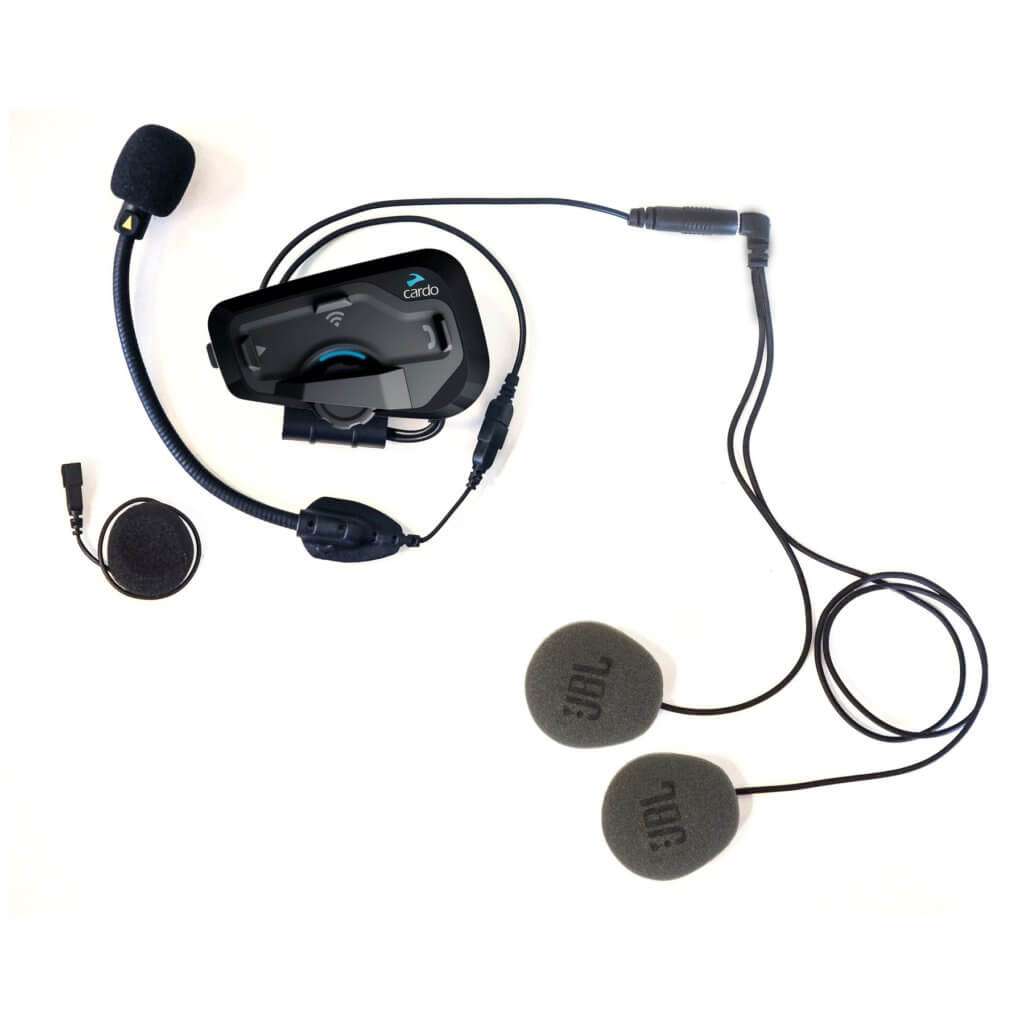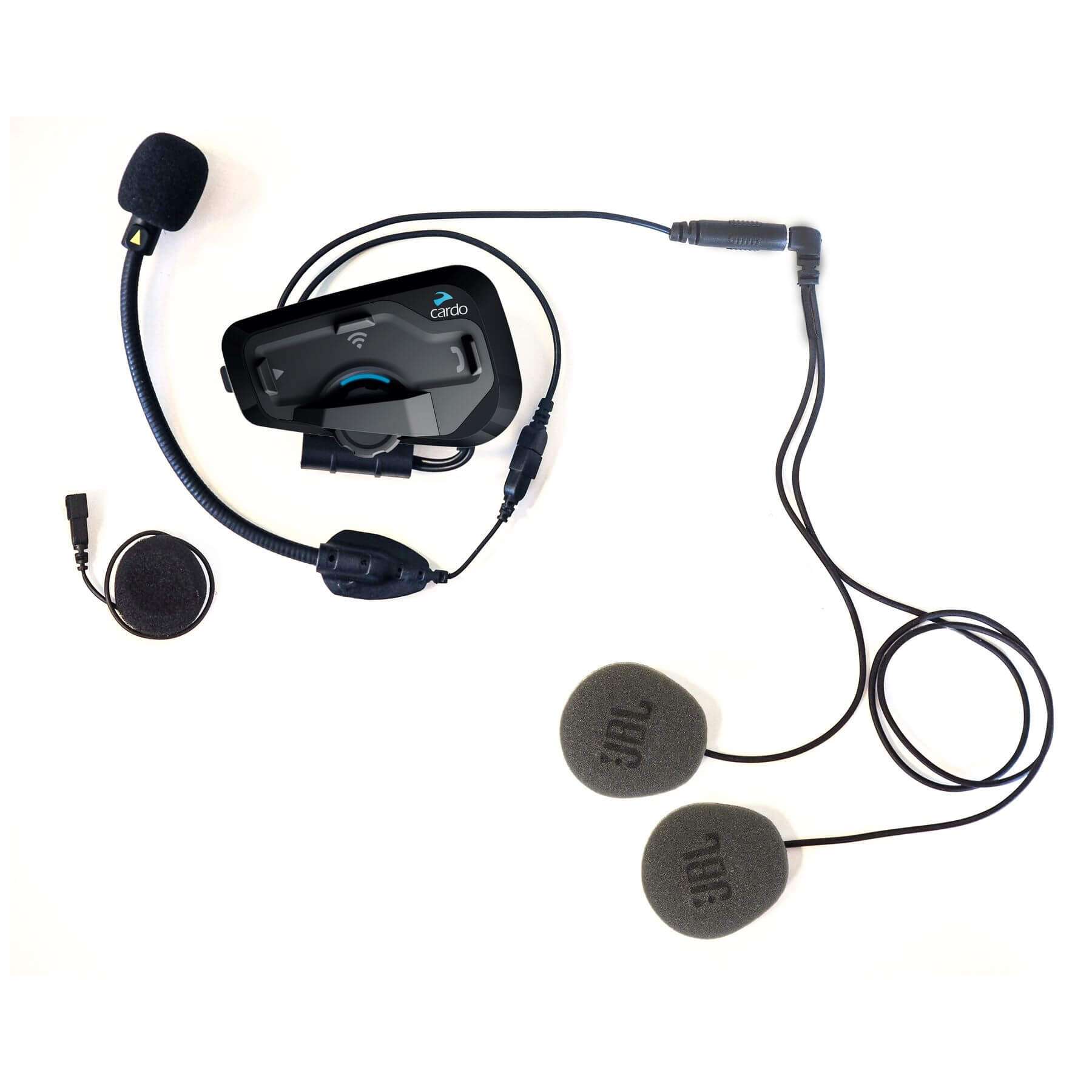 Features
An impressive voice command system
JBL 40mm speakers
FM radio with RDS/radio sharing
Interchangeable hybrid and corded microphones
Cardo Gateway (for communication with non-Cardo devices)
2 Bluetooth channels
Bluetooth 4.1
4-way bike-to-bike conferencing with long-range
Cardo Connect App
Dust/waterproof
Up to 13 hours talk time
Sena 20S EVO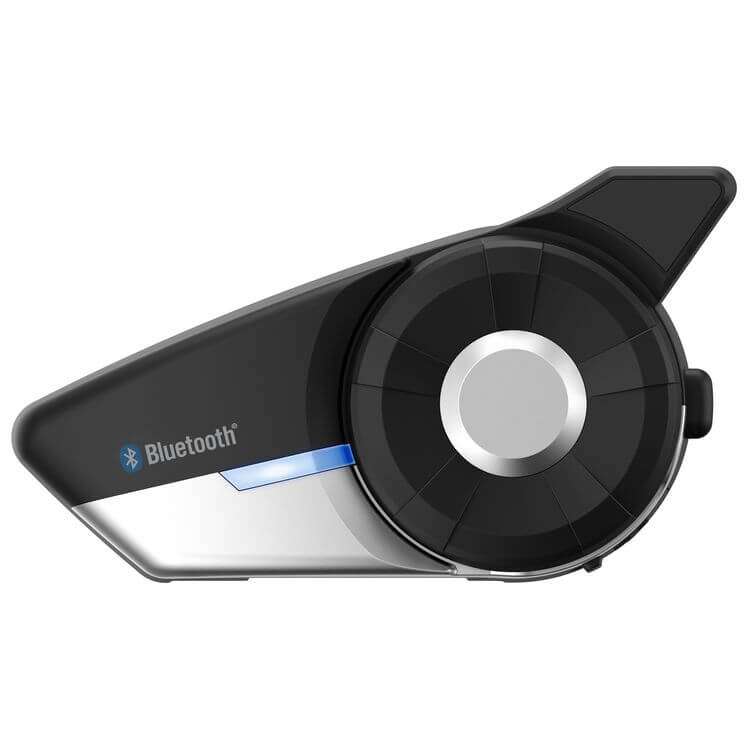 The 20S was thought to be the best of its kind when it first came out.
Upgrading must have been hard for the manufacturers. Somehow, they still delivered
The EVO has improved upon many of its predecessor's eminent features. Most notable being the replacement of the flip-up with the shark fin antenna.
This means that it still retains the same intercom range of distances up to 1.2 miles, but the signal is much more strong. Hence, better clarity and less disturbance.
They maxed out the ergonomic potential with a jog dial as well, making it extremely user-friendly.
One of the best parts is the Audio Multitasking. This blends the received and transmitted audio transition seamlessly- resulting in a listening experience feel unnervingly realistic. A huge upgrade compared to the interruption-based BlueTooth tech we had prior.
Speaking of Bluetooth, the 20S Evo also has the industry's first dual Bluetooth module communication system.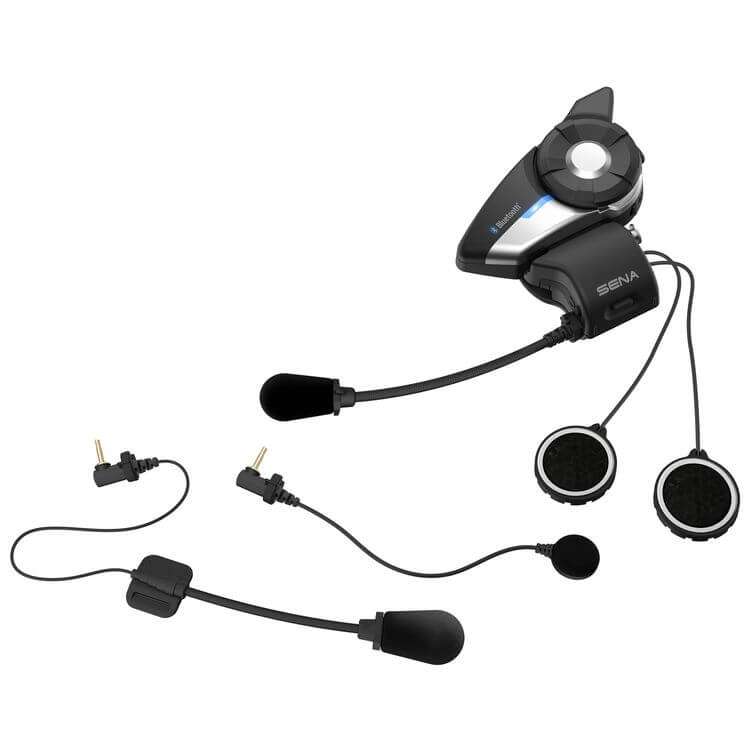 Features
Bluetooth 4.1
Integrated shark fin antenna
dual Bluetooth module communication system
Advanced Audio Multitasking
Intercom distance up to 1.2 miles (open terrain) between 8 participants
Built-in FM radio with RDS AF
Remote control support
Battery- 13 hours (Talk time)
Cons Of Each
Freecom 4+
The FC4+ is lauded for its crisp, clear audio and impressive voice command. It delivers everything and then some for its price tag.
Yet, one unfortunate area where it falls behind is customer service. Cardo e-mail support, in particular, has been reported to fail at answering various queries w.r.t complaints new users do not expect.
Another complaint widely reported is the lack of sound profiles on the JBL app for the Cardo Connect App. You may be disappointed with the lack of JBL profiles after discovering that only one Standard Profile exists.
Unsatisfactory customer service
No JBL sound profiles present
Sena 20s EVO
The EVO has been acclaimed for its revolutionary shark-fin antenna and dual Bluetooth modal communication system. But it is not without its drawbacks.
While the intercom range is satisfying on highways, the same can't be said for higher altitudes. Sometimes, even curves on mountainous terrain can cause slight disrupt in communication.
Also, while it has noise cancellation, it is difficult to hear well at high speeds due to wind interference. It is to be noted that volume distribution, when paired with more than one device, was reported to be uneven.
The range on higher altitudes less-than-satisfactory
Not very wind-proofed
Uneven volume distribution between paired devices
Most common customer complaints
The Freecom 4+ and 20S Evo are two of the best BlueTooth communication systems out there. However, they aren't spared from the inevitable manufacturing defects from mass-producing an object.
These will be immediately rectified as you can get them replaced. However, keep on the lookout for the following:
Upon receiving the Freecom 4+:
A considerable amount of units come with the firmware version 1.0/1.1 which is NOT compatible with the Cardo phone app. If this is the case, kindly e-mail Cardo and they will direct you to a .exe file you can download to update the firmware.
Some may find the instruction booklet complicated.
Upon receiving the 20S Evo:
Customers report the music volume being too low. Especially true for windy/high terrains, you may have to strain yourself unless you're blasting some AC/DC
While the quality of communication between two riders is excellent, it falters the more people join the intercom. You may not catch every syllable of the conversation when in a conference with more than 4 people.
So which of these is the best for me?
Now you know that if you have anywhere between two and three hundred dollars to spend, the Cardo Freecom 4+ and the Sena 20s EVO are victor ludorum in Bluetooth communication systems.
We get that the high price tag may be off-putting to some, as mentioned at the beginning. But you can go on Google right now and find thousands of customers around the world who confirmed that their purchases were well deserving of the lofty prices.
Let's go over the similarities
Bluetooth 4.1 technology: This is a big one. 4.1 one means none of your 4G/LTE signal products interfere with the comm system.
Conferencing with a decent range: Allowing sharing of an intercom for distances up to 2 km or 1.2 miles, this means a very low chance of someone getting too far ahead or behind when riding in groups.
Built-in FM radio with RDS (Radio Data System)
Dual microphones
Battery life: Both have nearly equal battery lives (talking time of roughly 13 hours).
For those of you who are apprehensive about any of these points, be assured in this regard- you'll be fine with any purchase.
But there being so many different factors playing into how you find your sound system (like any product), I can't objectively tell you what to go for.
So I've drafted a couple of subjective points- to help you figure out which of these is best suited to your needs.
Subjective Points
Price: While this varies depending on the merchant website, the EVO is generally priced slightly higher than the FC4+. The margin is not huge but isn't negligible either.
Durability: The Freecom 4+ is IP67 waterproof and dustproof. The EVO is not as hardy.
Conferencing limit: The Sena allows twice as many people to share the intercom as the Freecom 4+. But this also causes the quality of communication to falter.
Audio multitasking: The Sena 20S beats the Freecom 4+ with its Bluetooth communication design. Instead of being interrupt-based, the input/output sound transmissions blend seamlessly. The result is a natural listening experience.
Music/speaker quality: The Freecom 4+ has the slight edge here- the JBL 40mm stereos really help. While the Sena does not lack in this regard at all, it does not have that extra 'mmph'.
Voice command: The Freecom 4+ has a better voice command operation.
Intercom quality: The EVO has a more crisp feel to it due to its shark-fin antenna.
Remote Control Support: Only present in the 20S EVO.
Conclusion
The Freecom 4+ and 20S EVO are beautiful products in their own way. What suits you best depends on what factors you personally value.
I did the Utah 12 again last month, with a Bluetooth comm system.
The moon was above me and I looked up at the stars and the planets and other dots that were billions of years old. The whole thing gave credence to the Alans Watts lecture that was blaring from my system.
And I realized how insignificant we really are when you consider everything. I always knew it, but at that moment, I knew it.
And I felt grateful for the advance in this beautiful technology that helped me feel that.
As I mentioned, no one should be allowed to fall short of experiencing stuff like this. Especially not with the tech we have nowadays.
Now go over the article again, and decide what you want to buy.
"Sometimes it's a little better to travel than to arrive."

-Zen and the Art of Motorcycle Maintenance.