A motorcycle dash cam is mounted for a variety of reasons. Sometimes, the user fixes it on for safety reasons. Others recognize it as a tool for recording interesting and exciting trips that are worth reviewing and gloating over at a later time.
Whatever the reason for deploying them, their owners want to get optimal performance from them. The length and quality of video footage are two things they look out for. It's also important that they're able to withstand various kinds of weather conditions since bikes are exposed to the elements when on the road. 
The Innovv K2 and Sena Prism are some of the best-known dash cam options for motorcyclists. Aside from the fact that they deliver excellent footage in all weather conditions and can better withstand the impact of the elements, the Innovv K2 and Sena Prism have their individual strengths and selling points.
To help motorcycle owners choose between these two popular motorcycle cameras, we'll take a look at what makes them tick, their pros and cons and unique characteristics.
The Innovv K2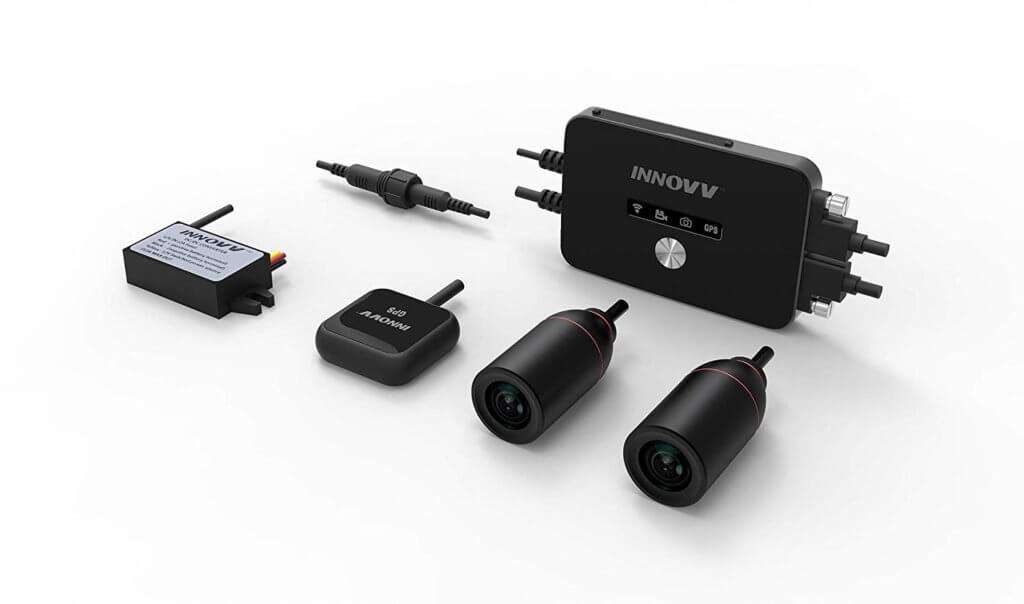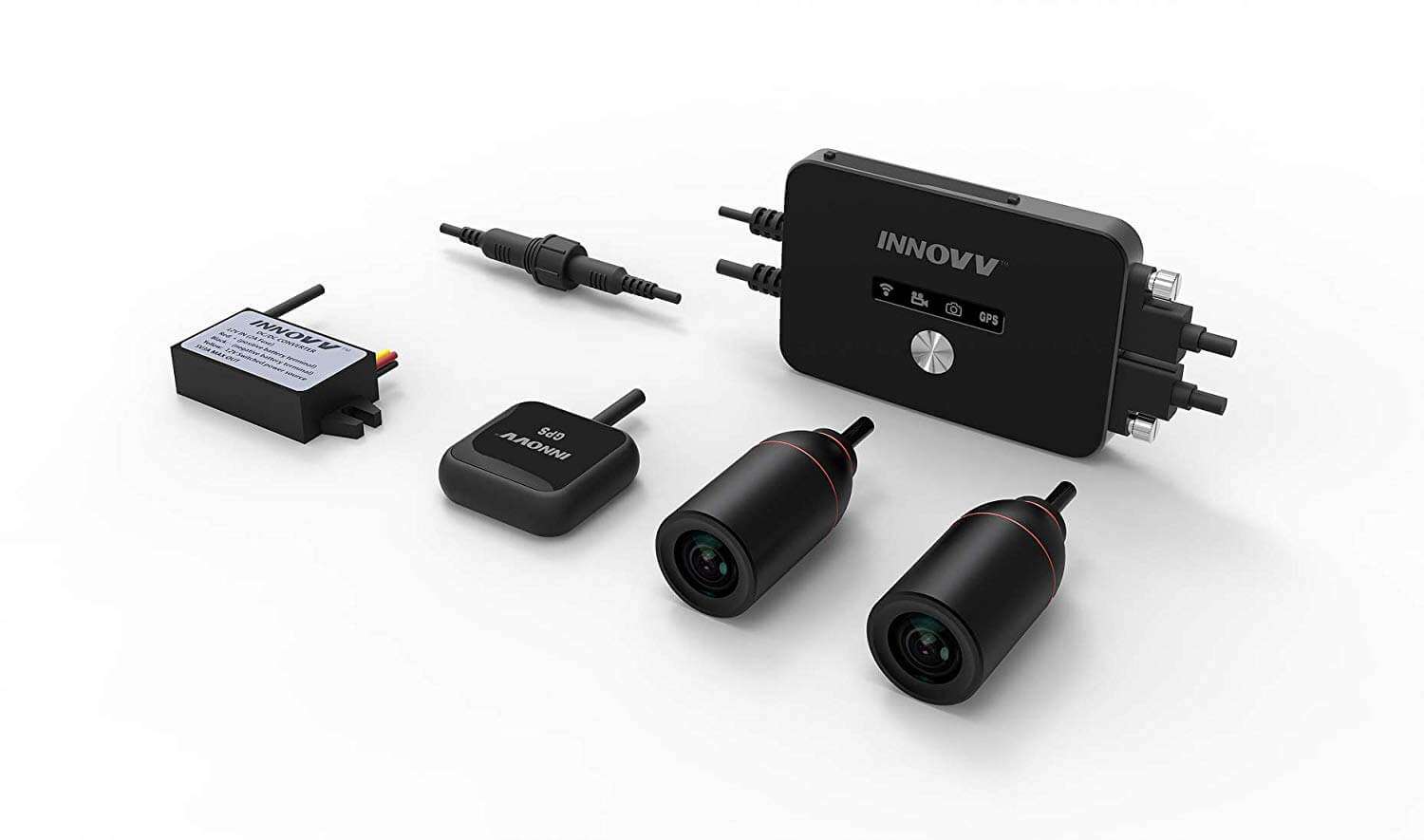 The Innovv K2 was modeled along the lines of its predecessor the Innovv K1 and was intended to improve on the latter's features. Existing reviews of the product suggest that it succeeds in this respect. 
The Innov K2 is marketed as a simple and rugged motorcycle dash cam…a fairly accurate description. It has a front and a back camera, with lens casings made of aluminum. The DVR casing is also made of metal; its makers have obviously set out to make the key components of the product sturdy enough to withstand normal pressure and collisions.  
Many dual-camera system dash cams have rear cameras that yield low-quality videos. But the Innovv K2 guarantees equally good image recordings from both its cameras. The images it captures are in full HD 1080p video at 30fps. Its V-log mode bears out the details of the environment it films, and 'casts' the riding experience in a way that makes it look like a live experience the viewer.      
Video features
The visibility, at about 120 degrees for both front and rear cameras, is pretty good. 
The camera is controlled via a dedicated app installed on the users' phone, and connected to the device via WiFi. The app allows its users to share video recordings over digital media. Videos can also be tagged, with speeds and locations overlaid on video files.      
Camera recordings are stored on an SD card; the memory drive compartment can accommodate SD cards of up to 256 GB. The system is designed to loop recordings and overwrite old files when the memory is full. It does this without notice to the user.
As such, users might have to format their cards on a regular basis, depending on how much content they record and how frequently they do so. Of course, the smart thing to do would be to run with a larger capacity SD card. 
The elements aren't a problem for this dash camera. It's rainproof; it functions just fine during storms and driving rain. It can also withstand extreme temperatures; its parent company says it carries on whether its freezing cold or as hot as the Sahara.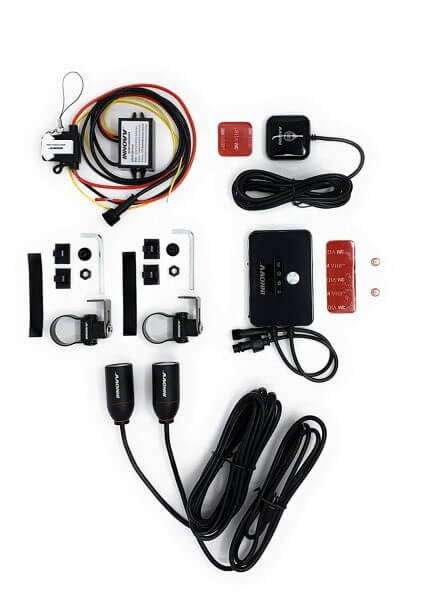 Power is taken care of by a smart power supply module which turns off when the vehicle isn't running and comes on when the bike is switched on. This function brings a security benefit with it: if someone tries to ride the motorcycle without its owner's knowledge, the camera is automatically powered to life and begins to record the sinister activity.
Installation
The Innovv K2 is easy to install. Everything that's needed to set it up is contained in the product package. It should take no more than an hour and a half to insert the various parts into the head and seat of a motorcycle. Another security feature comes in here too: the camera lends itself to being set up discreetly, so that it picks up movement without being noticed, and can't be easily removed by persons with malicious intentions.
Pros & Cons
Advantages
The key components are sturdily built.
Both front and rear cameras produce high-quality footage.
The speed of the riding exercise can be captured, and the video file can be geotagged.
It's easy to install.
Disadvantages
It doesn't come with built-in steadying functions.
It takes a long while to download files from the SD card using WiFi. Download times of about 1 hour for an hour-long video have been reported.
The footage isn't as good as what's obtainable with a GoPro action camera.  
The Sena Prism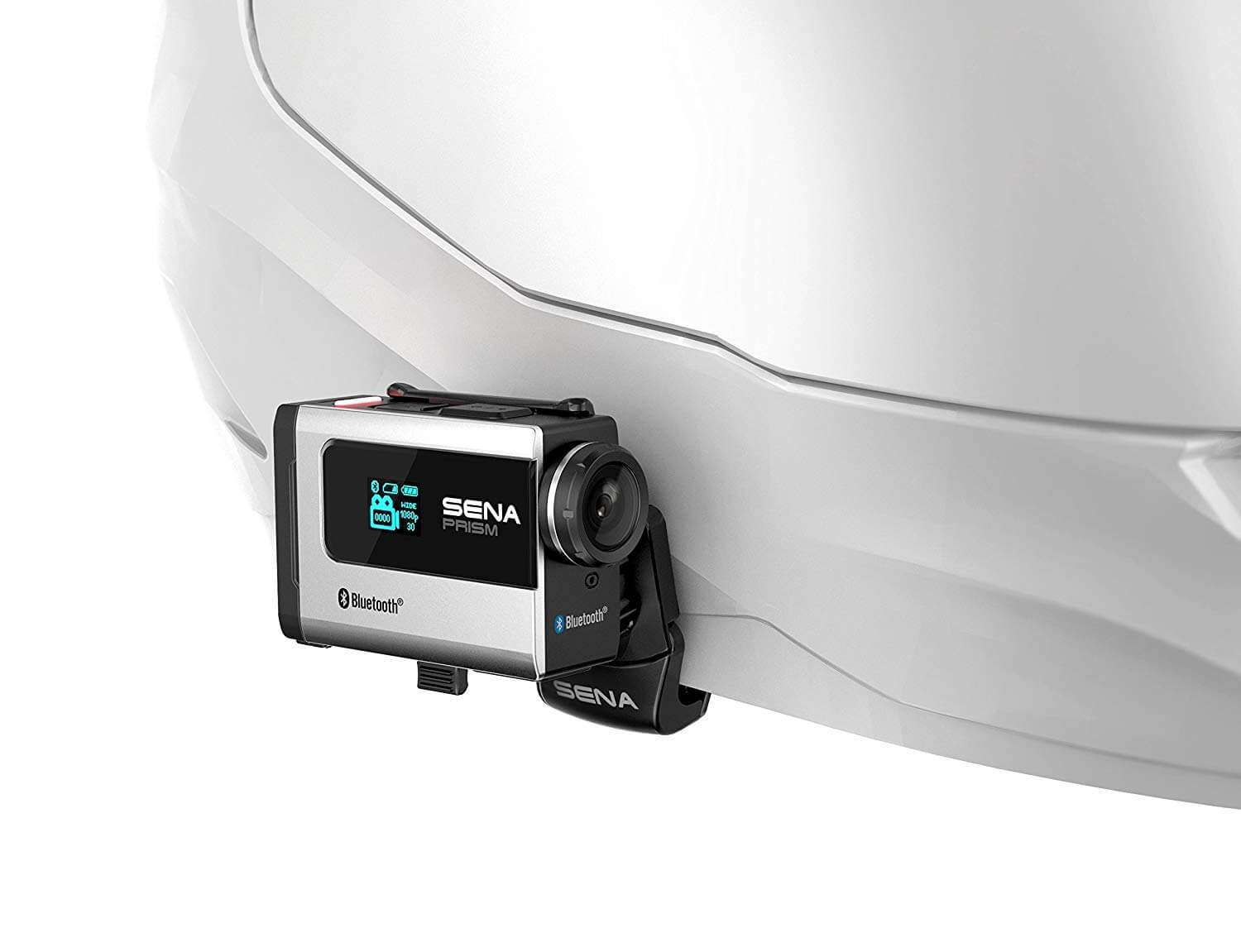 The Sena Prism has a single camera. But it makes up for this potential disadvantage (if it is one) in a number of ways.
First, it has a wide field of view, at about 137 degrees. It also allows for video quality to be selected. Users can have their videos captured and still shots taken at qualities ranging from 1080p at 30fps, to 480p at up to 120 fps. Shots can be captured in time-lapse mode at lapse rates ranging between a second and 60 seconds.
Two microphones, external and internal, record sounds from the users' riding sessions. They are actually quite good; they can filter a lot of the wind sound when they're functioning properly, and capture the motorbike rider's voice while they are on the trip. This means that the user doesn't have to overlay their voice commentaries on the video file after the video has been captured. Everything can be picked up and synchronized while the trip is ongoing.  
Connectivity & Control
The camera can be controlled via Bluetooth with an app (downloadable from Apple and Android mobile app stores) installed on the users' phone. The firmware is also often updated, so there's no worry about lagging behind the times as far as device controls are concerned.       
It also has voice command features, which lets the user remotely switch the device on and off. You can also connect it to a Sena headset, more info on that can be found in this video. It's a 2 step process and when connected you will be able to hear voice prompts directly in your headset.
The videos captured by the camera are stored on an SD card. This product accommodates SD cards of no more than 32 GB.       
The camera is powered by a lithium-ion battery which lasts for up to 3.5 hours; that's an appreciably long time, given the volume of work that goes on in the system when it's recording. The camera's recording session caps off at about 2 hours.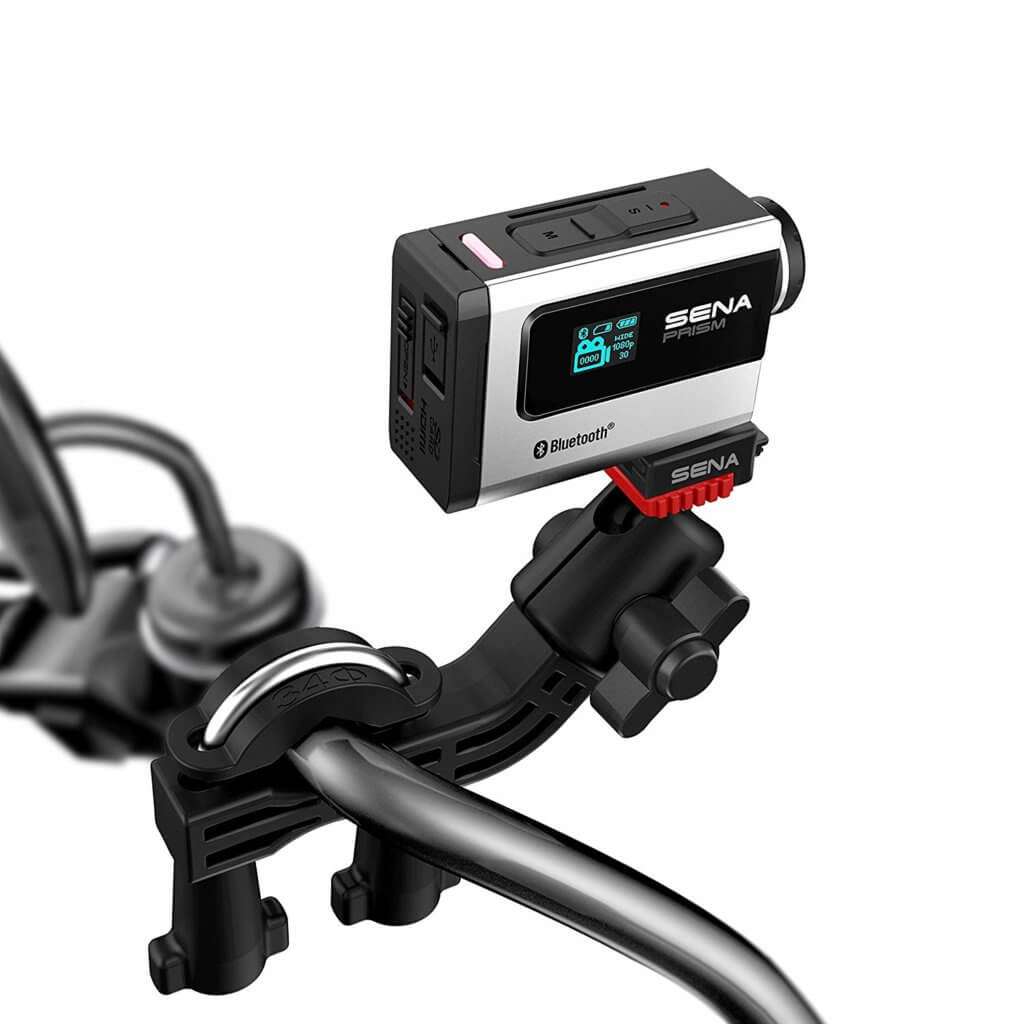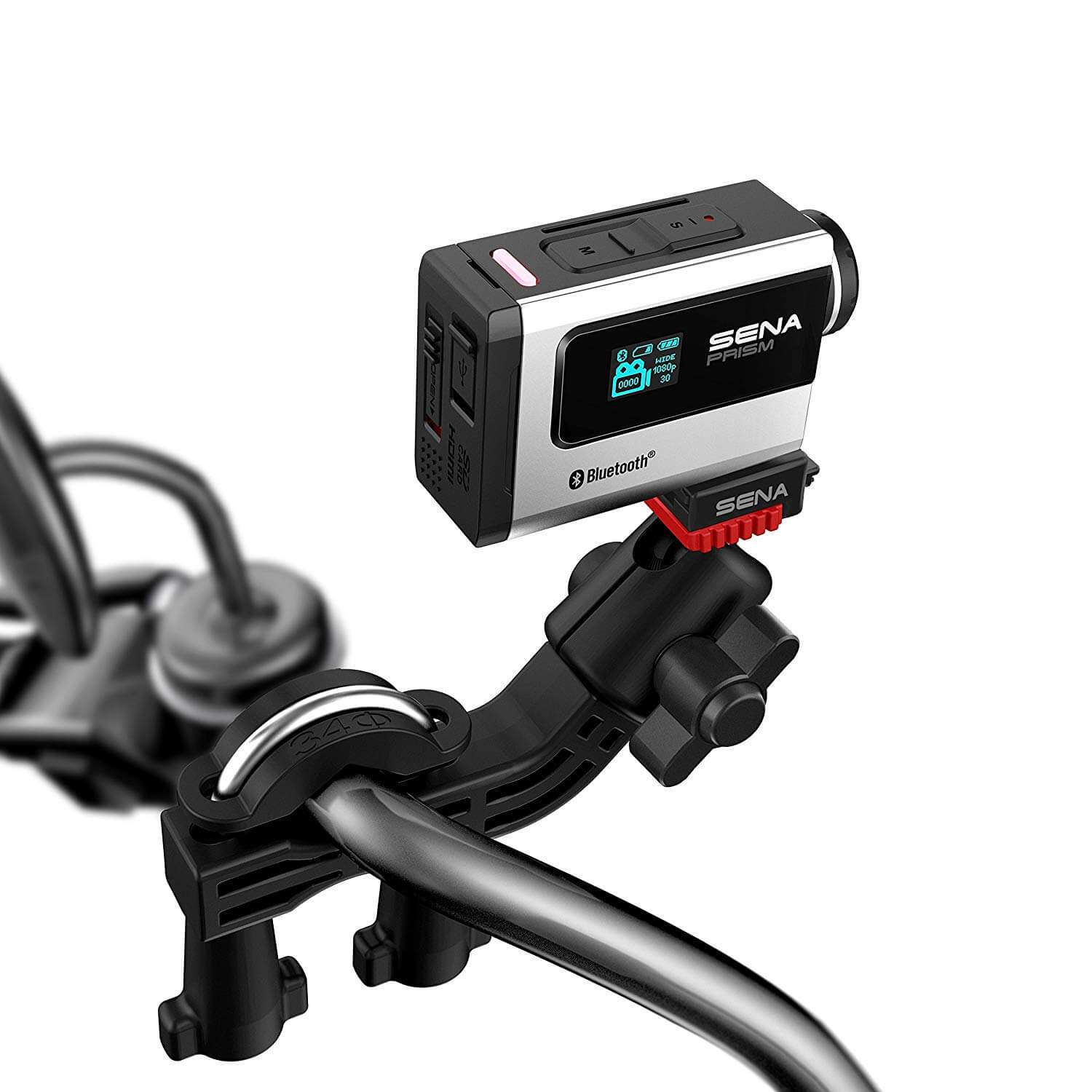 It's easy to install and remove the Sena Prism camera. The package has a variety of mounting hardware, which gives the camera many mounting options. Many people prefer to mount it on their helmets, but it can be placed on some other points of the bike.
Pros & Cons
Advantages
It can take shots at different resolutions and time-lapses.
It has a very good voice capture.
It's very easy to install and can be mounted on a variety of motorcycles.
It's quite light. The camera and battery weigh about 77g and 25g respectively. 
Can be connected to a Bluetooth headset
Disadvantages
It doesn't allow for a lot of file storage. 
Some users have reported problems with controls for apps on android devices.
There's no way to manually adjust the recording. All the settings for recording are automatic. 
Users may need to play videos with VLC to hear the audio. It doesn't appear to work with Windows's default media player.
Which Motorcycle Dash Cam Should You Buy?
The Innovv K2 dash cam is built tough and ready for the elements. It has a lot of room for file storage and gives the user some extra security with its automatic switch-on when it's tampered with.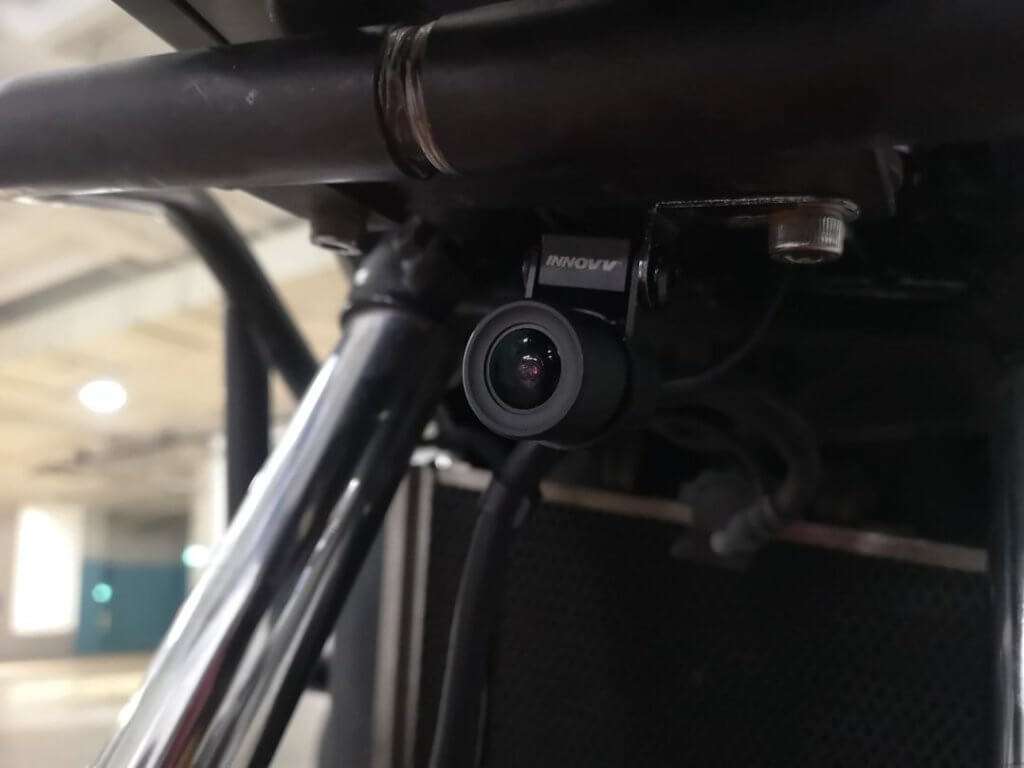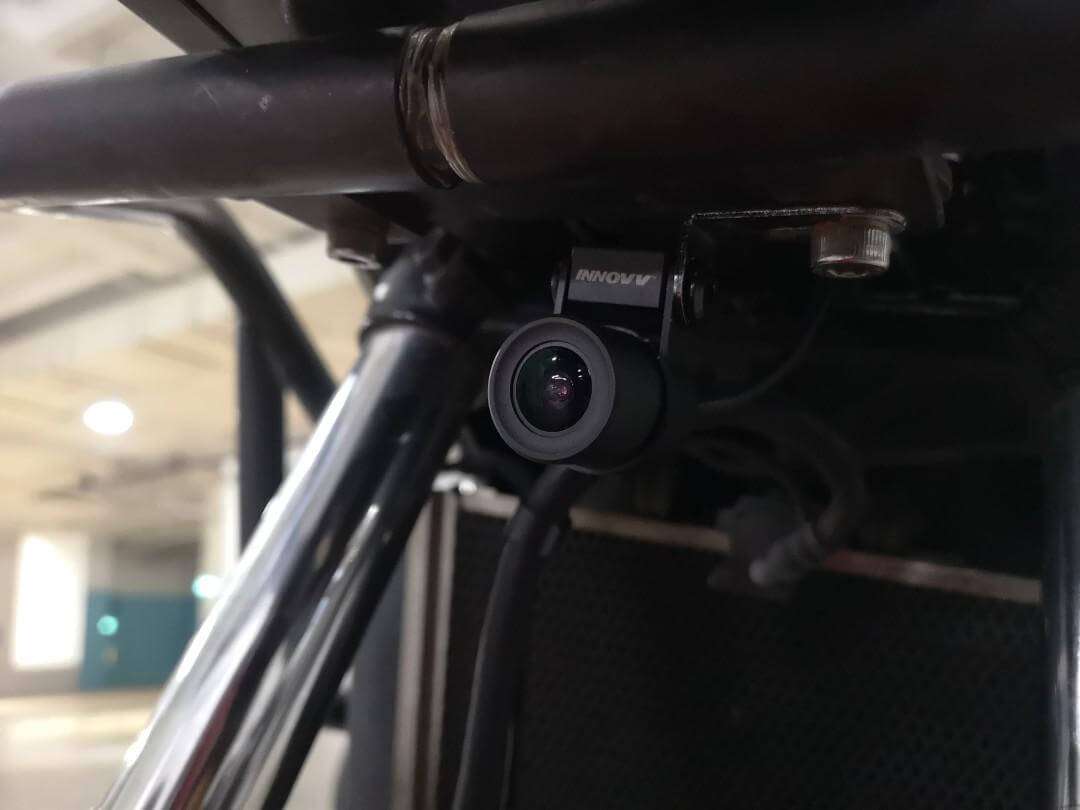 This product comes across as the pragmatist's tool. It doesn't come with multiple adjustable or fancy features, and installing it might take a little while. But when it's fixed, it delivers the goods.
The Sena Prism's appeal comes from the ease of handling and operation. It's much lighter and easier to install.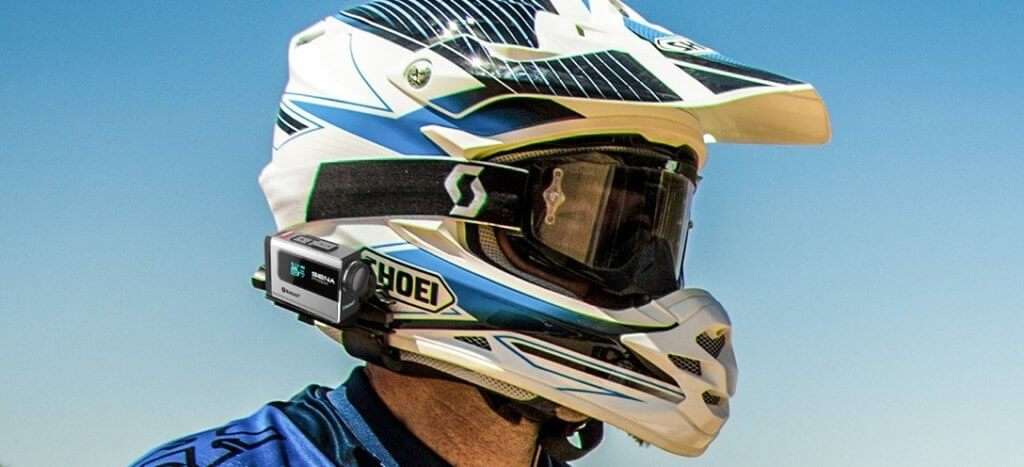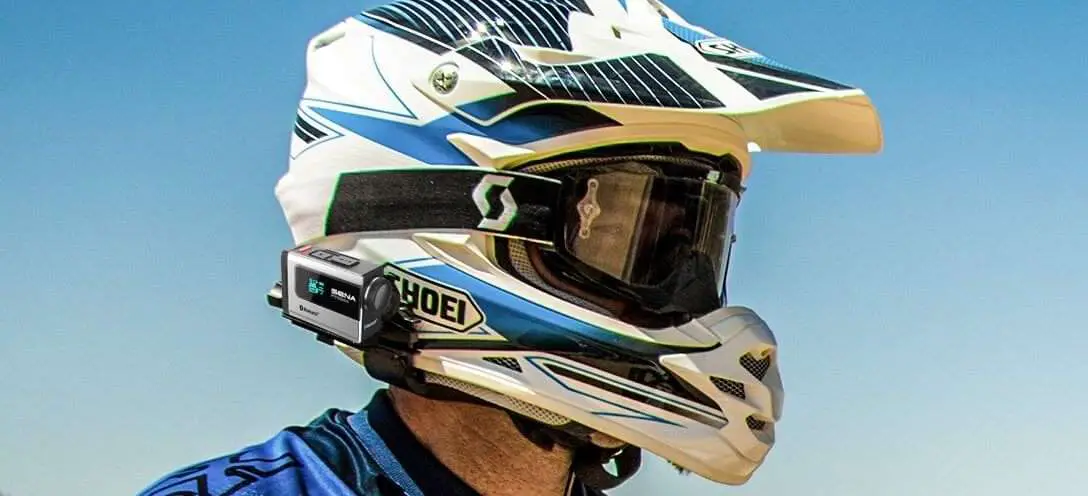 It also gives its users a greater variety of functions and results- something that the regular road adventurer will love. However, it has very limited storage. As such, it's best used for joyrides or shooting short clips when on the road.
Wrapping up, motorcyclists should go for the Sena Prism if they are looking for a motorcycle dash cam that's easy to install, setup and use. But they would be better off with the Innovv dash cam if they prefer a rugged product with built-in safety features that can stay with them for the long haul.