The Helite Turtle Airbag Vest is a protective jacket that's designed to be worn by motorcyclists. It is lightweight, comes in multiple sizes, and can be worn over a regular motorcycling outfit. It also has extra back protection and includes a mechanical trigger with a CO2 cartridge which inflates the vest pretty quickly when it's pulled hard.
The airbag has substantial foam material fitted in its front and rear. On airbag inflation, the exterior takes on a tough and hard feel, while the insides are softer and more protective for the skin. Air channels beneath its posterior and rear portions carry air up the base of the vest to the neck, ensuring fair air circulation across the gear. 
It is worn by riders on motorcycles, scooters, or ATVs.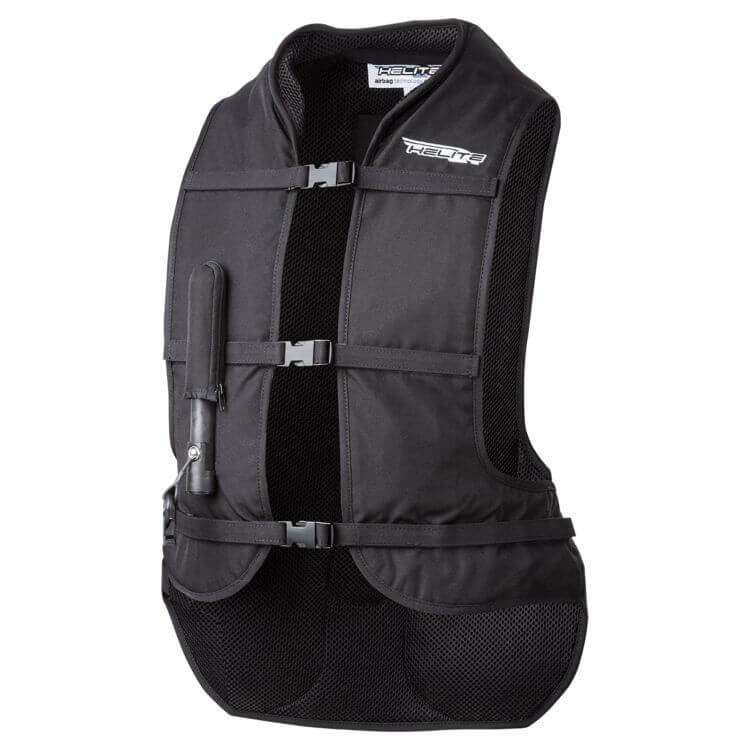 Features
Here are some of the features of the Helite airbag vest.
Turtle Technology CE approved airbag, which deploys within 0.11 seconds of the trigger
600D polyester fabric for stronger abrasion resistance
SAS TEC back protector, removable by the user
Neon yellow design that makes the vest and its rider easy to spot in the day
Silver 3M reflective strip, useful at night
Interior 3D mesh, for improved comfort
Front clips that are easily clicked open and closed
Adjustable side straps that adjust the vest's width by about 3-4". 
60cc CO2 cartridges, attached to vest sizes up to 'Large'. Extra-large sizes go with 100cc CO2 cartridges. 
The Helite airbag vest weighs about 1.74 kg, and comes in these sizes: Small (61-66 inches), Medium (64-66), large (66-70), Extra Large (66-70), Double Extra Large (70-77), Triple Extra Large (70-77).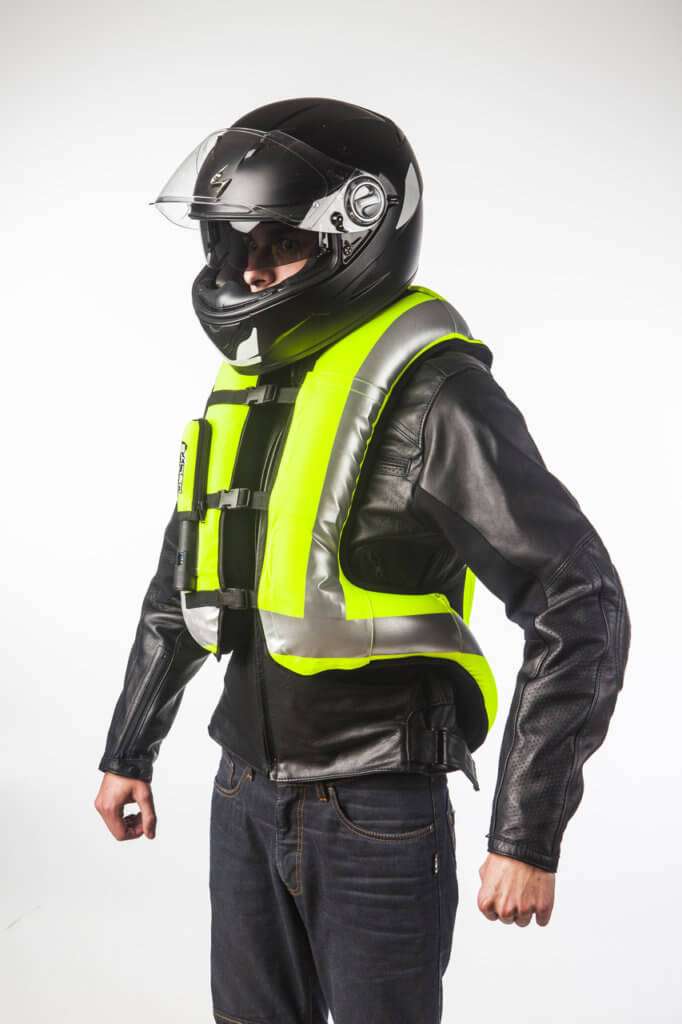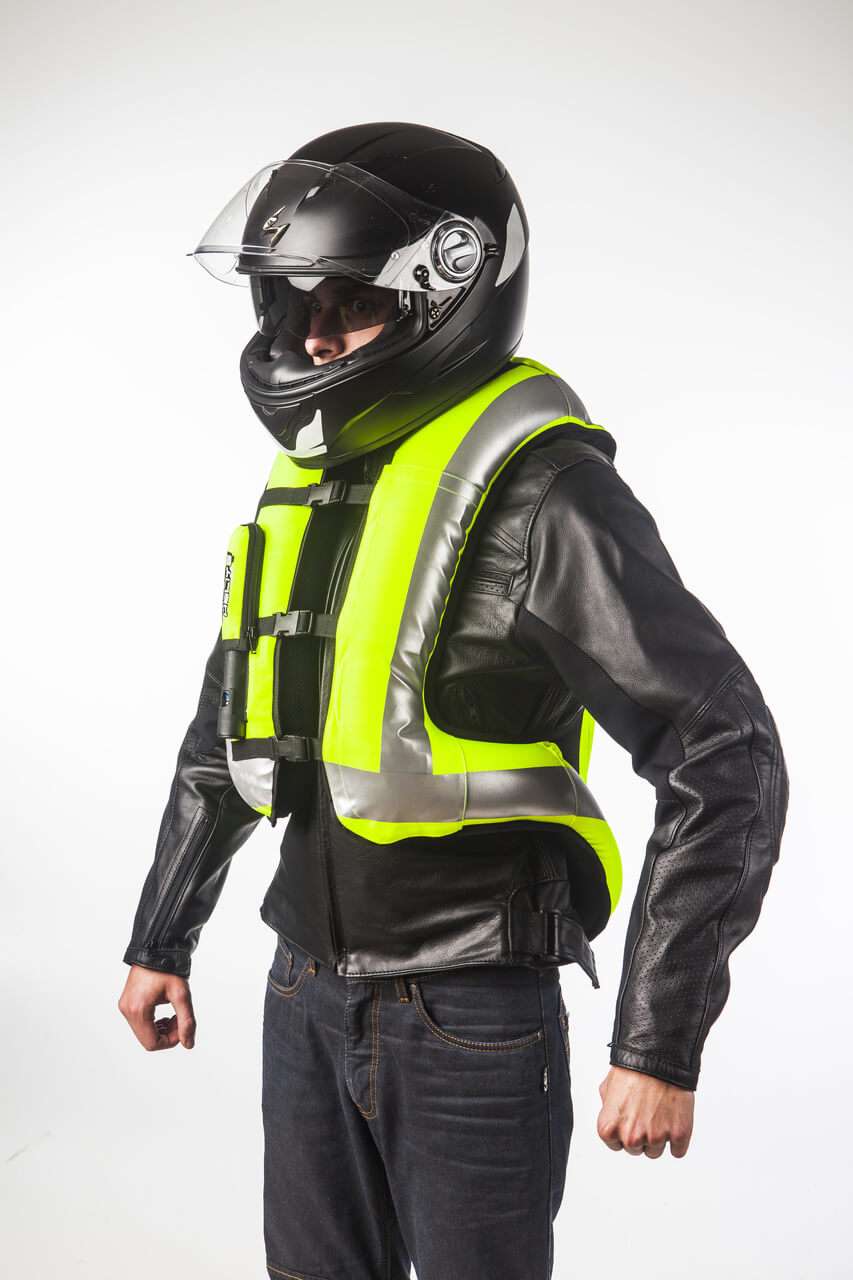 User Reviews
To help determine if the Helite airbag vest is worth the buy, we went through hundreds of reviews. Here are the highlights:
Sizing
Product users appear to be largely satisfied with the range of airbag sizes on offer from Helite. Some said they have had to get used to the neckline because it was rather high for them. But they also say that they have gotten used to the vest as they've learned to use its adjustable straps to make it fit them more properly. 
A few respondents indicated that they have had to return their initial order of the vest when they found that it didn't fit their frame. 
"I went with a large tall based on the size chart, (I'm 6'3 and 195) and it was huge," reported one reviewer at Revzilla. "Returned it and ordered a regular large and it fits perfect."
A couple of similar reviews also suggest that the size descriptions aren't always exactly tailored.  There's been some talk about the product not being as tailored for women as it should be. A commenter says she has to adjust the Velcro straps to make it less uncomfortable.
"I had to adjust the Velcro straps as it needs to accommodate the female form.." she explained.  I am wearing it so as not to be too restrictive across the chest."
Nevertheless, most users who had problems with their vest size were able to resolve their issues either by returning and reordering for a better fit or adjusting it at the straps.
Ideally, the vest should extend no farther down than the waist and pelvic regions, as per Helite's own recommendations. 
Comfort and Style
The Helite airbag vest can be worn over a leather jacket or most other regular motorcycle rider attire.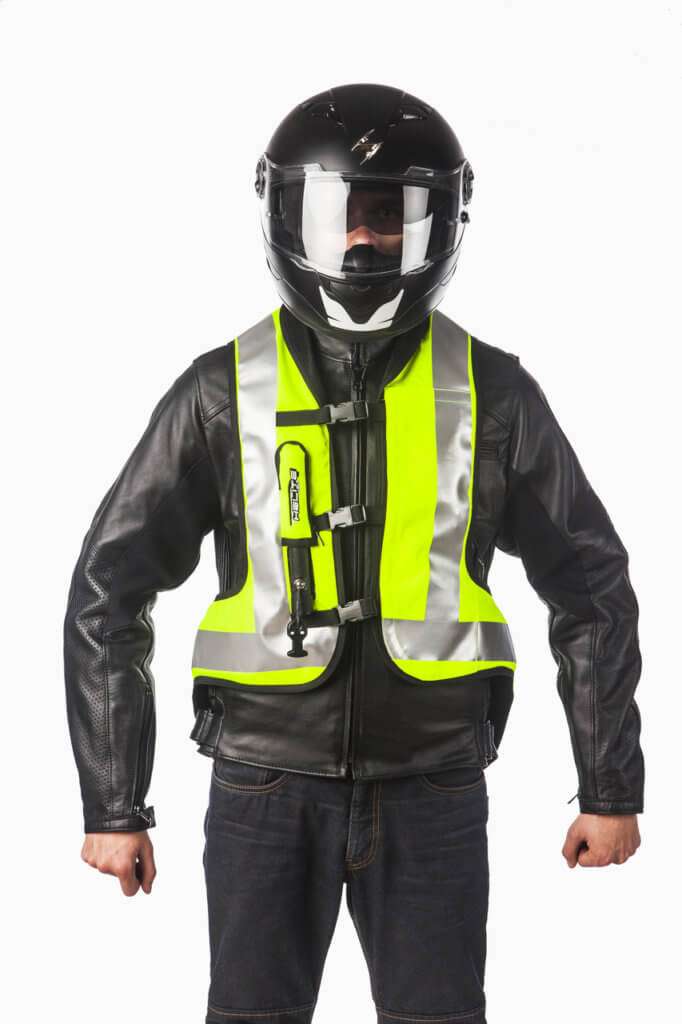 The general consensus on the vest's looks appears to be that it isn't the flashiest of gears. But users may be willing to forego this, as one commenter explained.
"I look geeky with the high visibility, but I don't care how good I look on the motorcycle," he insisted. "I will always give safety the utmost priority and this vest satisfies my need." 
No real issues have been raised with putting the vest on or taking it off. It usually takes less than a minute, according to the reviews. However, "Just be careful you don't click the snap buckle for the canister and the vest together", one user warns. A little difficulty has been reported with trying to unclick the straps while having a glove on.
Velcro and Stitching
Judging from online review boards, a good deal of the biking public seems to think that this product is well stitched or put together. The Velcro strap in particular, which is used to attach the vest to a motorcycle or scooter, hasn't come under any significant criticism. Customers report that it doesn't restrict them to their bikes because it has a stretch section that allows them a little movement while riding.
Protection and Durability
On the whole, customers seem satisfied with the performance of the vest in accident situations.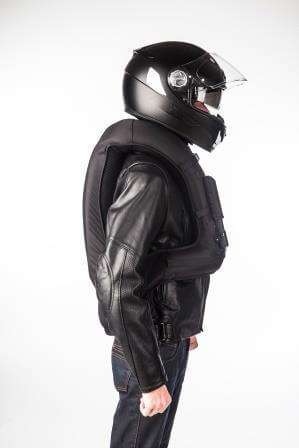 "Bought the vest, and within a week of daily use had the unfortunate occasion to use it in 'real-life'", one reviewer reported. "It freaking works."
"I crashed in these (the vest) last weekend, and walked away completely uninjured," read another review. 
There was at least one comment about it not deploying during a crash incident. It isn't clear what the cause of this or any other similar cases of the vest failing could have been. What is obvious is that there are far more testimonies about it working on review boards than there are of failure.
This product also gets a five-star rating from practically every reviewer for its durability.
Finishing
The general take on the Helite product's finishing is that it's finely done. A reviewer, commenting on the edges of the vest, said: 
"It's not soft like the neoprene edging on my RST leathers, but it didn't make me sore."
Final Words on the Helite Turtle Airbag Vest
The Helite Turtle Airbag Vest is light, easy to deploy, and offers the highest level of protection to its users' bodies and organs from the impact of motorbike crashes. All in all, it gets the job done.
The only thing which might prevent you from buying it is the price. It might be a bit prohibitive for new riders buying all the equipment, they need to ride safely.