If you're looking to extend your riding season into the coldest months of the year without sacrificing your comfort, it's a good idea to look into a pair of heated motorcycle gloves – these are usually designed to be extra-warm even without the 'heating' element, but there's not much better than slipping cold hands into heated gloves before heading back out onto cold, icy or snowy roads. Gerbing 12 Volt is currently a leader in Powersports wearable technology, so it's an excellent place to start looking for top-quality heated gloves.
The Gerbing 12V Hero Gloves are plenty warm even without the plug-in heating element – with a premium Aniline cowhide leather construction with high impact knuckle protection, an Aquatex waterproof breathable liner, 150g of Thinsulate insulation and a slim VELCRO closure cuff, these gloves will keep your hands warm and dry (and protected in any accident) yet don't sacrifice on sporty style, and they'll easily tuck neatly under your jacket cuffs.
For heating, you can either plug the gloves directly into your Gerbing heated jacket or power them with a battery harness and heat-controller or Y-harness (sold separately.) With these accessories, you can connect your gloves directly into your vehicle's DC power system to keep them warm and save your fingers from frostbite.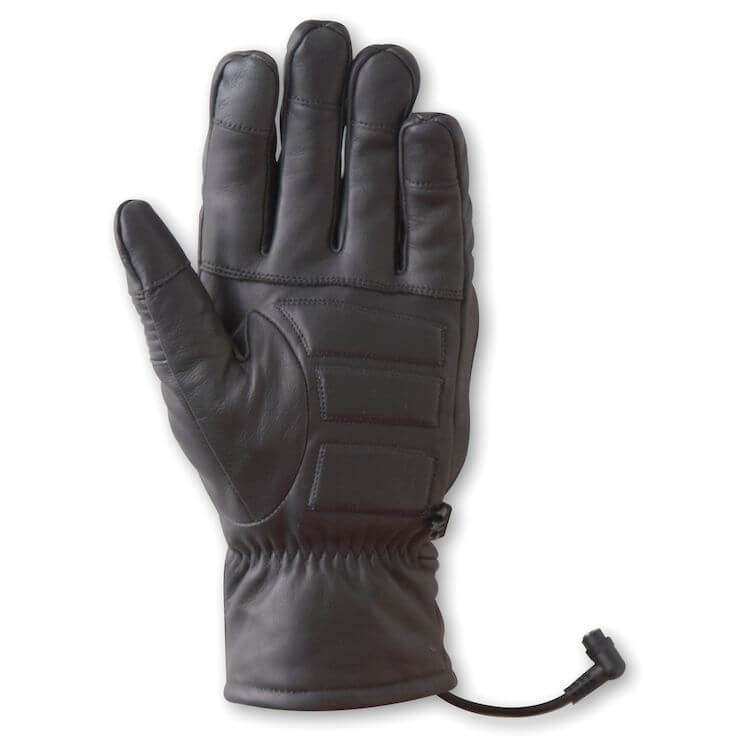 Features:
Premium Aniline cowhide leather construction
Microwire heating throughout the glove, including to the tip of every finger
Aquatex breathable water-resistant membrane
150 grams of Thinsulate insulation
Leather-covered, high-impact TPU knuckle protection
Pre-curved ergonomic fit
Impact protected gel pads at the palm
Reflective piping
Touchscreen compatible index finger
Adjustable VELCRO® brand wrist closure
Cuff length optimized for under-jacket fitment
Max heat: 135°F
Power consumption: 26 Watts (2.2 Amps)
What do real-life road-testers say?
The Gerbing 12V Hero Gloves tend to inspire two types of reviews: 5-star reviews from riders who find them a godsend in cold weather, and disappointed and angry reviews when one glove – or both – stop heating after a few months (or in one case, after a full year.) There's one thing almost all the reviewers agreed on: these gloves run small, so ordering a size up is a good idea. Some reviewers also complained that the wrist closures were too short, leaving their wrists exposed to the cold; something to think about if you're considering buying these gloves.
Here are some positive reviews from fans of the heated motorcycle gloves:
"I've used these down to 20F with and without the heating on. Even without, they're warm for 30-40 minutes. With the heat on, they're warm forever. The leather is excellent, soft and pliable, and the gel through the palms is pretty good considering they're winter gloves. They do run a tad small, so you should probably go up a size to be comfortable and leave a little air in the palm and fingers for insulation."
"I had these for a couple of weeks and tested them in true winter conditions, in the rain, near-freezing temperatures, at 60-70 mph, extended period of time, no handguards, so direct exposure to the wind. They are truly amazing; I have not felt the wind, water, or cold. Only complaints I have, they are a bit bulky (or they may need more time to break-in), and the touch tip does not work very well (hard to use and inaccurate)."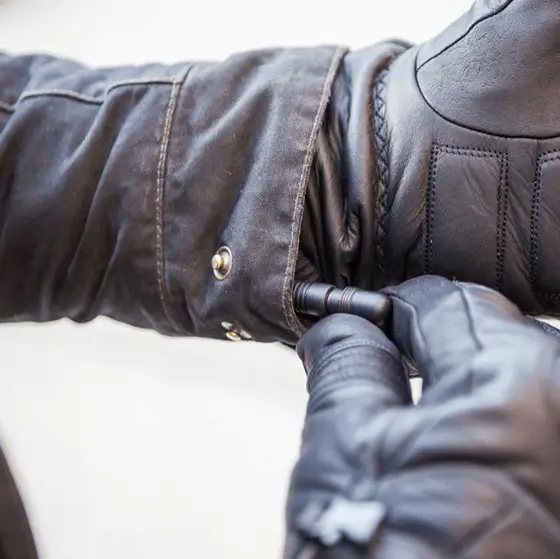 While some disappointed customers wrote these:
"Bought them about 3 months ago and the right glove no longer heats up at all. The fabric between thumb and pointer finger is super tight and doesn't stretch. Even after ~3k miles. The fabric on the palm ripped easily and now I can't send for a warranty. When it worked, it was decent – now I just ride with a frozen right hand. Would not buy or recommend again."
"I purchased the gloves, the controller and harness all coming to about 200 dollars. I bit the bullet because I ride a motorcycle every day and thought these were the best on the market. Less than 2 months later the right glove has failed. Left glove still works fine."
"I noticed a big difference with these gloves. The colder it is outside, the less you notice the heat but you'll notice your fingers won't be cold and certainly not frostbitten. Everything is great and you forgot about having spent $200+ with the controller included UNTIL they stop working. Mine just stopped working and it's only been a year! One of the fingers also has a soft wear the material has come apart in a small section. I wish I never bought these gloves."
Gerbing 12V Hero Gloves: To Buy or Not to Buy?
A Big Advancement, But Needs More Time in the Lab
So what's our verdict? Based on the reviews we found across the web, it seems like owners of the Gerbing 12V Hero Gloves fall into tough roughly even camps – the ones that can't imagine living without them and have never had any problems with them (except for fit being a little tight and short at the wrists), and people who had one or more of their new gloves fail to heat after just a few months and are disappointed both with their purchase and the customer service they've received from the Gerbing company.
Based on these reviews, we're hesitant to recommend these gloves to anyone unless they really need a heated glove for regular riding in freezing conditions, because while the Gerbing 12V Hero Gloves are clearly far from perfect, they still have better reviews overall than most of the other heated motorcycle gloves on the market.
It seems like it might take one or two more generations of new designs and product development before heated motorcycle gloves are reliable and long-lasting enough to justify their price for the occasional user. For now, we'd suggest holding off on purchasing these and waiting to see what improvements the next generation of heated motorcycle gloves will have to offer.