The Alpinestars SMX-1 Air V2 Gloves is a protective short cuff glove that provides motorcycle riders with basic protection in a leather and mesh chassis. This version of the Alpinestars SMX-1 comes with padded fingers, a redesigned cuff closure and strategically set stretch material that allows tons of air for hot weather riding.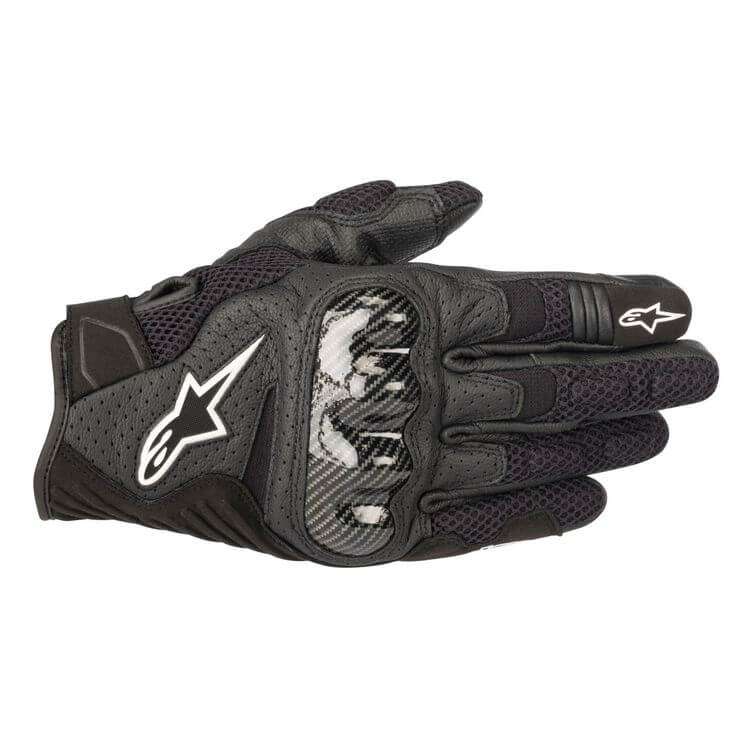 The V2 was created using a heavy-duty mesh and perforated leather that provides both breathability and basic protection when riding. The synthetic suede on the sides and palm of the glove helps protect against abrasion and regular wear and tear.
Features
Let's take a look at some of the features of the V2
Touchscreen compatible fingertips for use with GPS systems and smartphones
Integrated padding on fingers
Hook and loop grip wrist closure
Stretch on fingers and back of the hand
Hard polymer knuckle protection system
Ergonomic stretch insert between thumb and palm
Synthetic suede reinforcements in side-impact areas
Advanced poly-blend reinforcement with foam padding on palm and thumb
Leather and mesh chassis construction with strategic perforated areas and air mesh
The V2 weighs approximately 3.2 ounces and comes in the following sizes: Small (7.5-8), Medium (8-8.5), Large – (8.5-9), X-Large (9-9.5), 2X-Large (9.5-10), 3X-Large (10-11).
User Reviews 
To help determine if the Alpinestars SMX-1 Air V2 Gloves is worth the buy, here's an overview of customer reviews.
Sizing
Most users who bought sizes larger than 2X were satisfied with their purchase. While it was snug for a couple of days and they had to wear it around to get used to the feel and grip, body heat stretched out the V2 perfectly. For the first few days, users should frequently move the thumb around, simulate holding grips (by making fists) for a while before actually riding.
At the other end of the spectrum, those who bought sizes 2X and below complained that the Alpinestar riding gloves were smaller than they expected. One user has this to say, "For some reason, it likes pushing on my thumb/thumbnail. So it gets slightly uncomfortable on long rides. Other than that it seems very well manufactured and the padding and grips on it are phenomenal. Some slight fraying at the finger ends (after about 2 months)." 
Most users agree that the sizes are not an accurate fit. Generally, they do not stretch out well and are way smaller than expected. Since the V2 is made in Italy, it appears that it was engineered using European sizes. One customer who purchased a large said it wouldn't fit a 12-year-old.
A concerned user opines," They run super small in my opinion. I have owned other Alpinestars gloves and xl has fit. These about squeeze my hands off. I was hoping they would break in and stretch but so far they are uncomfortable enough I can barely wear them and I have a short commute to work." Due to the sizing issues, the V2 begins to hurt after rides longer than fifteen minutes.
It's best to buy at least 2 sizes up. Aside from the sizing issues, these customers declared that the V2 was everything they wanted in a sport-oriented motorcycle glove. Based on reviews from verified purchases, we are giving the Alpinestars SMX-1 Air V2 Gloves a 3-star rating on sizing.
Comfort and Style
The V2 easily snags a 5-start rating in the comfort and style category. One happy user exclaims, "This is what all gloves should feel like. One of the most comfortable gloves I have ever worn. They have improved the mesh on the fingers so they don't snag on the Velcro as bad as the previous version. These will be my hot weather gloves this season. The tactile feel of the controls through these gloves are great. Great job Alpinestars."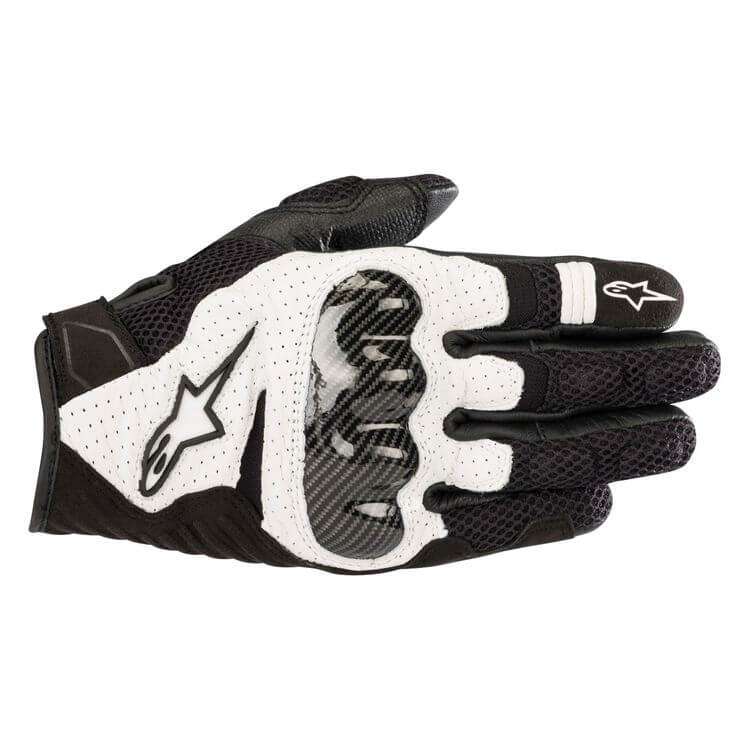 Another satisfied customer has this to say, "These are my favorite pair of gloves thus far. Great fit after a week of break-in. The airflow is okay. Good for 55-80° weather range. Look darn cool, and the touch screen index finger is a godsend." All told, the Alpinestars SMX-1 Air V2 Gloves is great for riders looking for a glove that feels snug, has amazing comfort and flexibility, looks good and is a bargain.
Velcro and stitching
A few customers had issues with the Velcro and stitching on the V2. While the velcro fastener maintains a strong lock, it curls up after a few months of use and has trouble attaching to the glove. In other cases, the velcro straps on to the wrong area of the fabric, causing the fabric to thread out. The velcro fastener pulls up the thread on the cuff if it isn't lined up right and sometimes unstraps itself in the middle of a ride. Over time and under heavy use, they also tend to fray.
Protection & Durability
The knuckle protection and reinforcement around high impact areas are well designed and feel like they'd hold up in a crash. For the price, the V2's protection around the knuckles and the build materials generally feel pretty beefy. However, some users complained of the palm protection and hoped that Alpinestars will do better in the coming versions.
Finish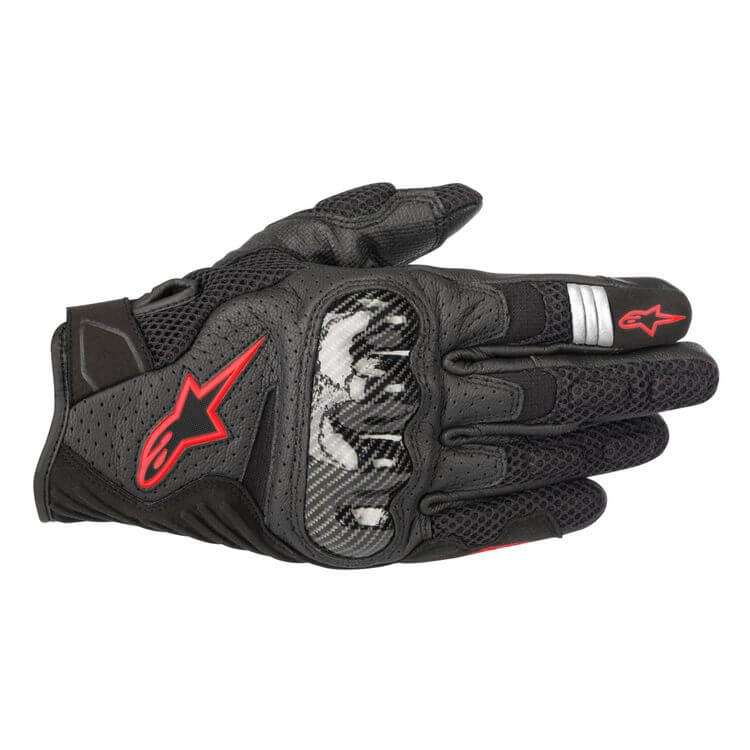 When it comes to finish, the Alpinestars SMX-1 received 5 stars from virtually everyone. As one contented customer puts it, "The finish is great and the construction can't be beaten. Goatskin on the palm with reinforced areas with extra fabric and of course the carbon fiber knuckle, which not only is it a head-turner, its light and will protect you if you go down."
Wrapping up – Alpinestars SMX-1 Air V2 Gloves
All told, the V2 is very comfortable, has a snug fit (as long as you get the right sizing….order at least 2 sizes up), flexible, durable, yet lightweight, great for summertime street riding (due to breathability) and looks way better than expected. Touchscreen compatibility is a pleasant surprise.
Overall, users can expect to get way more value than they paid for…just ensure you get the right size.