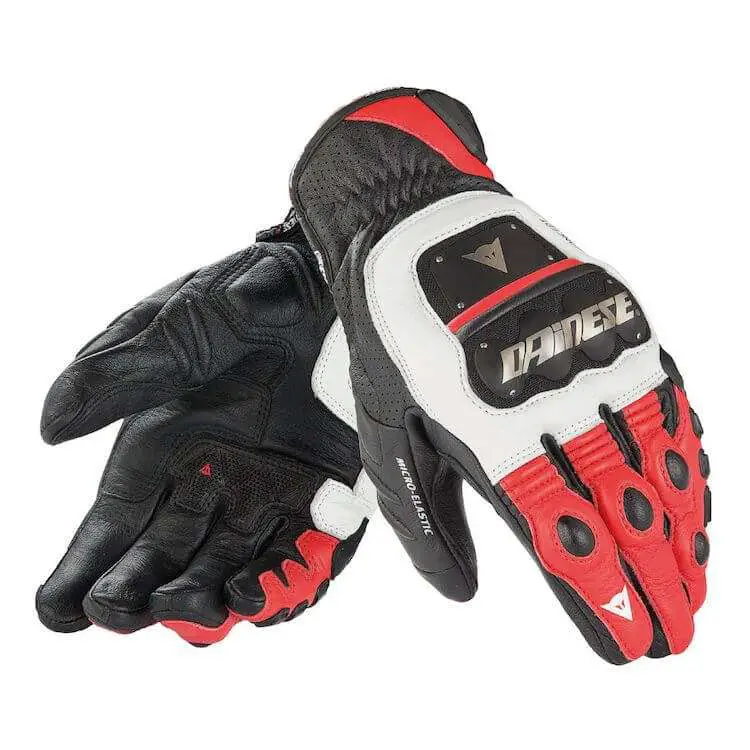 It's hard to go premium motorcycle glove shopping without thinking "Dainese". And it's certainly hard to think "Dainese" without thinking the Dainese 4 Stroke Evo Gloves. They are one of the best selling gloves in recent memory.
It's been a whirlwind few years for the Italian glovemaker. After a post-recession slowdown, Dainese has shown a strong return to form since being acquired by Investcorp in 2014. It's investments since then in R&D, lightweight materials and future-tech has certainly paid off. Its recent lines are some of the finest biker gear on the market.
While the Dainese isn't the magnanimous brand in the biking apparel market it once was, it's certainly making a renaissance, and the Evo is a great starting point. For those who appreciate the finer fabric and an older aesthetic, the new Dainese brings back many of those old flavors to a modern representation.
If you're looking for a lightweight, yet rigidly protective short cane leather gloves with a unique aesthetic, the Dainese 4 Stroke Evo is the glove for you.
Protectiveness
The Evo is in a class of its own when it comes to protectiveness. The stainless steel on the knuckles forms a protective plate nigh indestructible, complemented by the thermoplastic resin surrounding the wrist. The plates have slide protection, making it ergonomically suitable to break your fall should the worst happen. 
The short cut off version of the Evo comes with a velcro strap at the tip of the wrist and features cured cowhide, goatskin or synthetic leather. The new Evo products feature a unique fabric meant for tightening up when exposed to friction (batman much?). The ergonomic design of the fingers makes for a strong grip.
Do note: part of the strength of the material comes in its ability to "set" to your form. As a result, the gloves need a few days to "break-in" and take shape around your hands.
Comfort
As mentioned, the first few days of riding an Evo aren't comfortable – it's clunky, rigid, and feels like trying to work in an old pair of Red Wings.
Yet just like an old pair of Red Wings, within a few days, the glove starts to take your shape and becomes an extension of yourself. The Evo comes with several different insert types depending on where (and when) you buy them. Different inserts fit different thermal & climatic conditions, so it's a good idea to try different ones out and cater it to your driving conditions.
They rest a little bit longer on your fingers than other gloves might, which may give the impression of an ill fit, but it's very intentional. Your circulation will thank you for that extra half an inch, especially on long drives – the Evo is a workhorse of a glove, designed to maintain circulation, comfort & grip both on short sprints and long, cross-country trips.
Aesthetics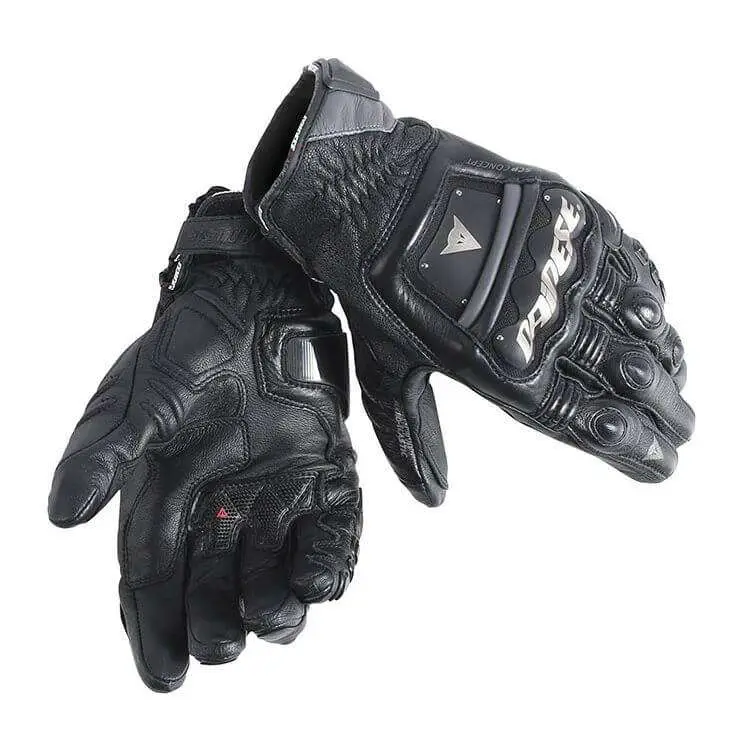 Evo gloves have sometimes been called "batgloves". It's true – their unique texture, interesting padding structure, distinct logo, and knuckle caps certainly make it an eye-catching accessory. The red color swatch, in particular, stands out.
The silhouette and overall design is an acquired taste – not everyone is a fan. To some, it's a brutalist design inspired by the rough terrain of its Italian origins. To others, it looks like a shoddy hybrid between a sports biker and a workman's glove.
Regardless of where you sit on the spectrum, the Evo is nothing if not distinctive. And really, that's what has set Dainese apart for so many decades… distinctiveness.
Value for Money
The Evo isn't a cheap pair of gloves (check current price). Other gloves in the same line run a bit cheaper, like the carbon short and the long Dainese equivalents, while offering a lot of the similar protections. The titanium knuckle and reinforced palm are distinct features of the glove, however, which do offer an extra layer of protection – not to mention the smart perforations on the inner side of the glove, allowing for temperature control.
The other thing to consider is that Dainese has had a recent reputation for poor customer service, especially in the case of warranty disputes. Although that reputation has been slowly improving since the acquisition, there are still operational issues that tend to show. So be aware, while build quality is still up there, you may not get quite the same level of support over the lifetime of the product as you would from other brands.
Just something to consider. 
The Verdict on the Dainese 4 Stroke Evo Gloves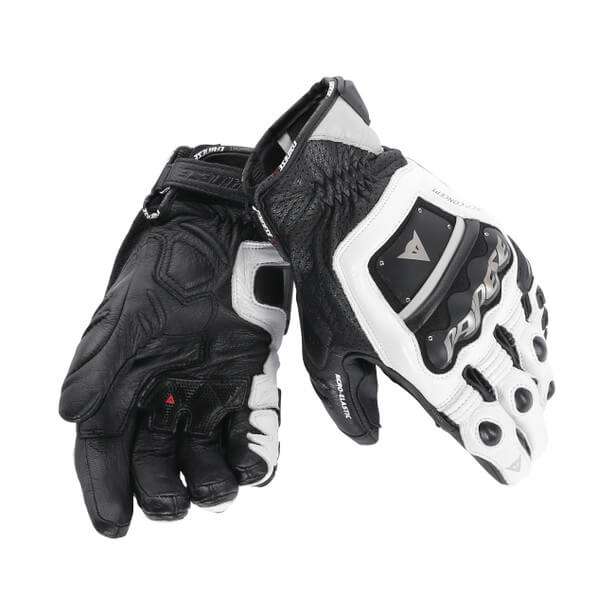 The Evo is a premium glove, proudly priced high and reflecting decades of glove-making tradition. If you're looking for quality – and especially if you enjoy the aesthetic – the Evo will usher you into a proud, age-old line and lifestyle brand which will support you for a very long time. This line continues to be one of the biggest sellers on the market for a reason.
The only knock on the Evo is the same knock the Dainese has faced for over a decade. A legacy brand, making legacy decisions. Unfortunately, several other brands have overtaken the one's tantamount Italian brand, and it's no longer the top option available. For those looking to buy into a specific brand, they may want to look elsewhere depending on their needs.
With that said, it's hard to go wrong with protective qualities, high ergonomic appeal, smart design features, and a truly Italian distinctiveness. The Dainese 4 Stroke Evo Gloves will have you jumping on your bike for a ride just to test out the gloves.