I stared at my Ninja ZX-11. Barely any scratches, it was a week old.
"Alright, so how long until I get good at riding this?"
"You do it for long enough until you get a false sense of invincibility.", my brother chuckled.
That was over two decades ago. And even though my brother was joking, there was a modicum of truth to it. That false sense of invincibility has done a lot of people dirty .
I've covered thousands of miles of asphalt ever since I first started riding. Accustomed myself to all the riding conditions. And acquainted myself with hundreds of riders along the way. 
I've also gotten into a lot of accidents along the way (some inevitable, the others because I was an idiot). And I was armed with different levels of protection for each of those accidents.
That false sense of invincibility my brother was talking about?  That had a part to play in both the accidents and how much protection I was wearing during those accidents.
Case in point:
A friend of mine. At the time, she was riding just long enough to attain that delusion of false invincibility- but not long enough to know that delusion was a delusion.
She was doing a ninety down the highway (bad idea number 1), and rode right over the coolant from an overheated car in front of her that she didn't see.
Before she could process it all, she was on her hands and knees sliding down the road. Luckily, almost all of her body was completely suited up. Unluckily for her palms (bad idea number 2), her hands were not. And the law of inertia and the law of friction conspired together to scrape a good chunk of skin off her palm. 
She ended up paying the entirety of her month's paycheck in medical bills.
This was due to no fault on her part- except for not protecting her hands.
That 4-day hospital stay could have been a mere trip to the ER if she had worn riding gloves. And until her hands had healed enough, she had to learn how to acquaint herself with Siri to get work done.
Any rider who has been riding for long enough knows this- accidents are inevitable. Because riding conditions are almost always less than perfect.
We often think a motorcycle helmet is enough- but we need way more than that to stay safe.
And look good.
With advancements in both technology and fashion, a new industry has been derived- one where the products don't just save your hands, they look good too. Gloves, in general, display a sophisticated aura- but motorcycle gloves, in particular, add a level of badassery to boot.
(Wearing them also makes for really good conversation headway for my girlfriend at parties) 
That's why motorcycle gloves are gaining so much popularity- with how much of your daily routine takes a hit with injured hands, and how cool they look: it's insane not to buy a pair.
So we wrote this to help you pick the 10 best women's motorcycle gloves currently on the market.
Because the motorcycle gloves we've listed don't just look incredible- they also save you thousands of dollars in hospital visits.
Gloves
Dainese Blackjack Gloves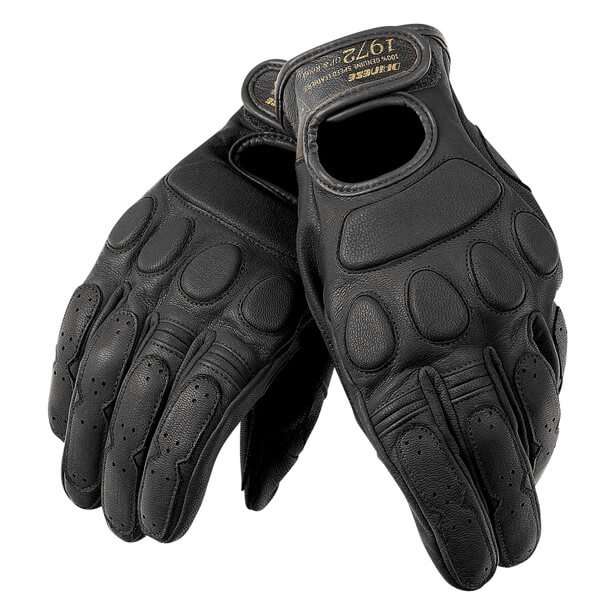 Vintage. 
Reminiscent of the 70s, the Dianese Blackjack Gloves have been finely crafted from goatskin leather.
Meaning they protect your hands by offering incredible abrasion resistance AND feel supple. 
The reinforcement of goatskin on the leather palm helps absorb shock as well. Perforations on the fingers and back help with airflow
Elastication on your fingers allows for better control.
Short cuff closure
Padding across the fingers
Goatskin leather palm
Perforations for airflow
Elastic inserts on the back of the hand
Vintage look and feel
Dainese MIG C2 Gloves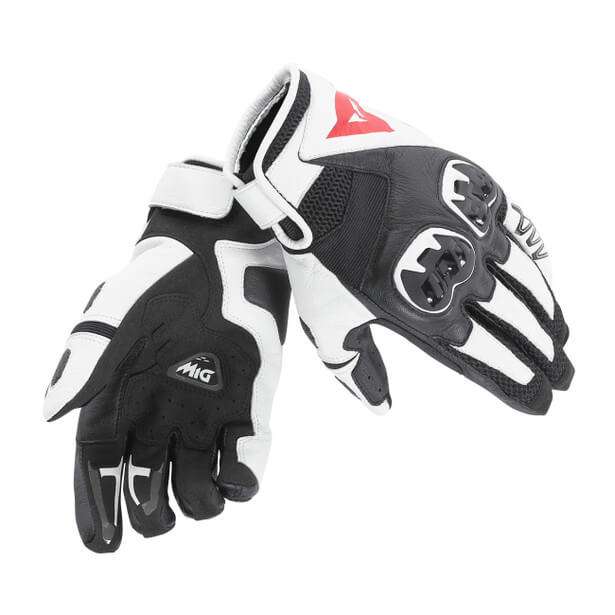 For the same reasons its predecessor was popular, the MIG C2 retains most of the features. But on top of all of this, it comes with CE certification as well.  
Result of beefier levels of protection and stitching reinforcement.
Three different color combinations (triple black/ black-black-white/ black-black-red) make the C2 look sleek as hell.
Heavy mesh on the wrist and finger areas of the gloves allow for extra air circulation. 
This makes it very comfortable to wear when riding in hot weather. The stretched textile on the back of the knuckle makes wearing the MIG C2 feel even better.
The split knuckle guards are comprised of thermoplastic polyurethane. This makes it much more ergonomically dynamic.
A dual foam panel covers the thumb as well. 
The heel of the hand comes with additional protection too (important as that is where you land when falling). 
The palm area of the gloves includes silicone, to add to your grip. 
Suitable for hot weather
CE certification
Mesh allows for air circulation
TPU guarding for knuckles
More protection for hand landing zone
Alpinestars Stella SMX-1 Air V2 Gloves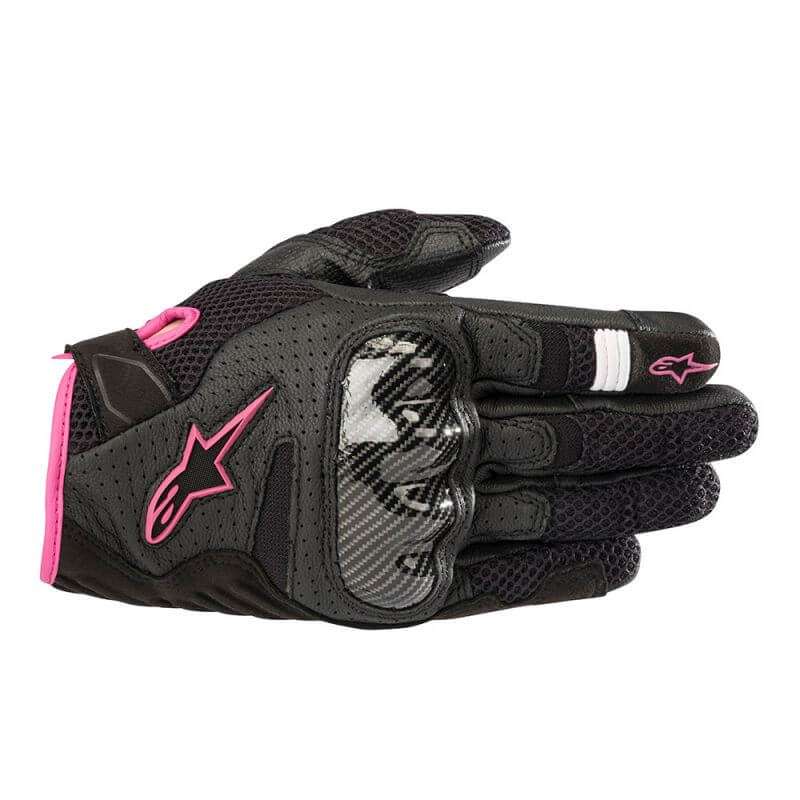 A huge improvement over the SMX-2, the SMX-1 is perfect as a pair of sport-oriented riding gloves. Perfect for hot weather conditions as well.
In contrast to the predecessor's synthetic suede, the SMX-1 is comprised entirely of goatskin. 
i,e, the material is natural, with man-made sophistication.
The glove comes with a full leather palm and capped fingers.
With a much more aggressive TPR scheme, the leather on the glove includes top reinforcement as well.
The tempered foam in the back of the knuckle works its way up to the thumb. The crook of the thumb accommodates a stretch panel. It also covers the landing zone on your palms.
Wider carbon fiber knuckle is present, with extra padding as well. This is particularly useful when you're hooking or using all 4 fingers.
Plenty of air circulation for hot weather
Reinforced leather palm 
Designed for easy manipulation
Knuckle protection with extra padding
Fox Racing Sidewinder Glove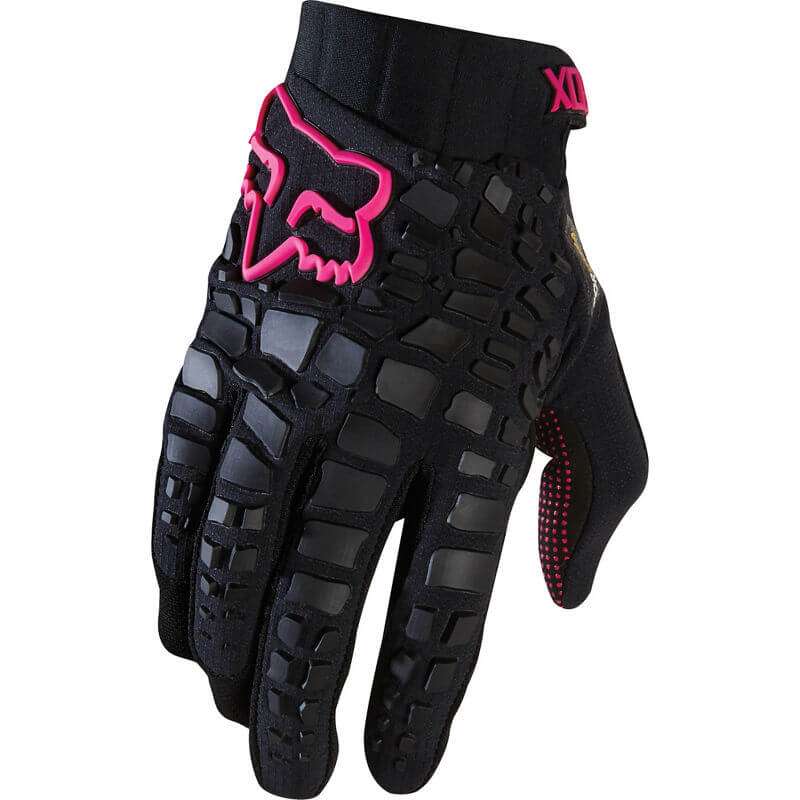 The first thing you notice is the amount of mesh. 
Perfect, my hands are never going to feel hot, you think.
I've got even better news:
The Sidewinder Gloves strikes the perfect compromise between feeling light AND feeling safe.
Lightweight material on the top of the glove AND a hardy palm covering. 
The result is a DH/FR glove that lets you be one with the bike. 
While not letting your hand be warm and sweaty. 
The knuckle pad uses airprene, while the palm uses clarino. 
As is evident, Fox took a synthetic approach with the Sidewinder for the leather. Save for the thumb coverings with the suede finish (like most gloves).
Very well suited for racing and sports conditions, the glove also keeps your hands free of any hindrance to your grip over the motorcycle.
Lightweight ergonomics
Tough, padded knuckle with airprene 
Single-layer Clarino palm
Absorbent micro-suede thumb
Silicone grip fingertip
Low profile wrist tab closure
Swift Unisex Motorcycle Gloves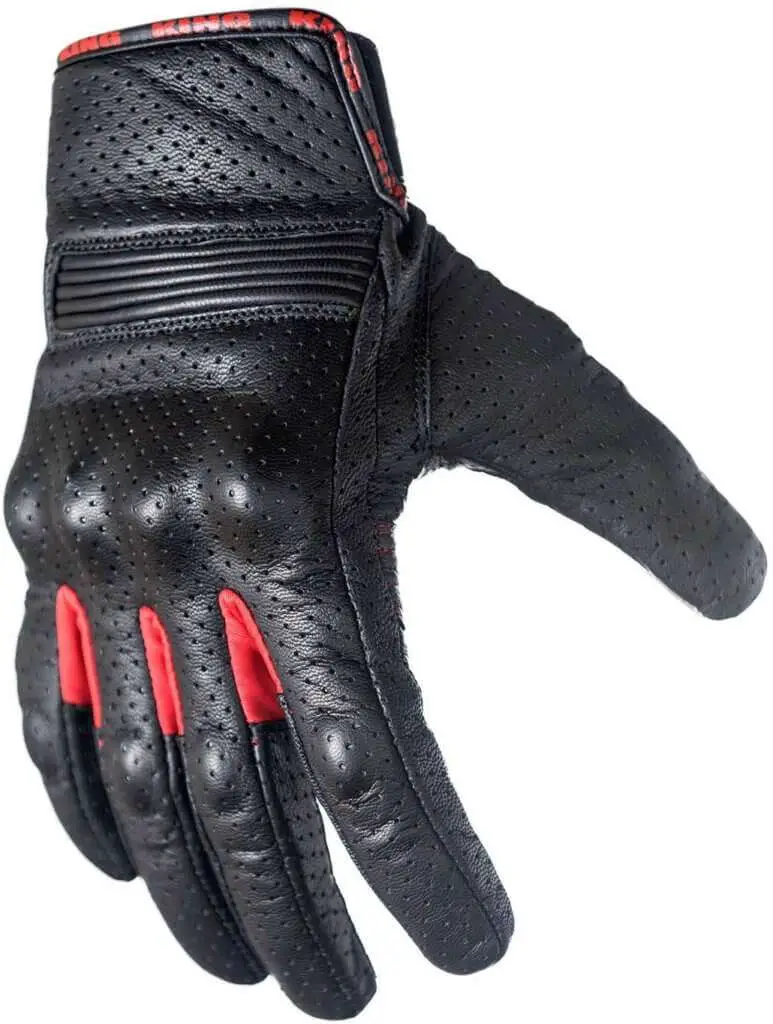 Those of you operating a GPS system or your smartphone (while parked, we hope) will find the Swift UNISEX particularly appealing. Because these beauties were made with touchscreen navigation in mind. There are pads present at the fingertips that allow you to use your phone with wicked precision.
Perforations spread over the leather-clad top layer of the glove, the ergonomics are genius. 
On top of all this, the padded leather is double layered. Resulting in reinforced palms for durability, abrasion resistance, and vibration support.
Very comfortable to use in hot weather, Protect The King made sure not to let moisture build upon your palms and fingers with the Swift UNISEX.  The result is hands that are cool and dry throughout your ride.
With an extremely affordable price, the Swift Unisex offers you more than a bang for your buck.
Fits perfectly
Easy to slip on
Well ventilated
Touchpads for precision
Double padded leather
Comfortable to wear in hot weather
Warmen Women's Nappa Leather Motorcycle Gloves
Crafted from the finest lambskin leather, the Warmen Women's Nappa Gloves are downright gorgeous.
When you slip them on, the first thing you notice is how snug they fit. The result is a perfect blood flow for your hands. This is why Warmen Women's Nappa Gloves are some of the best fingerless gloves in the market. 
They are also extremely affordable.
An outlier in texture composition, the gloves are crafted from lambskin. 
The end result is material that is strong and supple.
It also comes with snap closure as opposed to a Velcro strap- making it a lot easier to shut down. A lot classier too. 
The end result is a glove that will look good in any social setting but serves its purpose well on a motorcycle.
Affordable
Snap closure
Sheepskin
Fingerless, good for touch screens
Very chic and comfortable
Black Gauntlet Deerskin Motorcycle Gloves
The name is self-explanatory: this badass glove is crafted from deerskin. And it shows, too.
Perfect for riding in cold weather, the Black Gauntlet offers an unnerving amount of quality.
With a fleece lining light to the point where you can feel the motorcycle grips through it, the Black Gauntlet is one of the best in the market.
Even though the gloves are insulated, you can never tell. That's how subtle the Black Gauntlets are. In fact, the lining has its own signature name: "Thinsulate".
These bad boys keep you completely warm in winter…and you barely remember you're wearing gloves.
They also fit perfectly (provided you order the right size)
The price tag may be hefty but is more than deserving of the deerskin gloves.
Fits perfectly
Very stylish
Crafted from deerskin
Great for cold weather
Tucano Urbano New Mary Lady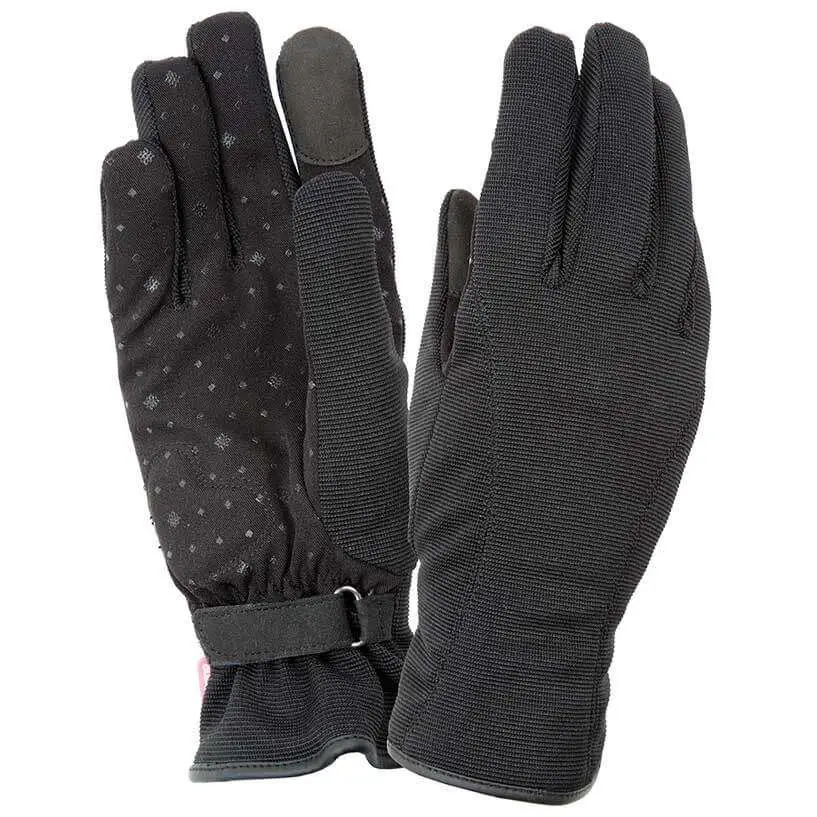 For gloves that were tailored for riding in cold weather, the New Mary Ladys are surprisingly lightweight.
With a stretch polyester exterior, it makes for good reinforcement. Silicone inserts on the palm allow for a good grip as well.
The Mary Ladys comes with the innovative HYDROSCUD design, the signature of Tucano.
HYDROSCUD is a structure that combines laminated fabrics with taped seams and storm traps. 
In simple words: breathable and waterproof.
The quick velcro adjustment with the short cuff makes taking it off pretty easy as well. 
Stretch polyester exterior.
Thermolite® thermal padding.
HYDROSCUD®: 100% breathable and waterproof inner membrane.
D30 reinforcement on the palm.
Silicone inserts on the palm for good grip and control on the levers.
Fitted cut on the back.
Touch screen compatible.
Velcro fit on the wrist.
Garibaldi TCS Lady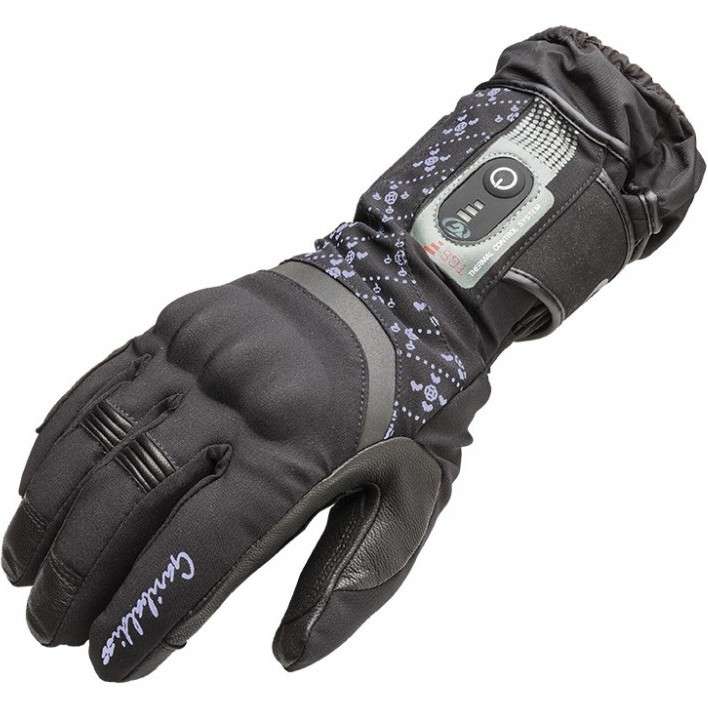 What happens when you use Primaloft thermal insulation?
The perfect warmth-to-weight ratio.
That's what Garibaldi did.
One of the most innovative gloves in the industry, the glove includes a 2200mAH battery. Yes, a freaking battery.
This allows you to heat your gloves for up to 2.5 hours (to keep your hands warm), with 3 different methods of heating.
Using the best of both the worlds of technology and nature, the glove is a work of genius.
Crafted from goatskin, the Garibaldi is also reinforced with ethylene-vinyl acetate. 
This means additional gloss, softness, and flexibility.
The knuckle protectors use thermoplastic material, for additional protection.  Silicon inserts on the fingertips increase grip and control as well.  
You can maneuver your motorcycle and ride as much as you want. Because these battery-powered works of art will keep you warm in the winter.
Goatskin palm
Primaloft insulation
Battery with 3 heating positions
Thermoplastic knuckle
Very light but do a tremendous job of keeping hands warm
Silicone inserts on fingertips
Velcro closure
Spidi STS-R2, a motorcycle racing glove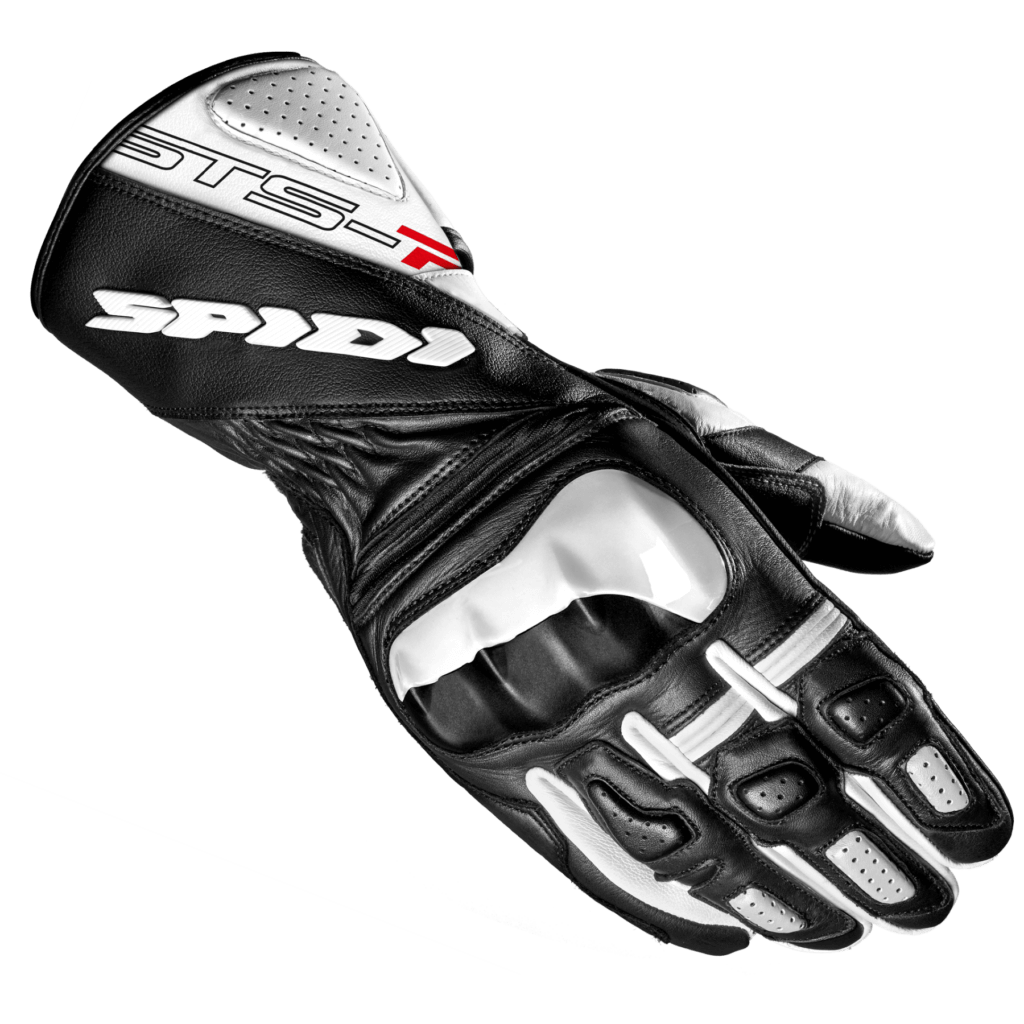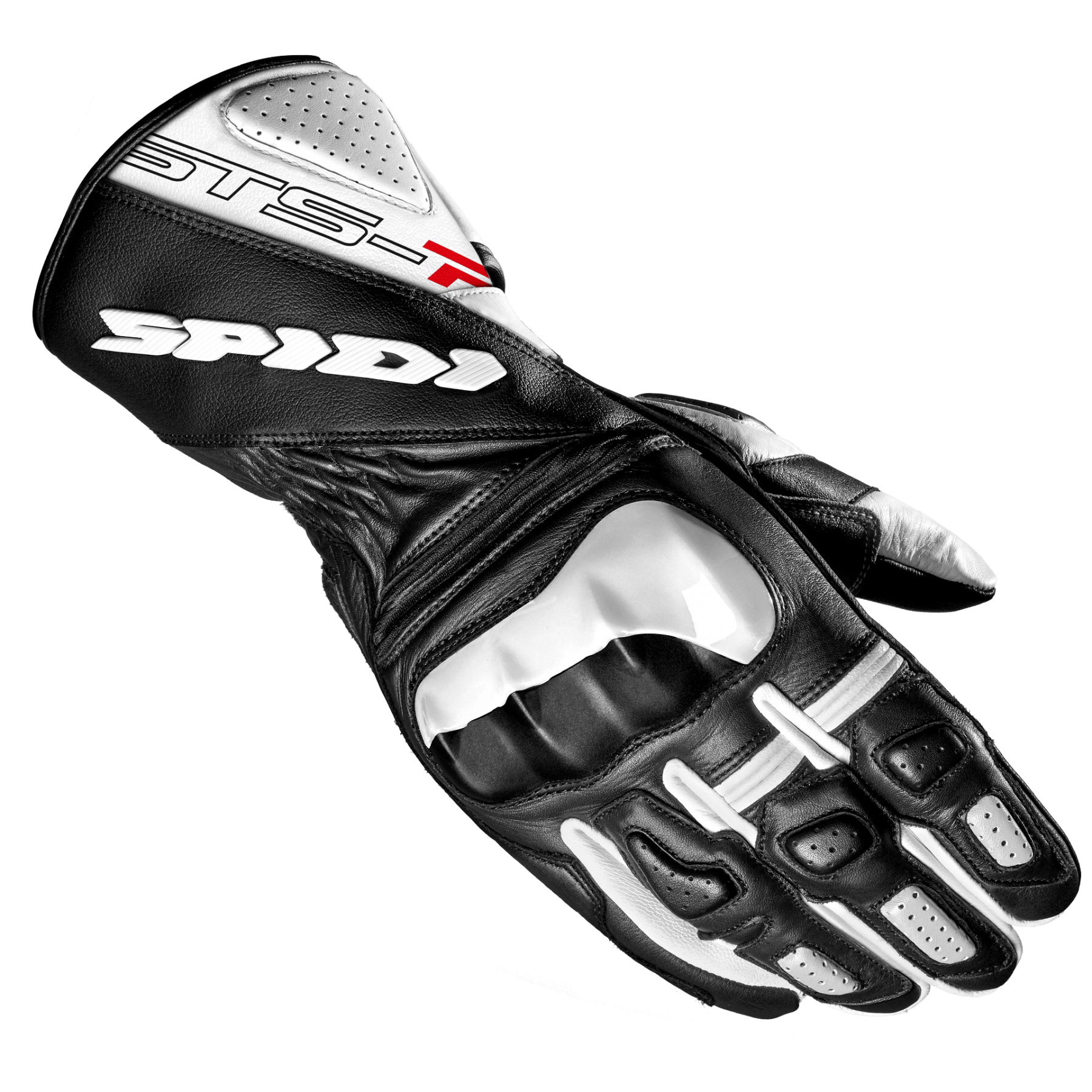 With a CE certification by the 2016/454 Regulation, the STS-R2 can't get any safer.
Padding on the palms. Padding on the back. Padding on the sides.
Crafted from a mixture of goat leather and cowhide. On top of a layer of polyurethane for variable-density.
The leather keeps your hands safe. The polyurethane absorbs all shock.
The cherry on top is the highly resistant suede microfiber.
The leather is vented to allow for airflow, making sure you don't sweat during your races. Weighing barely 300 grams, it is surprisingly lightweight for its tenacity.
Polyurethane coating to absorb shock
Adequate padding
Suede microfiber material
Vents on leather
Certified with level 1 knuckle protectors
Ergonomically optimized for the wrist area
What different materials mean for gloves
While glove safety, comfort, and ease-of-use are determined by a variety of factors, the type of materials used are extremely important. 
Because the material is central to how your gloves function.
More often than not, the gloves are made of different materials in varying compositions.
The composition of different materials depends entirely on the area of the gloves. For example, the heels of the palms must always be the most protected as you land first on your palm heels.
The following materials make up motorcycle gloves:
Cowhide: Very durable, but also comfortable. It can take a decent amount of damage.
Sheepskin: Used primarily in the areas of gloves that are least likely to be in the landing zone, such as the back. Very soft and comfortable, but more prone to damage.
Goatskin: Extremely tough and scrape resistant, usually found in the palm area. It can take a lot of damage.
Kevlar: 5 times the strength of steel, Kevlar is a very strong synthetic fiber. It also has a high tensile strength-to-weight ratio.
Clarino: Artificial leather meant to emulate suede and top-grain leather.
How Do I Care For My Gloves?
All the gloves on this list are of extremely high quality. They are also very durable. 
However, durable doesn't mean infinite. So it doesn't hurt to check up on your gloves to help them last much longer.
Practice the following at least once in a while:
Clean the gloves using a damp cloth 
Use cool water
Remove smudges by using mild soap
Do NOT let your gloves come into contact with solvents like fabric softeners
Keep your gloves away from heat sources like fireplaces
Do NOT use washing machines to clean your gloves, the pressure and temperature may damage the leather
How Do I Find The Right Size For My Gloves?
Finding the right-sized fit for your gloves is extremely important. 
If the gloves are too tight, your hands could go numb, which is pretty dangerous.
 If they're too loose, you may not have as good a feel for the controls, which is also pretty dangerous.

To help you not end up in pretty dangerous situations, we've curated the following table for you.

To find out your glove size, measure around your hand with a measuring tape at the area just below your knuckle. Use your dominant hand: right if you are right-handed, and the left if you are left-handed.

WOMEN'S SIZES
size
 inch*
cm*
XS
6
15
S
6 1/2
16 1/2
M
7
18
M/L
7 1/2
19
L
8
20
XL
8 1/2
23
What To Look For Before Buying Motorcycle Gloves
1. Finger Feel:
Make sure to move your fingers around in as many positions as you can find when trying out new gloves. How much room there is to move your fingers. How much inner liner is present (and does it impede or augment movement)? 
How do you think your fingers will feel in hot weather?
How do you think your fingers will feel in cold weather?
2. Size & Fit:
As mentioned in the previous section, size and fit are extremely important. How well your gloves fit are key to not just protecting your palms. Because it also affects how well you can control your motorcycle, which should be maximum.
3. Features & Protection:
Does the leather have perforations? Is there mesh present to allow for air circulation? Is the glove closure snap or velcro?
The kind of features present in your gloves are key to its usability and must be detected.
4. Construction: Goatskin? Goatskin with TPA? Or Clorino?
The type of material used in the glove correlates directly with its weight, abrasion resistance, and waterproofness.
Why You Should Buy Motorcycle Gloves
I started this article with the story of my friend.
But motorcycle gloves are about more than not having to stare at your bleeding palm heels.
The most obvious pro is how gloves protect your hands (especially your palm heels). Your hands suffering injury may not be fatal, but it can cause some major disruptions to your life for a month or more. You'll have to re-plan a lot of aspects of your life, including everything from boarding public transportation to holding a cup of coffee.
But you'll also have a much better interface with your bike if you get a glove suited to both your needs and the riding conditions you're in. 
While hard to put into physical terms- I can best describe it like this: with gloves, you feel at one with the motorcycle.
Last but not least, motorcycle gloves just look so goddamn cool. The best women's motorcycle gloves fall under that thin (read: perfect) overlap between sophisticated and badass.
There's a reason "What your clothes say about you" is such a popular topic.
With gloves, your identity as a rider stands out.
And not just to yourself, to the world as well.