When it comes to getting out and riding, one of the most important things to protect is your ankles, feet, and legs. Lower extremity injuries are the most common injury that someone sustains while on a motorcycle.
By using footgear designed for your specific motorcycle, you not only reduce injury, but the overall ride is also more comfortable. In this article, we are going through the features of 3 types of women's motorcycle boots we think you should consider.
We'll get you started with a guide that has several different things to keep in mind while purchasing riding footgear. For example, you wouldn't use something like a touring boot, on a motocross track, for a variety of reasons. By the end of this article, you'll be more aware of what you need to look for as well as why.
Buyers Guide
When buying a pair of women's motorcycle boots, there are a variety of factors you should keep in mind. Some things to think about include style of riding, the amount of protection offered, the overall construction, comfort, and durability.
When purchasing your footgear, it's important to think about this list, in this order, because the next item on the list is dependent on the previous one. In this guide, motocross boots will be used as an example to explain some of the factors better.
Style of riding
There are a variety of different types of riding people can do. Motocross and adventure riding are known for using off-road bikes. Choppers and cruisers, on the other hand, are designed to stay on the asphalt and are the sort of bike people typically think of when motorcycles are mentioned.
Protection
Different kinds of riding require protection from various factors. A higher speed riding style like motocross requires more protection than other types. Generally, the taller the boot, the more protection it offers the rider.
Another thing to look at is how much protection it provides the ankle because if there's an accident, your ankle is one of the first things to hit the ground.
Motocross boots usually are 16″ tall, and this goes from the foot to the knee of most riders. There are also multiple layers of protection, each working to protect the rider from a different potential hazard.
Construction
By construction, it's not only the materials used but also the components used to fasten the boot. Also are there any components that are easily replaceable like buckles, straps, and zippers? Another factor to consider is the stitching, a double or triple stitched seam is going to hold up better than just a single stitch seam.
Boots made for motocross and made from a variety of natural and synthetic materials that include leather, metal, plastics, and foam. There are also adjustable straps along the foot, ankle, and going up the leg, this allows for a tighter fit.
Finally, a significant difference between this kind of boot and others is an extra layer of reinforcement on the front of the boot. This is in place to help protect the rider from anything that may be kicked up by the front wheel.
Comfort
The last feature is comfort. This is important because if your footwear is comfortable, you'll be more likely to wear it. As opposed to something like sneakers that are comfy, but offer no protection.
Protection and comfort are inversely related, so as the level of protection goes up, comfort goes down. When discussing motocross, these boots offer the most protection, but people wouldn't walk around in them for an extended period. Whereas, a touring boot offers midrange protection and comfort.
Women's Motorcycle Boots Reviews
Tour Master Solution WP Air Women's Boots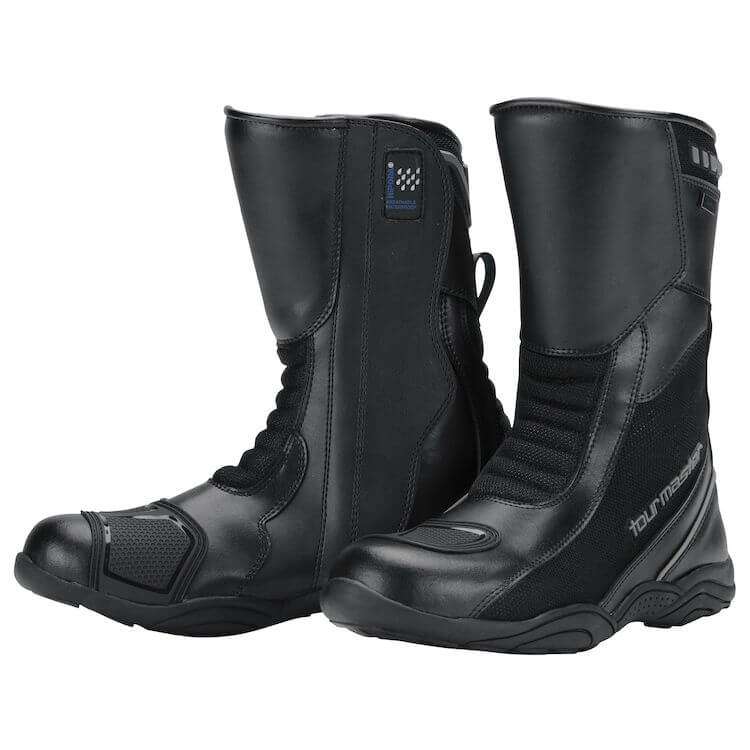 This boot offers breathability and waterproofing, which is a rare combination because waterproofing doesn't allow for much airflow. This unique combination is possible due to the boot being constructed with a HiPora waterproofing materials.
This item is designed to be used primarily in the summer. The Tour Master features a heavy-duty mesh lining, and a mesh overlay on the outside covering the HiPora membrane. The overlay was added to allow even more airflow and moisture-wicking when riding in the heat.
The shin employs a reinforced hard leather because shin injuries are one of the most common injuries that affect motorcyclists. The sole is also made of a highly flexible rubber which allows people to be more comfortable while walking around if they are walking for an extended period.
The Tour Master Solution is praised for its ability to offer a significant degree of protection and waterproofing, as well as extra ankle protection, but without sacrificing comfort or using cheap materials to make this product affordable.
Pros
Moisture Wicking
Affordable
Reinforced throughout
Comfortable for walking around in
Cons
Not designed for winter usage
Can run wide or too large
Doesn't come in half sizes
Joe Rocket Heartbreaker Women's Boots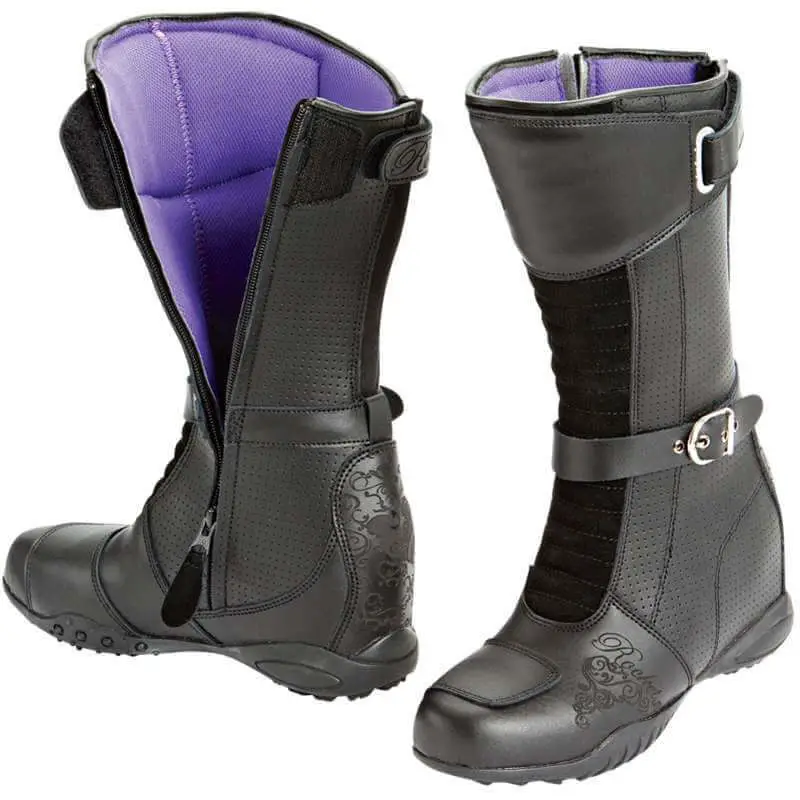 Whereas the Tour Master was designed for the heat, the Joe Rocket Heartbreaker was designed for year-round usage; as well as an aesthetically pleasing boot. There is a 2.5″ internal block heel intended to give users additional leg length while sitting on the bike.
This boot is made predominantly of leather and has calf adjusters to allow people to get a snug fit. Also, there is double stitching in areas that experience more stress, to add to the longevity of this product.
There is also internal toe and heel reinforcement, to help protect those areas in the event of injury. This boot also has a zipper located underneath some Velcro that allows people to put on the boots more easily.
The sole on this shoe is also injected molded, and the difference in this shoe compared to non-injected molded soles is that you don't hear squeaking or clicking while walking in the heartbreaker boots.
Pros
Block heel inserted inside the shoe
Fashionable
Double-stitched seams
Comfortable to walk in
Cons
Not waterproof
Toe construction makes it hard to get your foot under the clutch
Soles thinner than normal
Daytona Lady Star GTX Boots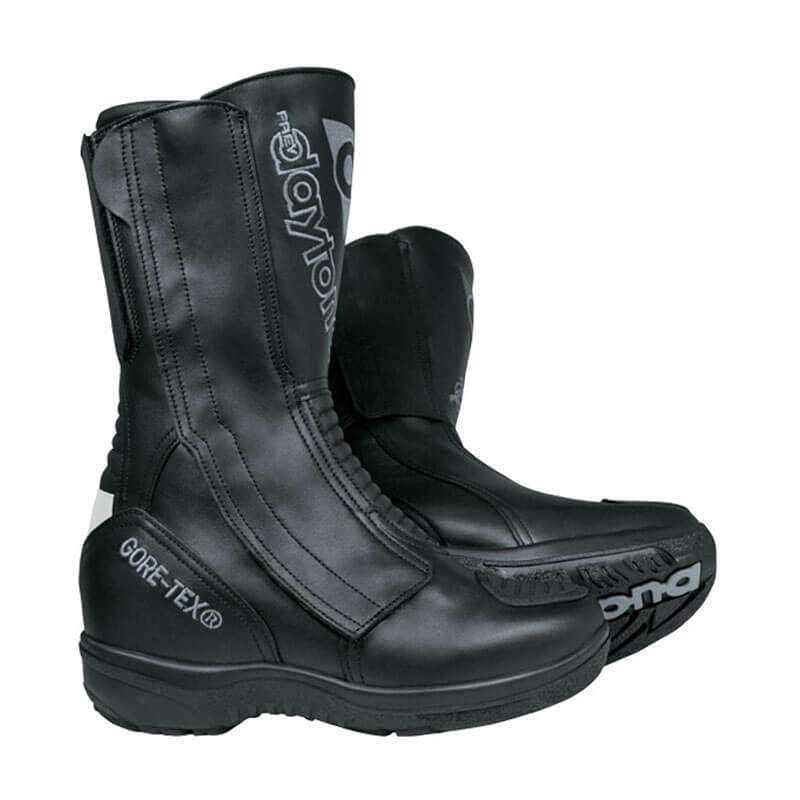 The Tour Master Solution offered breathability, waterproofing, and comfort. On the other hand, the Joe Rocket Heartbreaker offered an aesthetically pleasing boot that didn't sacrifice protection. The Daytona provides all of that and more.
The Daytona has a GORE-TEX membrane, which is a higher-grade waterproofing material. The interior of the boot also has a block heel like the Joe Rocket, and the sole is also elevated. The bottom is reinforced with plastic and a steel inlay to protect your feet better.
When taking off or putting on your boots, there is a zipper on each side, to make putting on the boot easier. The Daytona also employs a variety of padding and reinforcement throughout the boot made of higher quality materials than what is seen in the other two women's motorcycle boots in this guide.
Finally, the Daytona has reflectors on the heel to allow for increased visibility. The major drawback to this item is the cost. It is more expensive than the other two products in this review, combined.
Pros
Highly breathable materials
High-grade construction
Rear reflectors
Elevated sole and heel
Final thoughts
Out of all three items reviewed, if we had to recommend one it would be the Joe Rocket Heartbreaker Women's Boots. It's about the same cost as the Tour Master, but it offers more protection, and it's insulated, which makes a difference if you plan on riding when it's cool outside.
Although the Daytona is impressive, at its price point, it's hard to justify it. It does beat the Heartbreaker in almost every category, except aesthetics, but we feel as though the Heartbreaker is the best overall moto boot because it has the biggest bang for your buck value.
The Joe Rocket Heartbreaker also has double stitched seams, which help reinforce points that can come apart over time. The only major issue people will have with this product, compared to the other two, is the lack of waterproofing.
The important takeaway from this guide is that when compared to other types of footgear, motorcycle boots offer far more protection. If you go down in one of these products, then you'll get some scrapes and bruises, and your ankles/legs are well protected.
If you go down wearing a pair of tennis shoes, or heaven forbid flip flops or sandals, you're more than likely going to the hospital with extensive damage to your leg. Especially your ankle because that joint stick out and it's going to be one of the first things to hit the pavement.
The products reviewed all also had something different to offer that normal footgear doesn't. The Tour Master Solution WP Air Women's Motorcycle Boots had the breathability of a running shoe but give riders more protection. Daytona Lady Star GTX Boots are designed to take a beating and keep you comfortable.
However, the Joe Rocket Heartbreaker Women's Boots is a boot that can be worn year-round. It also is reinforced where it needs to be, and it's a shoe that a rider can walk around in for a long period of time.