Safety, style, price, airflow (depending on where you live), and the features are by far the most important things to consider when choosing a motorcycle jacket. Now let's go through each of these aspects for the Joe Rocket Phoenix 5.0 mesh jacket to help you get a better understanding of it. Having all the information in hand is the only way to be able to make a great decision about buying or not buying it.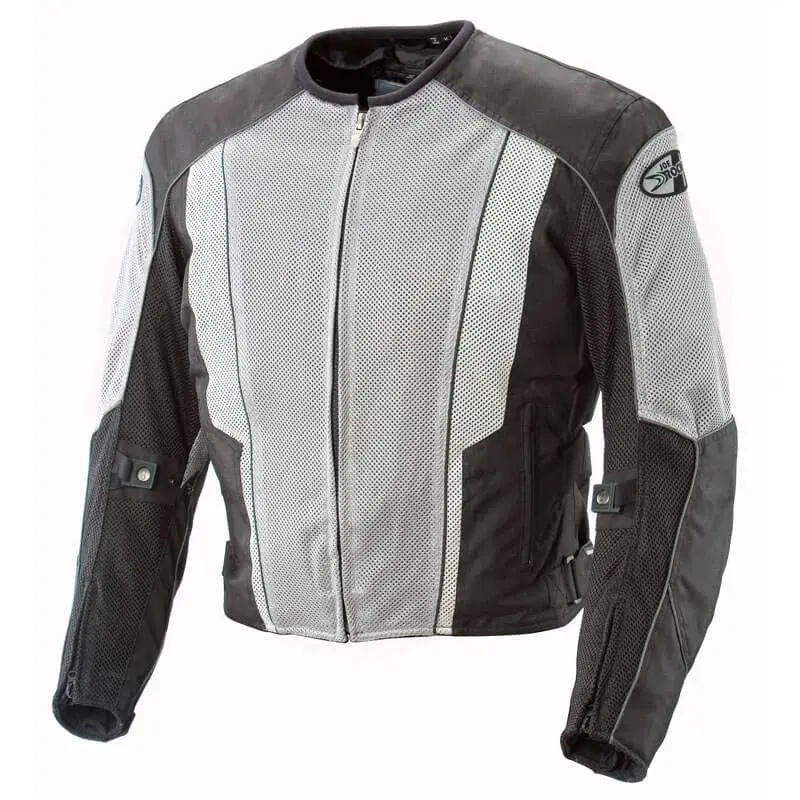 Phoenix 5.0, as you can tell, is the 5th generation of Joe Rocket Phoenix textile jackets. It is designed for hot weather areas and is a great alternative to leather jackets. If you are not familiar with the older versions of the jacket, it has gone through some transformations in its style becoming more and more visually appealing after every update. You can see that the original Phoenix jacket lacks form if we compare it with the 5.0 jacket. 
Let's get to the point.
The Shell 
The FreeAir technology and the mesh on this jacket make it very comfortable to wear. When riding in Phoenix 5.0, it feels like you are wearing just a T-shirt, as if you are wearing nothing at all.
The shell is designed to allow the airflow through the jacket reaching even under the body armor depending on how tight it is on your body.  If you are ridding above 20mph, the airflow always works. As a result, you can wear this jacket in hot weather, stay cool, and also have some level of protection on your body.
Every color of the jacket comes with reflective strips to ensure your visibility when it's dark. Some say that it would be better to have larger reflective areas. But the strips do their job anyway. 
The jacket has a low profile collar with smooth fabric. As the jacket is designed to be worn in hot weather, a full high profile collar might have felt like a turtleneck and in those summer days, I bet, that wouldn't feel comfortable.
The Armor 
The Joe Rocket Phoenix 5.0 Mesh Jacket comes with C.E. approved armor at the shoulders and elbows. It also has removable spine armor padding on the back. If anything happens to it or you want another pad you will always be able to remove or replace it. 
In addition to all of the mentioned high impact areas, you will have sculpted high-density padding at ribs, kidneys and lower back to lower the level of the injuries in case of a crash. 
Sizing and Colors
The Phoenix 5.0 comes in a variety of sizes and colors, but not all colors are available for all of the sizes.  


Below you can see the availability of the colors of each size of the Phoenix 5.0 Mesh Jacket.
Colors: Black & Black, Red & Black, Blue & Black, Grey & Black, Wine & Black, Green & Black, Silver & Silver, Orange & Black, Hi-Viz Neon & Black, White & Black,
Sizes: Small to 3XLarge
Colors: Black & Black
Sizes: Small to 5XLarge
Colors: Black & Black, Grey & Black
Sizes: Medium to 3XLarge
Some might find a little mismatch between the size chart and the real size of the jacket. For example, if we take a look at the chest sizes, the Small size ends at 40", and Medium starts at 40".
This pattern repeats both for the chest and the waist for all sizes. This means that someone with chest size 40" can wear both size S and M of the Phoenix 5.0 Jackets. The difference can be adjusted with the 6 on shell adjusters on various parts of the jacket. 
The waist adjusters will help you tighten the jacket on your sides for a good fit. There are single snap adjusters on each of the arms as well as one on each cuff. You can make adjustments once and leave it like that to wear it in the future. You will also find zippers on each of the cuffs.
This is to help you get your gloves in and out easily without changing the size adjusters on the cuffs. However, the zippers on the cuffs come with no lock, and those might end up unzipping sometimes.
Pockets and Zippers
Joe Rocket Mesh Jacket Phoenix 5.0 comes with 2 external pockets mostly for your hands. These pockets don't have zippers or any other type of locks so it might be a good idea not to store anything in there as those might fall off when riding. On the inside of this Phoenix jacket, you will find a hook to store your keys and a small pocket for your glasses.
The fabric inside this pocket is really smooth and will definitely keep your glasses from scratches. The inner pocket comes with a zipper and can be used for other things too. However, it is quite small and might not be able to store your wallet or a big phone inside it. 
There is an additional zipper on the back to attach the jacket to the pants. If you have Joe Rocket pants it will work better. In case you want to attach the jacket to your jeans and you have a belt, you can use the belt loop snaps on the back to keep your jeans and the jacket together while riding.
Liner Details
Although this jacket is meant mostly for hot weather areas, rain is inevitable almost anywhere. The mesh shell is designed to allow in as much of the airflow as possible and the jacket itself is not waterproof. To keep you from getting waterlogged the Phoenix 5.0 jacket has a waterproof liner that you can zip into the jacket. If you zip in and zip up the jacket well enough you will stay dry on your way.

As I've already mentioned the jacket is designed for hot weather but if you are riding early in the morning or late at night when the weather is cooler in your area you can zip in the liner and it will block the air flow keeping you warm and comfortable. 
The liner is very easy to attach to the jacket, you have the zippers to attach it to the shell of the jacket, snaps in the cuffs and the neck. It is also light and small enough to carry with you in case of unexpected rain or night rides. 
Final Thoughts on Joe Rocket Phoenix 5.0 Mesh Jacket
Overall, if you are going to ride in hot weather this jacket is definitely worth a try. For cooler areas, it might not be as comforting. But I've heard some people wearing this jacket with another one on top of each other when it's cold. So if you want to try that too, it's your call.
Joe Rocket Phoenix 5.0 is fairly priced compared to other mesh motorcycle jacket considering its features.