A good jacket is essential in any motorcyclist's wardrobe, but the many available choices may initially seem overwhelming. Choosing between leather and mesh or whether a classic design or modern technology is more important can be a tough decision for any rider. However, understanding the many available options and what they are best suited for will quickly help you narrow down your options on the quest to finding the perfect jacket.
Mesh vs. leather motorcycle jacket: what is better? Neither a mesh nor a leather motorcycle jacket is better than the other; it just depends on what and how you ride. While leather jackets have been the long-time favorite for their durability and style, mesh jackets are a popular choice for the way they allow airflow to cool the rider.
The utmost priority of all motorcycle jackets is the protection of the rider. However, riding down a country road on a cruiser while on a multi-month cross-country trip requires significantly different forms of protection than a city-living street biker needs.
On a cross-country trip, the rider would require more protection from the elements as the weather and terrain change. A street biker, on the other hand, would be more concerned with protection from other vehicles and from potentially hitting the pavement. Add some consideration of style to the mix along with advancements in design and materials and you suddenly have the vast variety of jackets on the market.
Mesh vs. Leather Motorcycle Jackets
Motorcycle jackets are made from either leather, usually cowhide, or synthetic textiles that are often woven into a tight and durable mesh that still allows for ventilation and airflow. This mesh technology is one feature that the classic leather motorcycle jacket doesn't have that can make a world of difference in the experience and enjoyment of riding. It is often placed in strategic areas to keep the rider cool, which can be a much desired or even necessary feature when riding in hot summer months.
Some companies even offer a 3D mesh that creates a pocket between the outer and inner layers to allow more airflow throughout the jacket for additional cooling effects. Check out this Harley Davidson jacket for a great example of this innovative feature.
Mesh jackets function and look like a new-age item and come with some impressive features, but the classic leather jacket still lives on strong for several reasons. Here is how they compare on some key factors.
| | Leather | Mesh |
| --- | --- | --- |
| Breathability | Leather is a solid material and does not allow any airflow, making it a good choice for cold weather, but not a comfortable choice in the heat.  | Mesh allows airflow, which is one of the key advantages to getting a mesh jacket. |
| Waterproofing | Leather can be treated to be waterproof. This does wear off and need to be renewed, and leather will still give with time if used in rain regularly.  | Mesh is made from synthetic textiles that bead water off rather than absorbing them into the jacket. |
| Flexibility | Leather is not a stretchy or flexible material, but some leather jackets are cut larger to allow a greater range of motion | Mesh jackets can offer a stretch and lightweight feel that leather does not allow for, increasing range of movement and decreasing muscle strain and fatigue. |
| Hi-Viz Features | Leather racing and street jackets often feature bright colors and reflective strips, while classic cruiser jackets are black or brown and may not be as easy to see. | Many mesh jackets offer bright colors and reflective strips in strategic places to help ensure the highest visibility possible. |
| Durability | Leather is the material of choice when it comes to durability, although it will wear with time, use, and exposure to the elements. | Mesh can be made to be very durable, but its durability depends on the tightness of the weave as well as the quality of the textiles used. |
For a breakdown of these two types of jackets along with some examples, check out this video from Riders Domain.
Are Mesh Motorcycle Jackets Safe?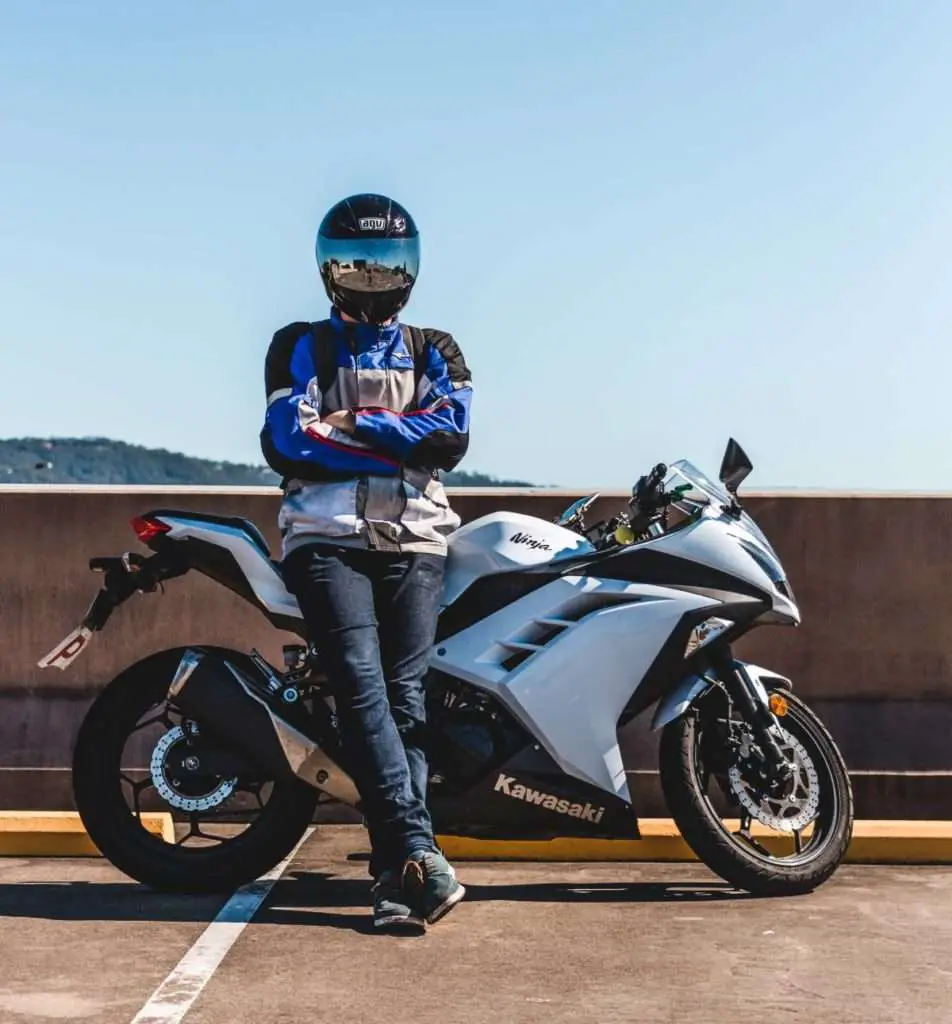 Although the word "mesh" may not sound like a sturdy and reliable feature for a jacket that is meant to protect the person wearing it from potentially high-speed road rash, rest assured that mesh motorcycle jackets take safety precautions as seriously as other jackets. After all, safety is the top priority of any good jacket, and so the mesh has been created to be strong and durable.
The main focus behind the durability of a mesh jacket is the tightness of the mesh configuration. Mesh is created from woven strands of textiles which can come in different degrees of weaving, with a tighter and closer weave creating a more durable surface than a looser weave pattern. A tightly woven pattern made from durable textiles such as polyester creates a strong material that will also be waterproof. They also often come in bright colors for visibility, making mesh jackets strong and efficient enough to stand up to the elements and risks that come with riding.
Tried and True Leather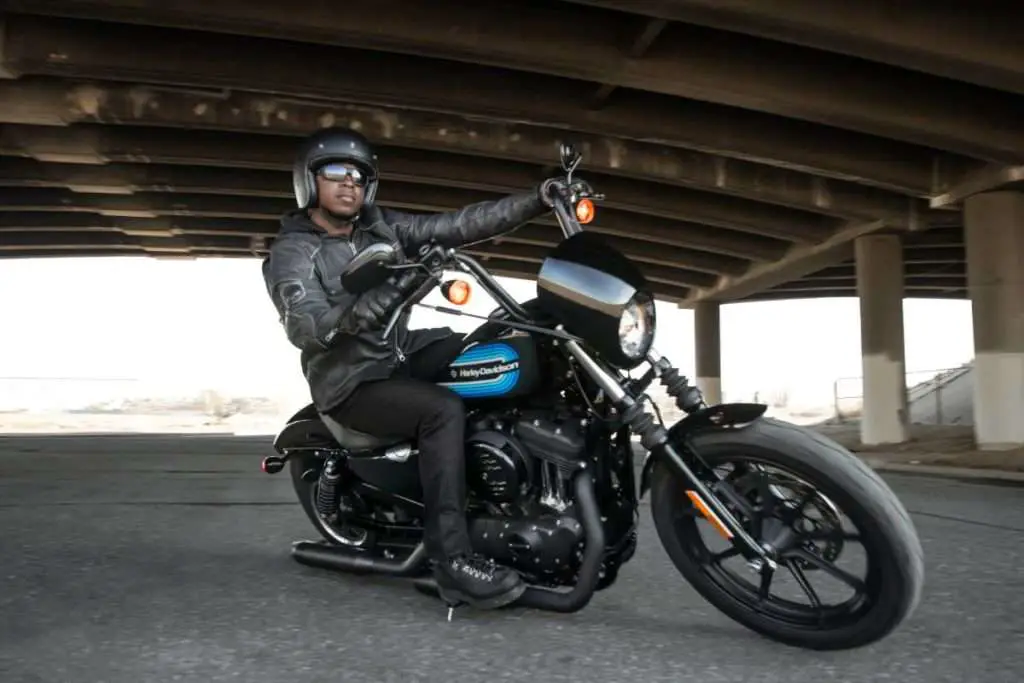 Leather is largely associated with motorcycle culture, not only in jackets, but also gloves, vests, pants, shoes, and whips. A leather jacket is classic and is what many people picture when thinking of the lone traveler riding into town on their bike or of the large groups of roaring bikes that joyride on Sundays.
Usually made from cowhide, although sometimes from buffalo or pigskin, leather is great because it is a solid material that can withstand skids and other abrasions. Although textile technology has come a long way, leather is still the material of choice for any jacket that emphasizes safety and protection.
It is also a great insulator for anyone riding in colder weather, but not so ideal for warmer climates as there is no breathability or ventilation to leather unless these features were specifically added to the jacket. Furthermore, although leather can be treated to be waterproof and will stand up to the occasional shower, it will begin to tarnish if riding in the rain on a regular basis.
Factors to Consider When Buying a Motorcycle Jacket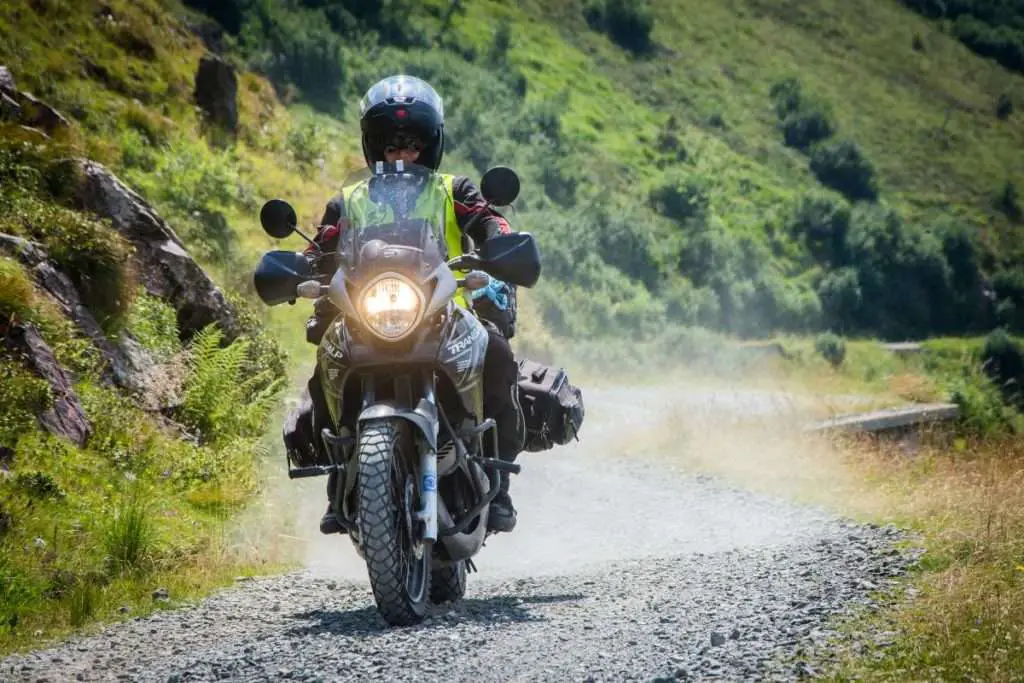 Every rider will have different needs and desires for their motorcycle jacket, and not all jackets are versatile and suitable for all conditions. For anyone shopping for a new jacket, here are some factors to take into consideration.
Weather, Temperature, and Season
Picking a jacket suitable for where and when you plan to ride will not only make your experience more enjoyable but may even be the determining factor on if you'll be able to ride at all. Wearing a leather jacket to cruise around on a nice summer day may be an option, but the heat you'd feel as the sun beat down on your second hide and the wind was blocked because of a lack of ventilation may create such a sauna effect that it may quickly become undesirable. Part of the beauty and fun of riding a bike on a beautiful and warm day is feeling the breeze as you zip down the road, something a leather jacket does not facilitate very well.
Style 
Motorcycles come with a long and strong history and culture, and many enthusiasts enjoy the vintage aspects that come with it. If this is the case, a classic leather jacket will likely be the preferred way to go. Tough and rugged-looking, the leather jacket is the classic "Joe Cool" staple, the unspoken uniform of bikers old and new, and is sure to not only protect the rider but to also add an air of novelty to their experience. Anyone who likes to test the speeds of their bike may be wise to choose leather as well but may look for it in the more modern styles of racing and street jackets.
Budget
How much money you have to spend on a jacket will give you an idea of what falls into your pool of choices. Motorcycle jackets come in a huge range of prices largely determined by quality and features. While leather is traditionally the more expensive material to use, the many advanced features and designs of mesh textile jackets can bring them into the same price range.
Any high-tech features, removable armor, or other add-ons will understandably bump up the price as well. As with all clothing, brand and style will play some role in cost, but the bottom line is generally that you get what you pay for, so it is important to be aware of what aspects you do or don't need.
Terrain 
Where you will primarily be using your jacket to ride will play a key role in determining which jacket you decide to get. In fact, outside of materials, types of riding and terrain are the other factors under which motorcycle jackets are categorized. Riding on city streets has different demands than racing or riding long-distance, and it is important for the jacket to match this so that you stay comfortable while being protected against the most common hazards of each terrain.
Type of Bike
The type of bike that you plan to ride with your new jacket will also play a key role in finding the perfect fit simply because you sit on them differently. The cut, weight, and give of a jacket determine how well you are able to move in it. If it is too restricting or heavy, you will have to strain more which causes faster fatigue and can potentially affect blood flow.
If it is too loose, however, the jacket may move and not protect key parts of the body when needed. Some bikes require the rider to lean forward, some upright, and some have your hands above your head; your jacket of choice must be suitable for the bike you ride so that you can move and sit in whatever position you need to with the most comfort and the least strain.
Types of Jackets
Shopping for jackets can be made easier by figuring out which style of jacket is most suitable. Each style is designed and built around the type of ride it would be used for to create an optimum rider experience while keeping the rider safe from the greatest potential safety hazards.
Racing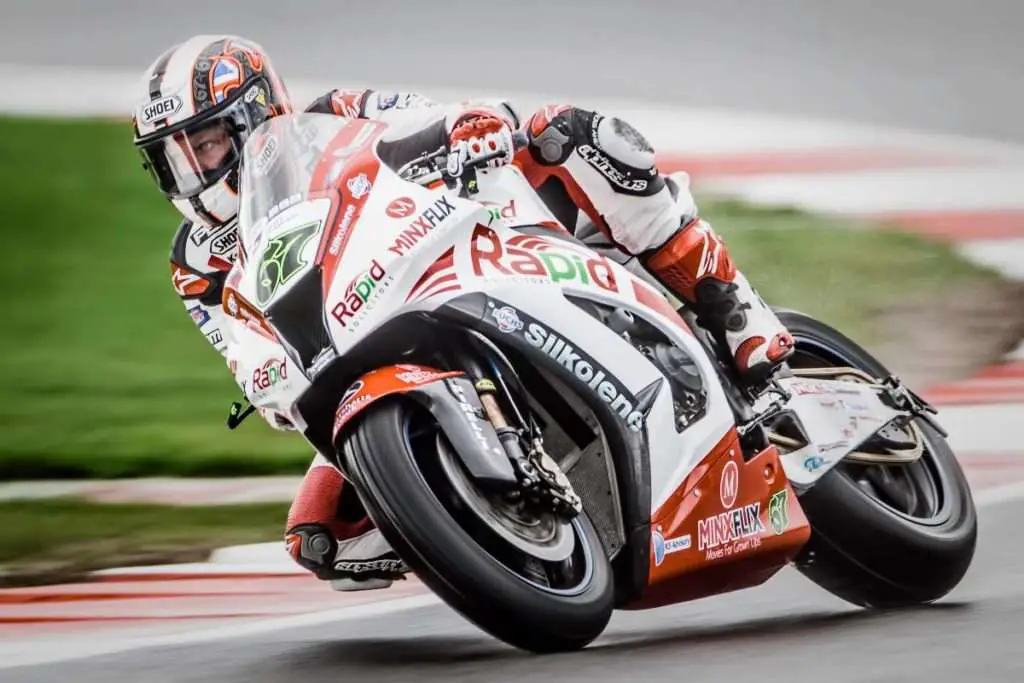 Although safety and protection are the priorities for motorcycle jackets in general, this is especially true for racing jackets. They are usually made of leather, specifically cowhide because of its durability against the sever risk of road rash that comes with the territory of high-speed racing.
Falling and suffering from road rash is such a high risk that these jackets almost always feature armor in strategic areas as well, protecting at-risk areas such as the elbows, shoulders, and the front and back body. This type of armor is usually on the inside of the jacket, but it is also common to find TPU (thermoplastic polyurethane) sliders in areas of the jacket to protect parts of the body that are most likely to make contact with the road in the case of an accident.
To make sure that the jacket and all of these specially placed pieces of armor stay in the right places, many of these jackets come complete with clips or a zipper to fasten the bottom of the jacket to the top of the pants, keeping closed any potential gaps that can occur while also creating an aerodynamic fit that helps reduce the racer's drag. Focusing on aerodynamics also means that you won't find many zippers nor pockets on racing jackets. The fit is made to be snug rather than loose, and the arms also curved into the riding position so that less energy needs to be exerted and the rider thus experiences less muscle fatigue.
Street/Sport
Street and sport jackets are like the laid-back cousins of racing jackets. They have similar cuts to be used on similar types of bikes and look and style is often comparable as well. They are, of course, still made to protect, but because the risk factor is not as high as for those who race, the fit of street and sport jackets are usually a bit looser and there may not be as much protective armor or slides. With both mesh and leather options available, these jackets are a great option to be worn casually but will often still come with options for additional armor and slides if desired.
Adventure Touring/Dual Sport 
Adventure touring or dual sport jackets, also known as ADV jackets, are made to withstand whatever terrain and elements a rider may come across. This are the traveler's jacket, the jacket that will become your best friend as you ride from rainy forested areas, over cold mountain passes and into the heat of the dessert sun. They are made to be comfortable and to allow you to ride on, rain or shine.
These jackets have a looser fit than their street or racing counter parts while still offering protection and are usually made of textiles because textiles allow for more versatility from season to season. They very often feature mesh alongside various vents to aid in cooling and airflow, but also insulation and optional thermal linings for colder climates.
Unlike their street and racing counterparts, these jackets come with lots of zippers and pockets for easy accessibility during long travels. While these additions are highly desirable for travel, they do tend to make the jacket very bulky and are consequently not as suitable for casual wear.
Being prepared for the unexpected is the point of this style of jacket. Because adventure and touring riders tend to ride upright or standing, ADV jackets come with a longer cut than other motorcycle jackets in order to protect the waistline and often also feature high collars to protect the neck. They are made from durable and waterproof textiles and often feature visibility, or hi-viz, details such as color bands and glow strips.
With utility, efficiency and safety as its key factors, these jackets are made for on and off-road riding and are the ideal choice for anyone who wants an all-in-on jacket that you can take anywhere.
Cruiser
As the name may imply, the focus of cruiser jackets is comfort. This means that they feature a nice and roomy fit and don't come with any bulky or restrictive additions. Extra leeway is often found specifically in the arm and shoulder areas to accommodate the higher handlebars that many cruiser bikes have.
Although they may feature select pockets, zippers and buckles, most of these additions are usually there for specific reasons rather than just acting as additional storage as is commonly found on ADV jackets. Additional armor is also not standard on a cruiser jacket, although it is common to find it as an attachable feature.
Cruiser jackets are traditionally made out of cowhide leather, although there are textile jackets and mesh features that can be found since technology and materials have advanced. When it comes to style points, these jackets are both cool and classy with their timeless look, as has been made famous in classic motorcycle-themed movies such as The Wild One and Easy Rider.
No matter which jacket you choose, a proper fit is important to ensure that all of the comfort and safety features do their jobs properly. This video from Motorcyclist Magazine offers some great tips on how to make sure that your motorcycle jacket fits the way it should.
In Summary
Since their inception, motorcycle jackets have come a long way in technology as well as design. The classic leather jacket has left its mark in cultural history, but this original has paved the path to a world of innovative and high-tech features. Nearly a century has went by since the first motorcycle jacket was sold at the New York City Harley Davidson store in 1928, and the advancements made during that time have grown with the industry.
Motorcycle jackets can still be categorized based on specific safety and comfort features, but it is important to remember while shopping for your new jacket that many of these features can now be added or taken away from various styles. As technology advances and removable aspects have become more common, it is now possible to find cross-overs and fusions of various jacket styles, allowing optimal customization for every rider's needs.
So, as you brave the market in search of your new jacket, use the above as a guide, but don't hesitate to inquire about any additional features you may not see in certain styles. The world of motorcycle jackets is vast and ever-changing. By understanding which safety and comfort features you are looking for, you're sure to find a jacket that is perfectly suited for all of your riding needs.