The quietest helmets for motorcyclists will make a long ride more enjoyable. But they can also reduce some of the health-related downsides of longer rides. There are several features you'll want to look for when buying quiet helmets. Obviously, you'll want something which reduces noise, is comfortable and aerodynamic.
When selecting the quietest motorcycle helmets, we're going to look at the following as must-have:
A face shield and aerodynamic head design
Built-in or preparation for a professional communication system (remember, quiet rides means you're not going to hear much from the outside)
A comfort liner
Removeable and anti-bacterian cheek pads
A chin curtain and neck roll to keep your head safe, secure, and in place while riding longer distances
A durable outer shell to protect your head from impact
It's also important to find a helmet that features a multi-channel ventilation system. This will help keep you cool, regardless of how warm it gets. Especially in those long summer rides in the sun.
Why it's Important to Choose a Quiet Helmet
First and foremost, the primary benefit of wearing a motorcycle helmet which reduces wind from penetrating into your eardrums, is that it can help prevent hearing damage. The sheer speed at which you're traveling on your bike greatly impacts your eardrums and ear canals.
The engine noise alone can reach 115 decibels. Hearing loss can occur at 85 decibels or higher. A high-quality helmet or earplugs can reduce that level by 10 decibels or more. This will help prevent hearing loss, especially for bikers who ride on longer trips or have been riding for several years.
Noise is also a safety distraction. Even the most skilled motorcycle riders will get distracted by something unexpected. Wearing a Shoei Qwest helmet, earplugs, or another helmet intended to help reduce noise levels while riding, will create a safer driving environment for bikers.
A biker who isn't distracted and pays attention to their surroundings makes the roadways safer for themselves, and all other drivers. A quiet motorcycle will help block out noise and distraction, resulting in a more alert biker.
Other features
Quiet motorcycle helmets can also provide protection to other areas of the biker's head and face. For example, a safety visor, comfort liners, and cheek pads are often implemented into these motorcycle helmets, amongst other safety features. All of these design elements will help prevent impact to the face, neck, cheeks, shoulders, and head, in the event a biker is involved in an accident. The helmet will not only prevent puncturing the eardrums and causing hearing loss or damage but also protect the facial features of a rider as well.
Your helmet will also protect you from the elements. Rain, snow, sleet, hail, or even extreme sunlight can cause challenging riding conditions. A helmet is going to help improve vision, clarity, and riding conditions. Plus, it will help keep your ears warm in cold riding conditions.
The most obvious benefit of wearing a quiet motorcycle helmet is to help prevent hearing loss, damage, or injuries to your ear canals. However, it can also provide general wellness benefits in the form of protecting the neck, face, cheeks, head, and shoulders, in the event of an impact. And, the helmet also helps improve riding conditions, in less than ideal riding conditions for motorcyclists.
Riding Conditions You'll Want a Quiet Helmet for
You might not need to wear a pair of noise-canceling earplugs or a quiet helmet for a 5-minute ride to the grocery store where you're riding 15 MPH. But, for longer rides, it's highly advisable. Some of the instances you might want to wear a quiet motorcycle helmet include
Long road trips
When riding several miles at speeds above 35 MPH
Riding conditions where there are loud trucks, cars, or other noise distractions
While riding at faster speeds on the highway
Riding through high smog, smoke, or dangerous roadways with harmful toxins around (a helmet, in general, is beneficial in these conditions)
Again, just revving the engine of some motorcycles can reach a decibel level of 115. So, it's a good idea to wear a quiet motorcycle helmet anytime you're riding. But, these are some of the conditions in which it might be more beneficial, as opposed to riding around the block at low speeds, in a familiar neighborhood.
The Quietest Motorcycle Helmets Available
As a biker, you know the importance of a quiet, comfortable ride. Especially on longer trails. So, what are the best options available when investing in a new motorcycle helmet? Consider these options.
Shoei Neotec 2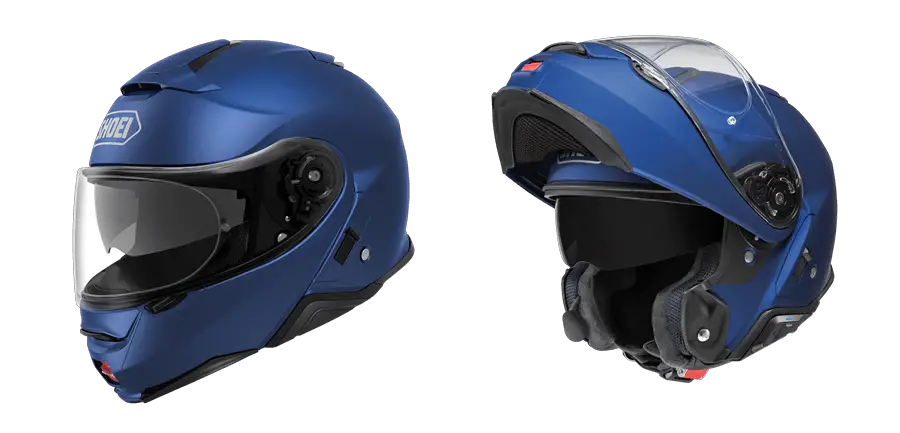 The blended versatility of an open-faced helmet is paired alongside the safety of a full-face mask in this quiet riding helmet. It features an integrated shell spoiler to reduce lift, and a 360 pivot locking system secures the chin bar down in place, for added safety. An EPS, multi-piece liner helps reduce impact and it's prepared for the Sena SRL communication system making it easier to communicate with other bikers on long rides.
A 3D interior liner protects the cheeks, face, ears, and helps reduce moisture buildup below the helmet. The liner is also removable for easy cleanup. In terms of noise cancellation and isolation, the helmet features
Dedicated Sena SRL communication system which fits perfectly
New, noise-isolator cheek pads to deflect wind and reduce unwanted wind gusts
An airtight window bead
Vortex Generator Lip for noise reduction
Enhanced shell for improved aerodynamics and minimal wind entry into the helmet
a double locking system for more safety
QSV-1 sun visor
The face cover flap also helps block out noise and isolates wind entering from the front of the helmet while riding. A CNS shield is airtight, preventing water or wind from flowing.
Furthermore, the rating for this helmet is "quiet" by most riders. As opposed to the usual "average" and "loud" ratings for other helmets. The primary drawback of this helmet is its price. It's not the most affordable option when looking for noise isolation and noise reduction while riding.
Schuberth C4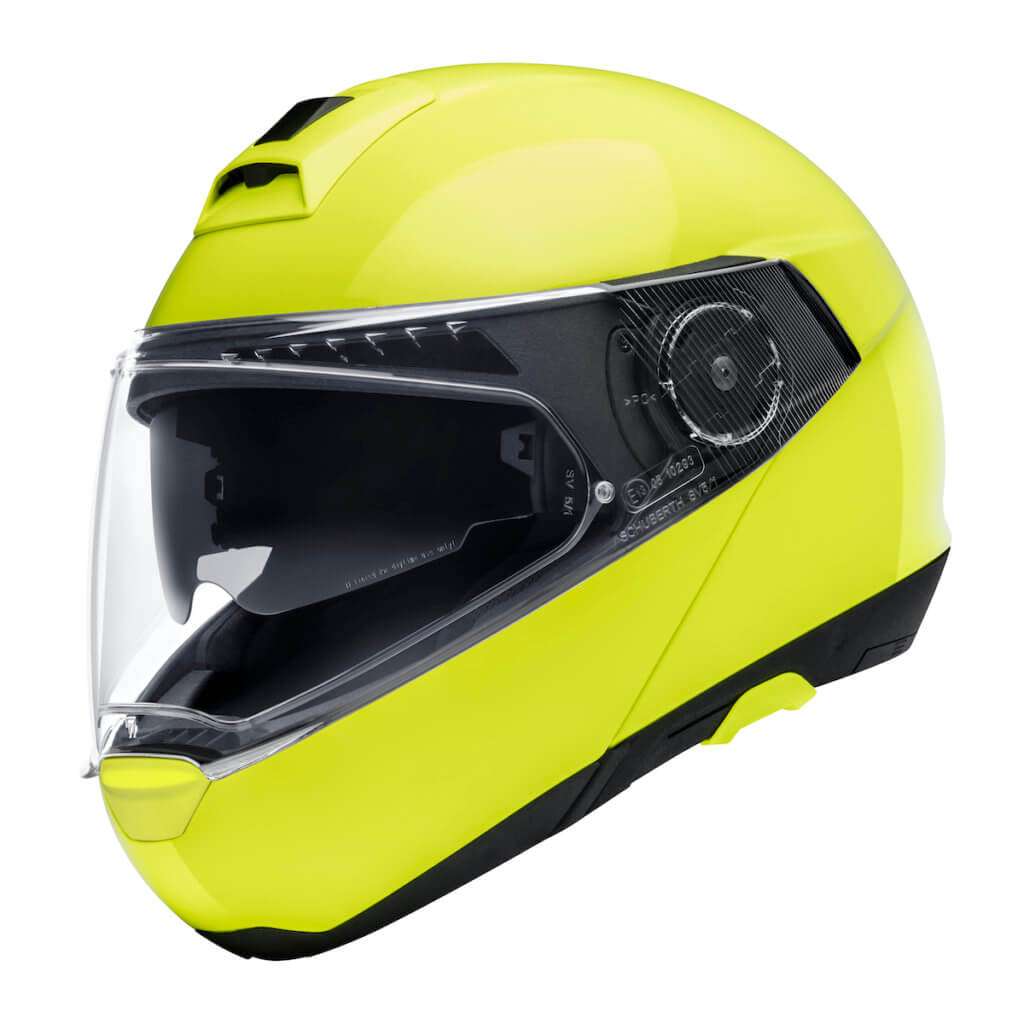 This German-made, luxury helmet features a compact shell design and is aerodynamically tested for stability and speed. It's lightweight, features a full face shield that can be opened or closed while riding. It also features an integrated antenna so that riders can easily communicate with other bikers while riding.
Some features this helmet offers include
A preinstalled speaker and mic
Multichannel ventilation system to keep bikers cool on longer trips
A plug & play SC1 communication system
Two external shells for added protection
Anti-fog inserts so bikers can clearly see the open road in front of them.
Noise levels are greatly reduced with padding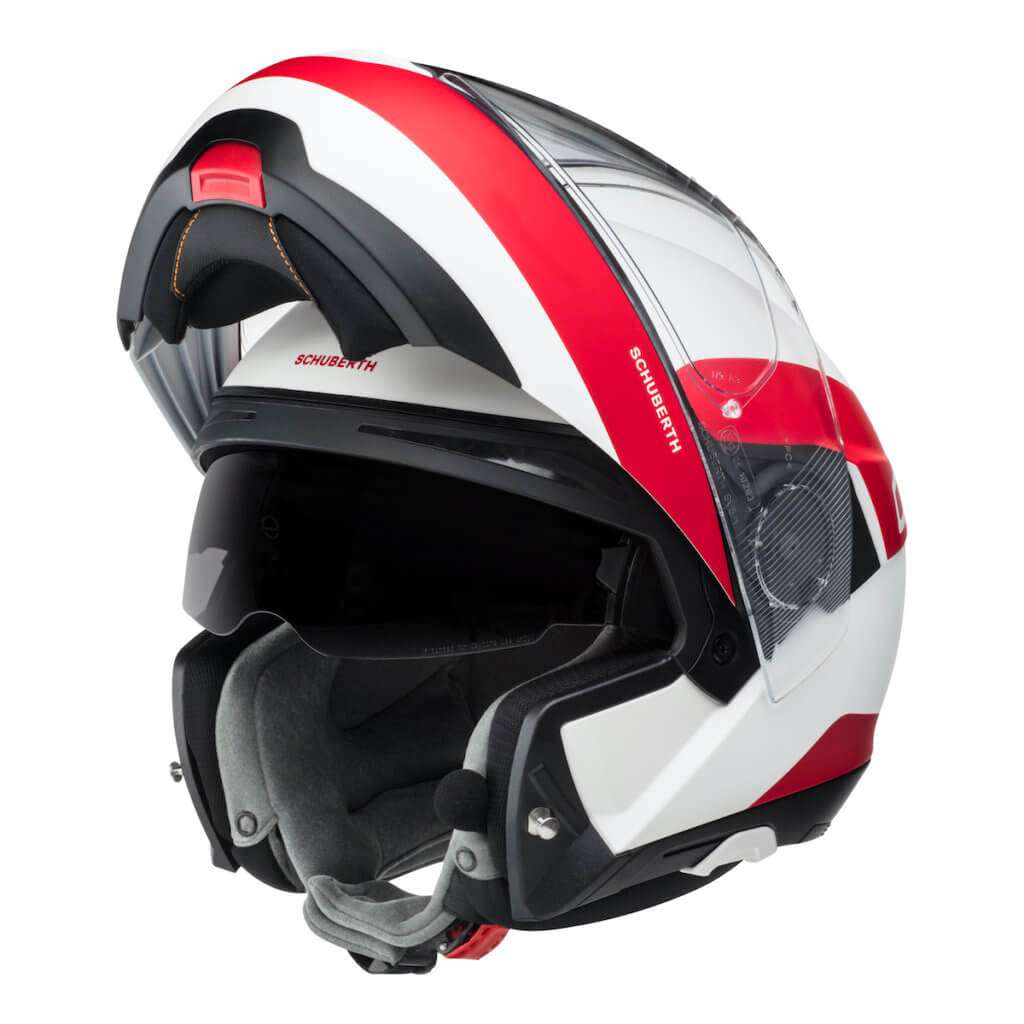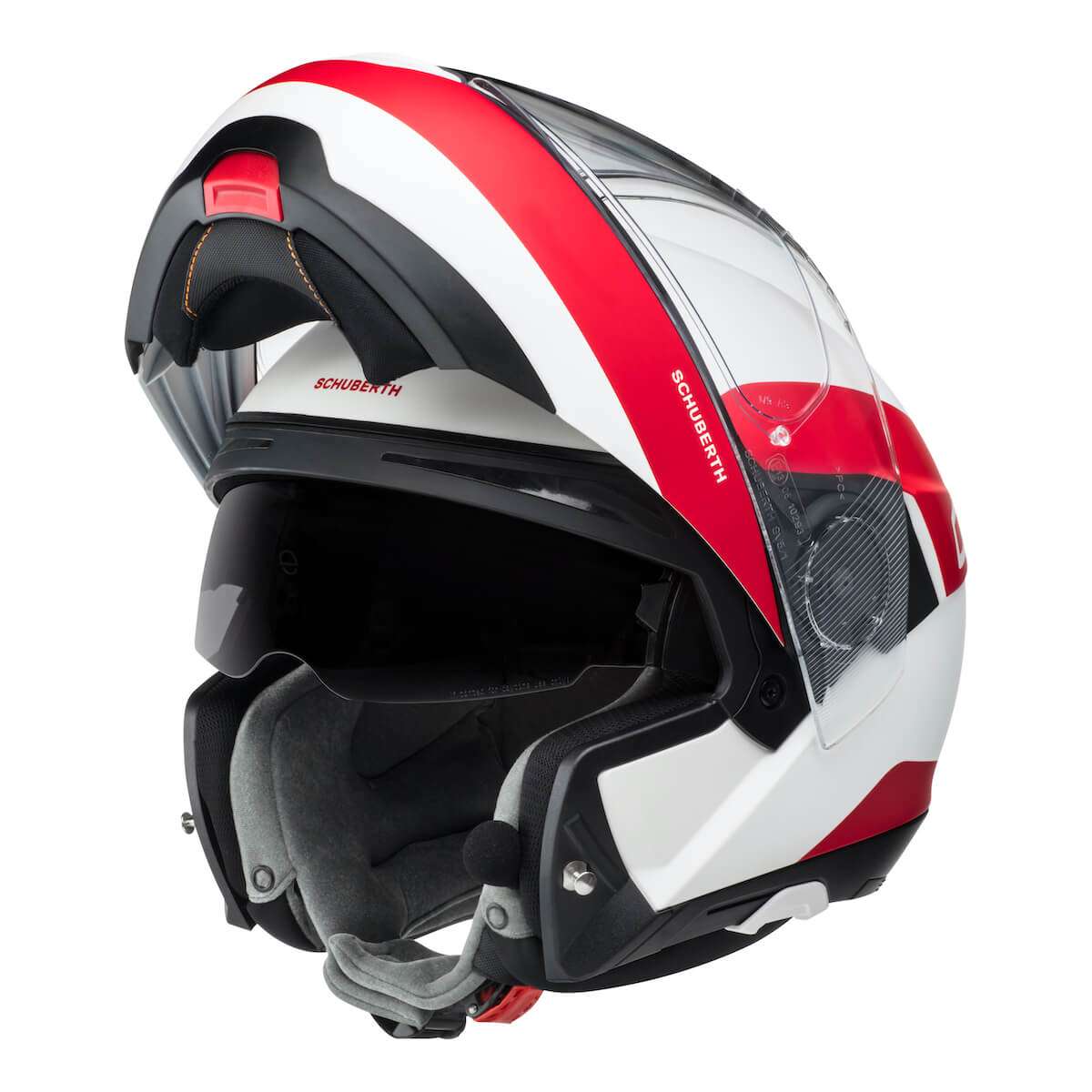 The EPS foam liner helps minimize force if any impact is felt. Also, an integrated spoiler helps reduce strain on the neck and head if riders are involved in an accident. Complex multizone sections also guarantee that the EPS foam will reduce damage from the sides, front, back, and bottom, at the time of impact.
The interior lining is antimicrobial, removable, and washable. It features forehead and chin ventilation, and an extra-wide viewpoint with the face shield that's built into the helmet.
One primary factor worth noting is that owners of the C3 helmet, claim the noise reduction and isolation was superior to that of the C4 series. Many who choose the latest C4 helmet, suggest adding a pair of noise-canceling earplugs, or noise reduction earplugs, to help reduce wind and noise decibel levels while riding. With this being said, the helmet does help reduce noise decibel levels, more so than a traditional motorcycle helmet, which doesn't feature noise-reducing capabilities.
Helmet Pricing
Both the Schuberth and the Shoei have a higher price level than most helmets. We found that there are multiple versions available so we can't put our fingers on which one is more expensive. In the end, it depends on which version is better for you from each model for qualified pricing comparison.
Alternative to Helmet
For many, the quietest motorcycle helmet is not the most affordable option. There is an alternative to choosing a motorcycle helmet which does help reduce noise levels on the open road. Wearing a pair of earplugs while riding is a great option for many bikers. And, many earplugs today have built-in features and capabilities, which still allow motorcyclists to communicate with one another.
Riding Ear Plugs
There are several benefits of choosing riding earplugs if you aren't going to invest in the quietest motorcycle helmets. Some of these benefits include
There are noise-canceling or noise reduction options available
You can choose from in or over-ear designs
Many earplugs feature built-in microphones and speakers, allowing riders to communicate with other riders on long road trips
They feature a noise reduction rating of greater than 10 decibels (some brands up to 25 to 30 decibels)
Earplugs safely filter wind and noise distractions on the bike
Filters different noise and distractions, so bikers can still hear signals, horns, and important traffic sounds while they're riding
Although earplugs are not going to provide the same level of protection as the best helmet, the right earplugs can greatly reduce background distractions. And, even if you do own a good helmet, it doesn't hurt to wear earplugs to help further block out distracting noises.
We recommend buying those earplugs in bulk, many riders recommend using Moldex Ear-Plugs. You can find them in packs of 50 or 100 – try a lower number first so you can confirm they work for you.
The right riding gear will make you safer, while also helping protect you from hearing loss and other possible dangers on the road. These are some great options when choosing a new helmet. And, for bikers who are looking for an alternative, earplugs present several of the same benefits that a quiet helmet does, at a fraction of the price!
Video recommendation
Still not convinced? We found this review makes really good points on the 2 helmets presented above. And if you don't want to invest in a new helmet right now, or just bought another one – try the earplugs.