4.2 out of 5 stars (based on 5 reviews)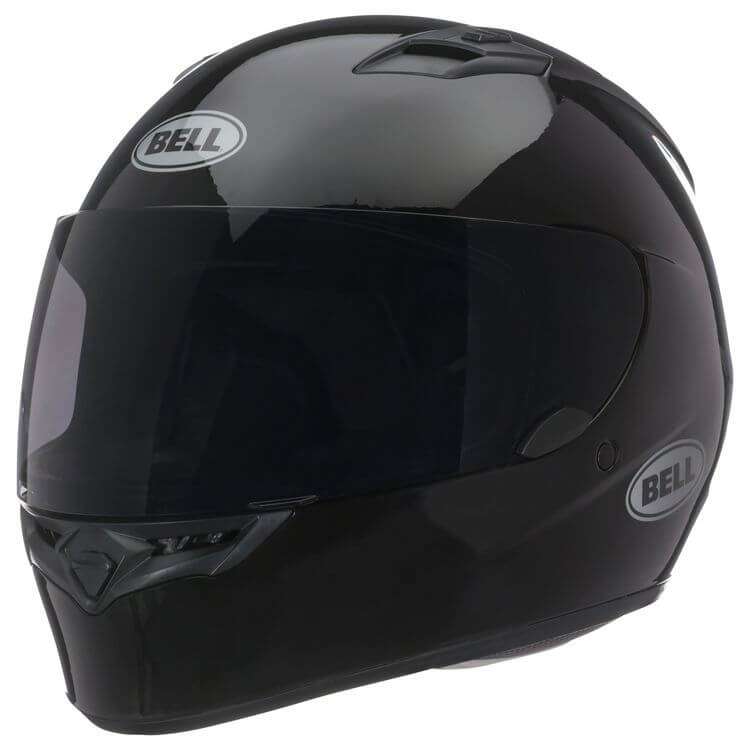 Introduction
A subsidiary of Vista Outdoor, the Bell Helmet Company like the name implies, is a helmet manufacturing company. Bell has been around for over 50 years and they have established quite a reputation for themselves. They manufacture what is generally regarded as the best quality helmets for bicycle, motorbike and auto racing. Basically, if you need to participate in any activity that would require wearing a helmet – you will be hard-pressed to find a more highly recommended helmet brand than Bell. 
Bell helmets are known for their sleekness, durability, and strength and the Bell Qualifier Full-Face Motorcycle Helmet is no different. In this article, we will be discussing some of the important specifications and features you need to know about the Bell Qualifier Helmet.
Features of the Bell Qualifier Full-Face Motorcycle Helmet
Body design
The Bell Qualifier Full-Face Motorcycle Helmet is a stylish and elegant headgear. It is available in a number of finishing including matte black, matte gray and gloss black finishes. The helmet has a unique aerodynamic shell design to enable the biker to enjoy a smooth ride without the wind interference. The design allows for swift airflow on the helmet which helps improve your clarity.
About its size, the helmet is available in 7 different measurements from extra small to triple extra-large. Basically, there is a helmet for everybody regardless of the size of your head.
Visor
The face shield/visor of this helmet is probably one of the best things about it. The visor is photochromic and anti-fog. Its anti-fog properties can be attributed to the NutraFog II which helps to prevent the formation of moisture on the shield.
This enables you to see clearly in foggy weather conditions. It also has anti-UV rays properties to protect the rider from ultraviolet sun rays. The face shield is extremely durable too thanks to its scratch resistant surface. 
Still, on the visor, the Qualifier Full-Face Motorcycle Helmet comes installed with the ClickReleaseTM system exclusive to the Bell brand. The ClickReleaseTM design allows users to conveniently switch the shade of the photochromic visor whenever they need to without having to go through any complex process. Riders will find this feature quite handy in the event that the face shield is broken and needs to replaced. Or if they need to change the color of the face shield to adjust to certain weather conditions.
To illustrate, if you are riding out at night, a clear face shield to optimize your vision is what you need. On a sunny afternoon, on the other hand, you will need a darker face shield. That reduces the brightness so you can see the road clearly.
Essentially, thanks to the ClickReleaseTM feature, you do not need extra helmets for the different times of the day. This single accessory is versatile enough to adapt to any condition efficiently.
Comfort and Safety
For its weight, the Bell Qualifier Full-Face Motorcycle Helmet is available in weights ranging from 1.6 pounds to 4.8 pounds depending on the shell sizes. At that range, it is relatively lightweight, thanks to its polycarbonate shell construction. This makes it the perfect helmet for long rides as you will be able to wear it for a long period of time without sacrificing your comfort. The pressure it exerts on the face is almost insignificant making the helmet feel like just an extension of the head. 
Beyond being light, the polycarbonate shell is also quite durable and strong to palliate the effect of collisions and safeguard your skull in the event of a crash.
Additionally, the helmet straps also have a secure D-ring lock to ensure that the helmet stays in place once you put it on. This way, you can be certain your helmet is not going to be knocked off your head regardless of the force of an impact. The helmet is also DOT and ECE certified having met and exceeded the required safety rating.
Ventilation
Now besides its weight, another factor that contributes to how comfortable a helmet will be is ventilation. To cater to the ventilation in this helmet, Bell designed the helmet with air vents strategically position all around the accessory. The air vents enable ventilation within the helmet using the velocity flow ventilation technology. The air vents are also designed in such a way that the rider can regulate the amount of air that touches their face. 
For instance, riders who are racing will want to minimize the amount of air that reaches the face. On the other hand, people going at slower speeds may want to open the vents wider to maximize the exposure to air. Improper ventilation while racing can make you feel like you are suffocating within the headgear.
Either way, you are in total control of how much air hits your face and you can go for whichever volume of air will allow you to concentrate on the road for better riding experience. Also, there is an air vent on the chin that dries out the fogging that may occur although this is quite unlikely. However you want to look at this, this helmet is designed to provide maximum comfort regardless of the speed or duration of the ride.
Padding
It is important for a helmet to fit perfectly so the insides do not press against your face as it can cause discomfort and ruin any riding experience. This accessory does just that thanks to the padding.
The padding for this Bell Qualifier helmet is made out of 3D laser contoured cheek pads. The padding is well contoured to fit the face so that it can easily grip the face of the wearer with almost no effort. It will not topple or feel too constricting. Just the perfect grip with no distortion. 
A particularly great feature about the interior padding is that it is removable and washable. Now, it is very likely that you may sweat whenever you use the helmet. The padding will soak up the sweat and in addition to making it dirty, it can also gradually build up a stench.
So if you want to wash it after a certain period of use, all you have to do is pull it out and launder for a fresher feel. The washable interior also encourages good hygiene as dirt can accumulate overtime on the padding and cause irritation on the skin.
Bonus: Wind Collar
Bell also designed the padding with a noise reduction mechanism in the form of a padded wind collar. There are often lots of distracting sounds on the road which can sway a rider's attention and put you in harm's way.
A wind collar can help to reduce the wind and noise on the road that gets to the rider to ensure the rider is calm and composed. This will enable you to hear the important sounds that can help you concentrate on staying safe on the road.
If you also like to shut off the wind and road noise by listening to music on your rides, then you will absolutely love this helmet. Bell designed the interior padding with integrated speaker pockets that provide a slot for your speakers and earphones.
Warranty
The Bell Qualifier Full-Face Motorcycle Helmet is backed by an industry-leading 5-year warranty from the manufacturers. A warranty of such length is an indication that the company is assured of the quality and performance of their products. You can always trust Bell to deliver top quality helmets that prioritize safety without also compromising on other features.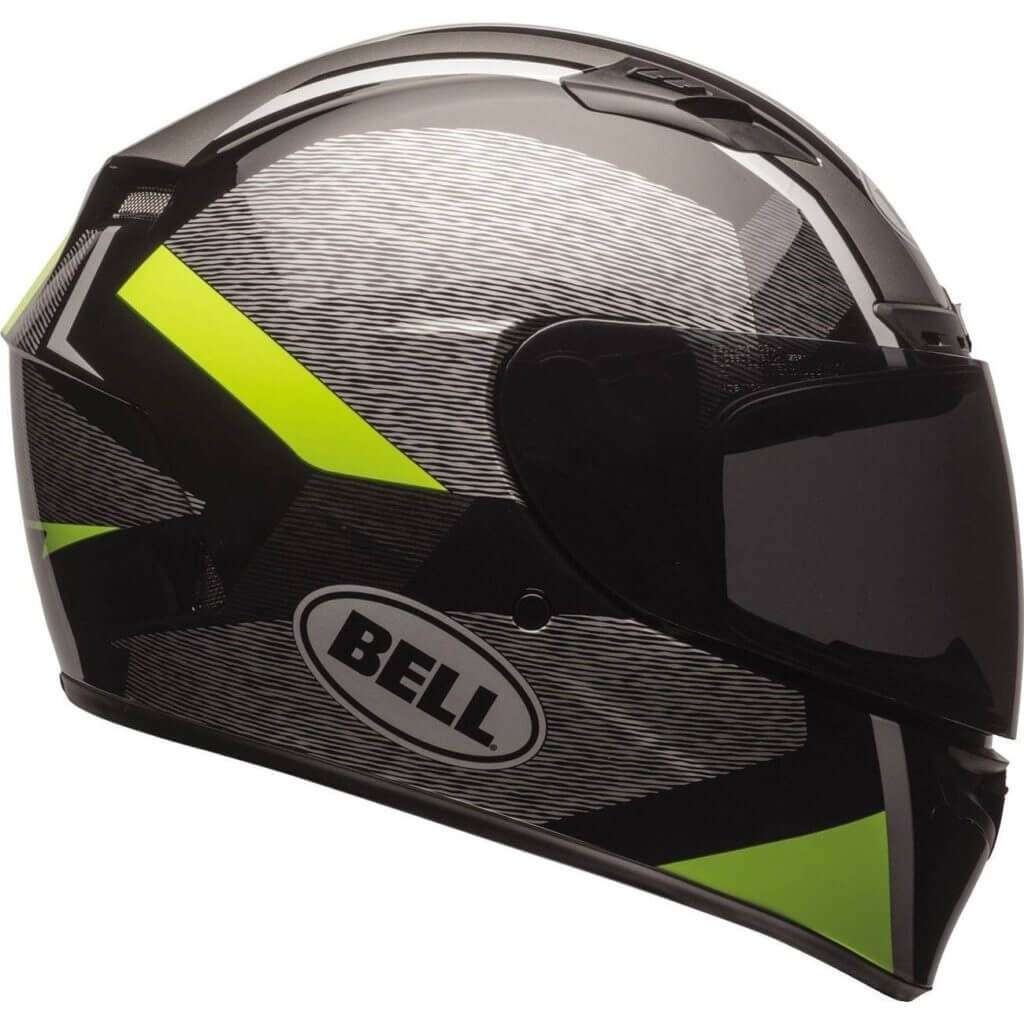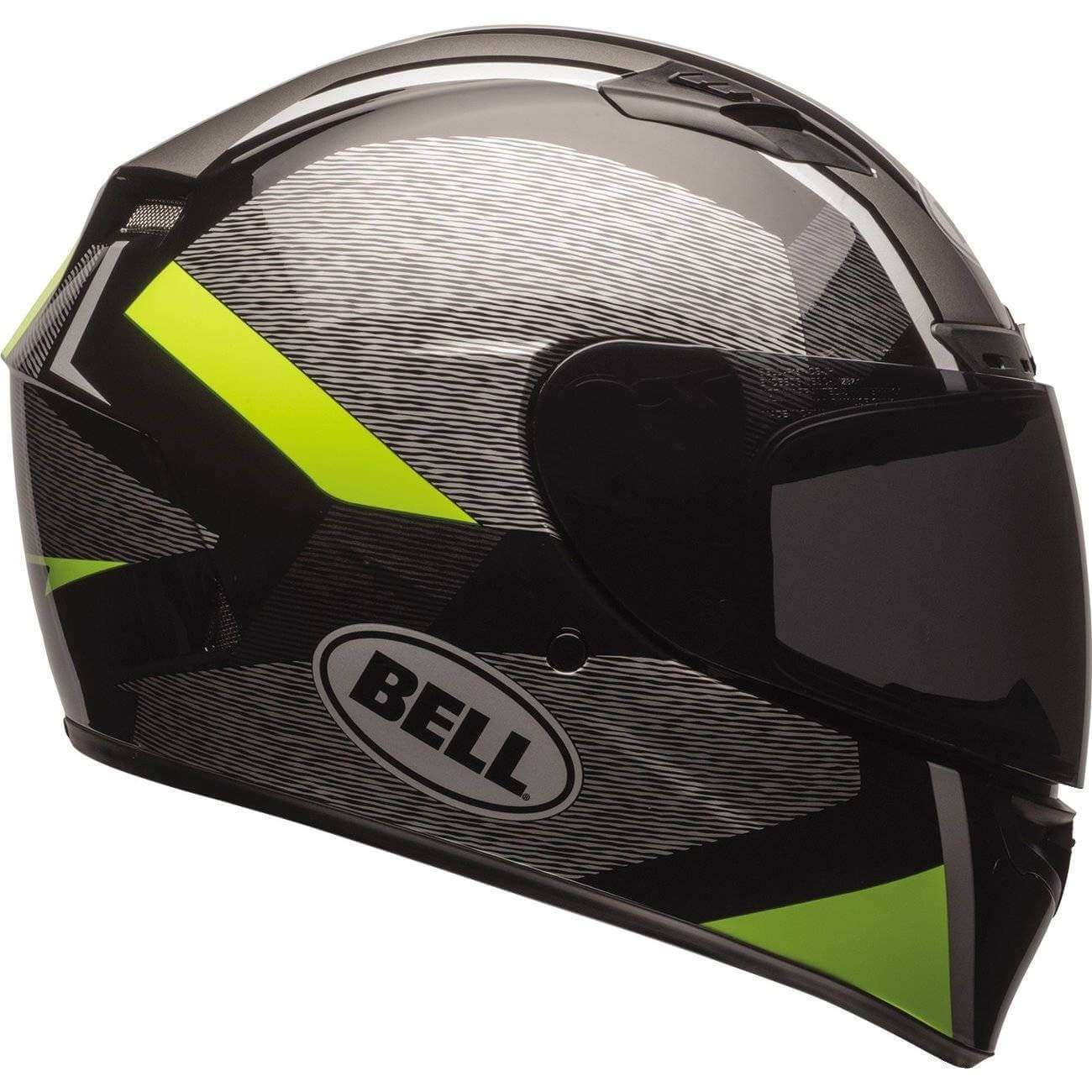 Price
If you are looking to purchase a good quality helmet without breaking the bank, then this is the best option out there. In addition to all its other amazing features, it is also relatively affordable so you can race in safety without having to burn a hole in your pocket.
When it comes to value for money, it's hard to do any better, FortNine included this helmet as the first one in their Top 5 helmets under $200.
Pros vs. Cons
What We Liked
It's a full-face helmet
The helmet has an excellent finish and stylish design
The interior padding is quite comfortable and plush
Calm and quiet thanks to a noise-reducing wind collar
It is designed with a photochromic, anti-UV ray and anti-fog visor to enhance versatility
Made with a lightweight yet durable polycarbonate shell
It is relatively affordable
The helmet is covered by a 5-year warranty from Bell
Designed with integrated speaker pockets for audio speakers
It comes with a sufficient number of air vents to facilitate ventilation
We didn't Like
People who wear glasses may find it difficult to use the helmet
The helmet tends to get louder as you go faster
It does not have a Bluetooth port
No chin guard
No nose guard
Some users have complained that the face shield may flip open during rides causing a safety hazard
Conclusion
Finding a helmet that will meet all your requirements while staying within a reasonable price range is tough. This helps to explain why this model of a helmet from Bell is one of the bikers' favorites. The Bell Qualifier Full-Face Helmet brings all the brilliant features one would expect from a helmet at an incredible price. If you are thinking of buying a helmet, you should definitely consider this one.