Finding the perfect pair of motorcycle riding jeans, which is good-looking, fits well and has good abrasion protection qualities is not easy. Not to forget, searching for the right motorcycle pants is also directly or indirectly related to the spending budget. If you are looking to buy a new pair of jeans to wear the next time you go out for a ride, we can help you clear some confusion and dish out some really nice options for you. Here we have listed 3 of the best motorcycle riding jeans. But do we have a clear winner? You'll have to stay with me for that!
Scorpion Covert Jeans – All-round budget jeans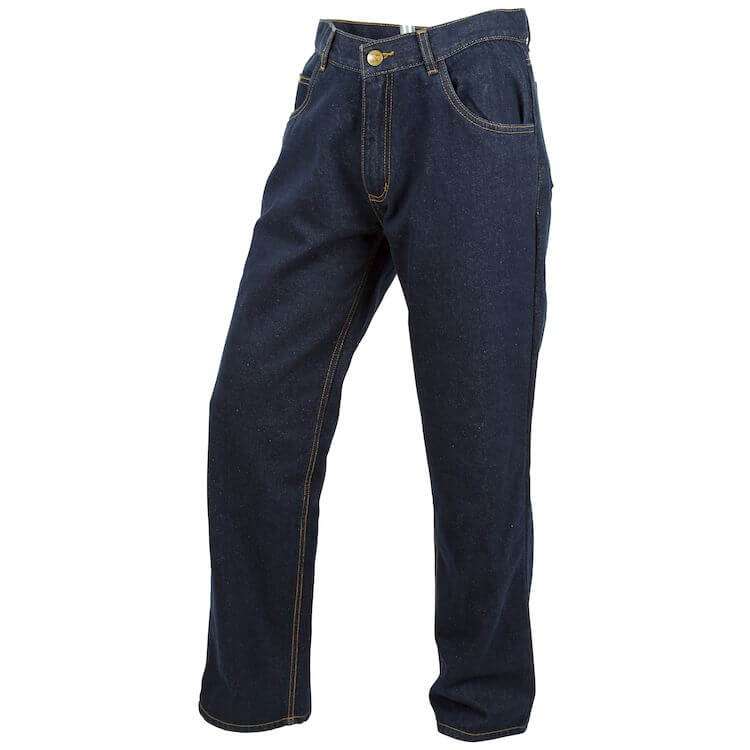 The Scorpion Covert Jeans is the best all-round motorcycle jeans to buy right now. This pair of jeans is loaded with ample protection and is very comfortable to walk in after your ride. It fits really nicely and you can wear them on a daily basis too.
The pockets are deep and snug, so you don't ever have to worry about things falling off. If you've ever worn a Levi's 514, the fit is sort of similar. The heavy-duty denim used in making these jeans, make them slightly heavier than regular jeans, also because of the protection that comes along. But, even after the slightly heavier feel, these motorcycle pants will feel comfortable on your legs, on and off the bike. On top of that lining them with Kevlar up to your ankles adds extra protection.
As far as the looks are concerned, these biker jeans are tight on your waist and pretty baggy from there on below. They give you the vintage 90's look. You can wear them to work every day, and nobody at the office will be able to tell that it is a Moto-riding jeans. 
Abrasion coverage includes knee armor pockets. Mesh lining helps in adding comfort and airflow. 
This is not fashion jeans that you can wear to a party. This is a typical motorcycle riding protection jeans available at a decent price. It is of high quality and made for the everyday rider. They look like any other jeans. In fact, I would say any other good-looking jeans. So, my verdict would be, a great pair of motorcycle jeans at an affordable price.
Roker Revolution Waterproof Jeans – Too good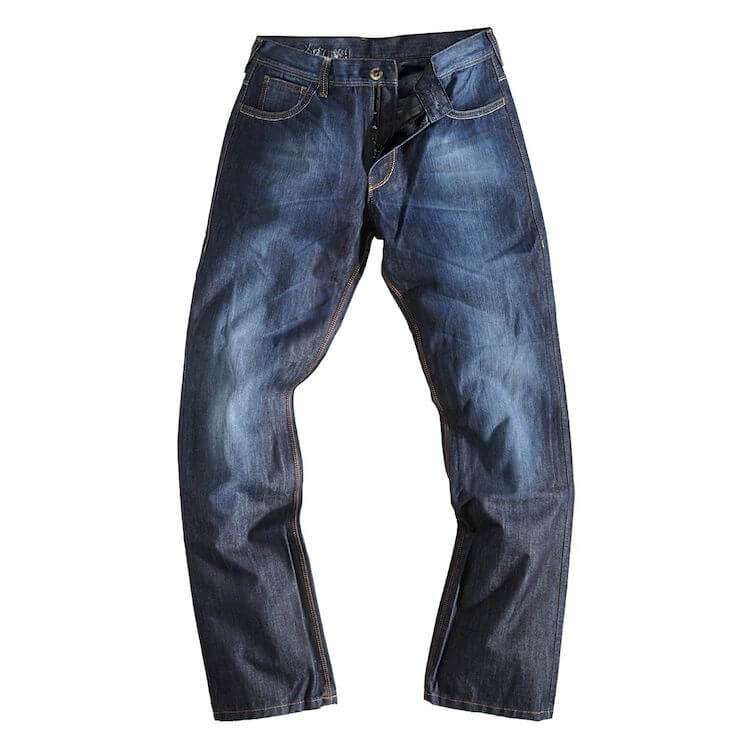 The Roker Revolution Waterproof Jeans are just too good in every department. Wearing this pair of jeans means you get protection, you look good and you feel good too! They are completely made of Schoeller Denim-Dynatec which gives it a professional jeans look and is highly abrasion-resistant. This material is basically a combination of denim and Schoeller Dynatec which is a very tough fabric material to break.
The jeans have knee armor as well as a hip armor. They are also waterproof in nature. Unlike the previous jeans on the list, the Roker Revolution is a thin and lightweight motorcycle riding jeans. They are windproof so you can't complain too much about the airflow. However, due to the lightweight feature and because the membrane lining feels so smooth on the skin, I don't think breathability as much of an issue here. 
The Roker Revolution jeans are basically the type of jeans you can wear anywhere and everywhere. In fact, you can wear them daily, to work, to the shop, to that party, to the pub, and as I said, anywhere. The looks are extremely stylish. 
These jeans are expensive, but they are worth the cost! They offer you everything you need from riding jeans. If you are an everyday rider, this is your answer! 
Klim K Fifty 1 Jeans – The perfect inbetweener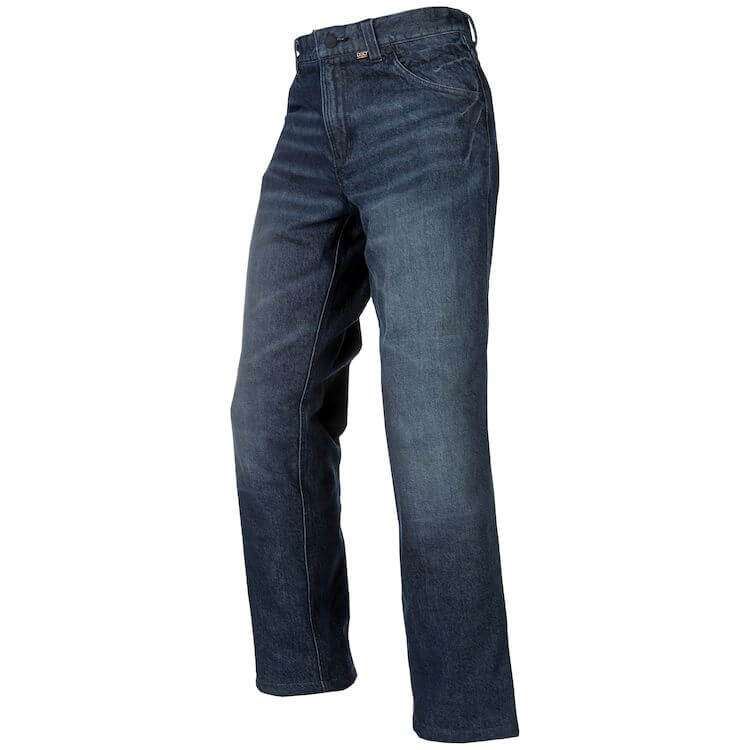 The Klim K Fifty 1 Jeans, hits the perfect balance between looks and protection. That is what you want from riding jeans, right? They must look good and protect well. These pairs are made of high-quality Condura Denim and reinforced with DuPont Kevlar. They feature a D3O knee, hip, and tailbone armor. We are all aware of the legendary ruggedness of Klim's jeans and this one is no different. 
They show no signs of being a professional motorcycle riding jeans. Go to work wearing them and you might get surprised collecting a couple of compliments for your new office pants. Even though Condura denim is a bit stretchy and doesn't feel like your regular denim sometimes, these jeans are tough and the denim as I pointed out earlier is very rugged. 
The best part about these jeans is they look nothing like conventional riding jeans. They are so smartly made, you won't be able to tell that they feature heavy-duty protective armors underneath. 
They are straight cut and even slightly wider at the end, giving them a baggy bell-bottom kind of look. The looks are great and it depends on your personal taste. If you are into baggy pants, you ought to like this one! One of the main advantages of wearing these jeans is they are very breathable. So they are also great casual-style bottom wear in summer and for riders riding in hot conditions. 
All in all, the Klim K Fifty 1 jeans are packed with great impact and abrasion resistant qualities which can take a beating on your behalf any time of the ride.
Conclusion:
Finding a good pair of jeans can be tough. But we just reviewed 3 very good riding pants for you. If you are running on a budget, the Scorpion Covert jeans are a great choice. They give you all the features of good riding jeans at a decent price. If you want the best protective riding jeans with water-resistant features, then spending a few extra bucks on the Roker Revolution would be a wiser option. If you are looking for looks, comfort, protection at the mid-range price mark, there is no better motorcycle riding jeans than the Klim K Fifty jeans online. At the end of the day, it all depends on the motorcycle rider's needs.