Motorcycles are arguably the coolest form of transportation.
And when the utility of something is so inherently cool, it carries over into the fashion associated with it.
Let me explain.
The early days of motorcycle fashion stemmed from the rise in popularity of motorcycles during the Great War days. The trends of the time were heavily influenced by the uniform.
Consequently, this time period gave birth to gauntlet-style gloves.
The next decade saw young men copying the protective pullovers worn by the Harley-Davidson Wrecking Crew race team. Towards the end of the decade, Irving Schott produced the first motorcycle jacket. The 1930s saw the rise in motorcycle boots assuming the figure of the Engineer Boot. 
And in 1953, Marlon Brando played Johnny Strabler in The Wild One. Thousands of young men rushed to buy trendier riding gear. 
Throughout history, everything from jackets to gloves to boots to helmets has been coveted among bikers. And for good reason- few other passions allow you the freedom to dabble with the suaveness and badassery that motorcycle-specific gear does.
..but
Legs constitute anywhere between 50 and 70 percent of your body.
And yet, it's baffling how underestimated riding pants are. 
If you're wearing regular jeans while riding, you may as well be naked from the waist down (in terms of crash protection, not legal protection). Jeans have too low fiber density to survive being dragged along asphalt for several seconds.
This is why motorcycle pants are important and are paramount to lower body safety: nothing else provides the requisite abrasion resistance for high-speed motorcycle accidents.
In today's article, we're going to explore motorcycle pants in depth. 
Because, speaking from personal experience, having the skin scraped off your thighs while it gets replaced with asphalt isn't fun. Road rash is real and it hurts. Bad.
Different types of pants 
Cruiser Pants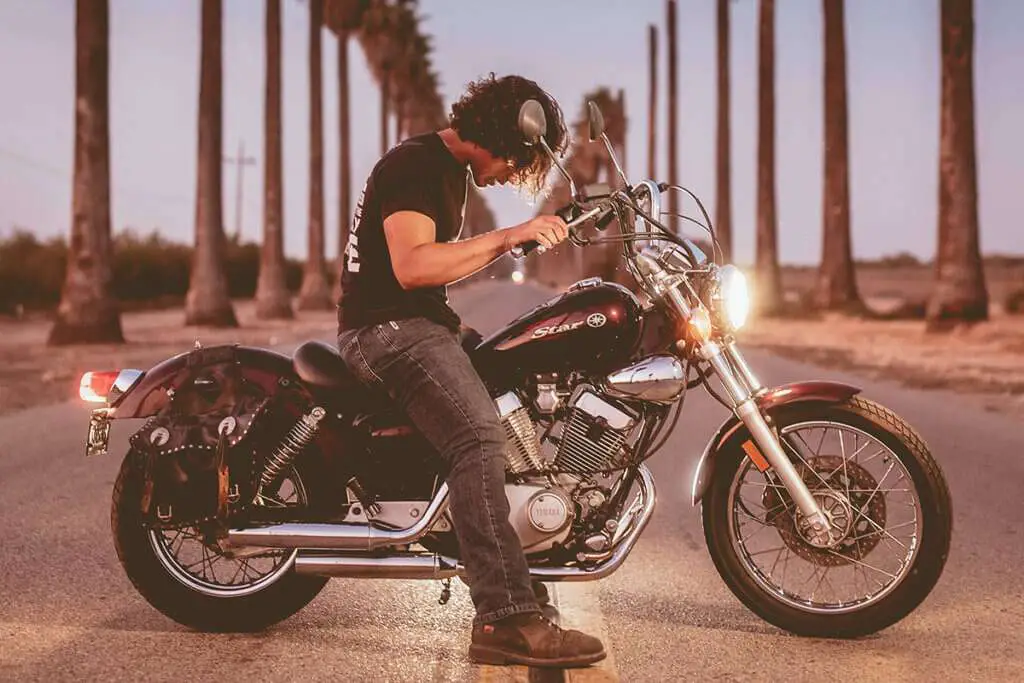 The most common type of motorcycle pants, cruiser pants are comfortable as hell. 
These pants are made of leather or textiles, or a combination of both.
Leather, naturally, is the more abrasion-resistant material. But textiles offer more resistance against natural elements like rain. And both come with thermal liners for heating. 
The fit of cruisers is generally relaxed, due to which most pants barely contain any stretch panels. Adjusters are often present on the hip/ waist binds to adjust the fit to your body. Cruisers come with 4 pockets on average.
Racer Pants
As the name says, these pants were made for the race track.
Due to the extremely intense speeding and nimble handling required, the pants are designed for high impact protection and abrasion resistance. For the same reason, heavy, dense leather (due to high abrasion resistance and resilience against sliding at high speeds) makes up the main chassis.
For maximum flexibility, the knees, thighs, and posteriors come with specialist design stretch panels.
The top of the pants has a zipper, attaching them to the jacket to keep the whole outfit in place. Knee sliders, knee pucks, and hip guards make up the body armor.
For racing pants, both ergonomics for riding conditions and aerodynamics of the rider have to be tailored such that the pants have no extra material. This prevents the pants from catching any wind, in addition to keeping the rider's legs in the position optimum for both safety and racing. Pockets are not present either.
Overpants 
Worn over your normal pants, overprints are loose, baggy gear ideal for inter/intra-city commuters and people riding on long-distance tours. 
That being said, you still need to get the right fit so it doesn't get stuck in the wind and stays in place while you slide down the road in case you crash.
The best overpants contain:
Long side zippers to make removal and insertion easier
Extra stretch panels to help with mobility
Adjusters to adjust the fit of your pants.
Waterproof material  
An additional layer for insulation 
Adventure Touring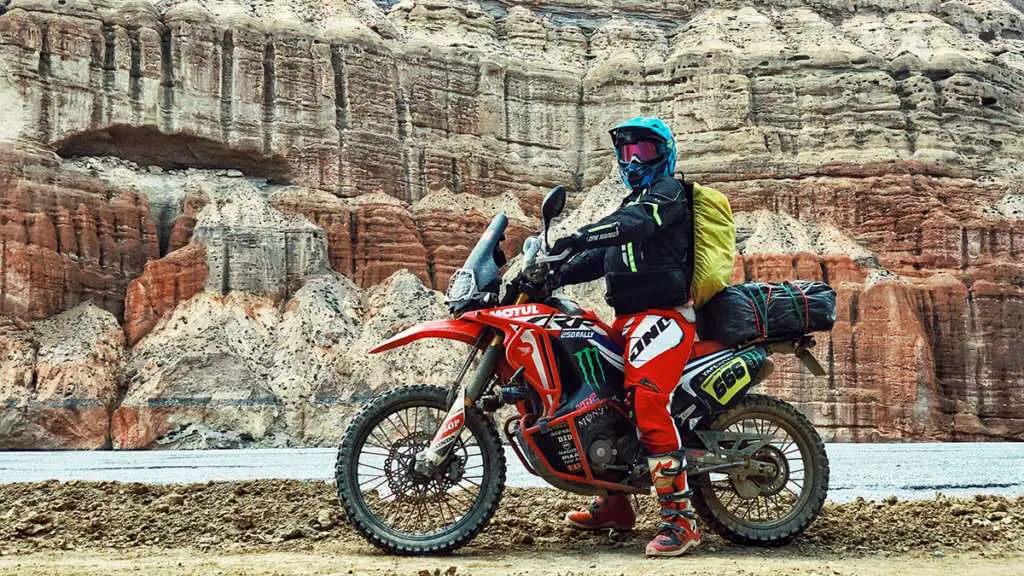 Adventure touring pants need to be the most multi-faceted, due to the demanding nature of the riding conditions they're meant for.
Terrain ranging from hot deserts to humid coastal areas to wet swamps to thick jungles, and the weather conditions that accompany these terrains beget material that is extremely versatile.
Which is why textile, the most versatile material, makes up the majority of ADV pants. And for the waterproofing and thermal lining.
These pants have stretch panels in the knee and posterior areas. Vents and mesh panels are present as well- important for airflow and ventilation. This makes them very cool and comfortable to wear.
You're going to be carrying a lot of things with you while riding along adventure trails, and you'll need places to keep them for immediate retrieval. Which is why ADV pants come with the most pockets.
Impact protection material like foam padding and body armor are included as well. Extra armor is present in the knees and hips. 
Different Material Used In Pants 
We had touched upon the different kinds of motorcycle pants in our Ultimate Guide article we curated last month, and we're going to explore them in detail here.
There are three types of material used in motorcycle pants:
Leather Motorcycle Pants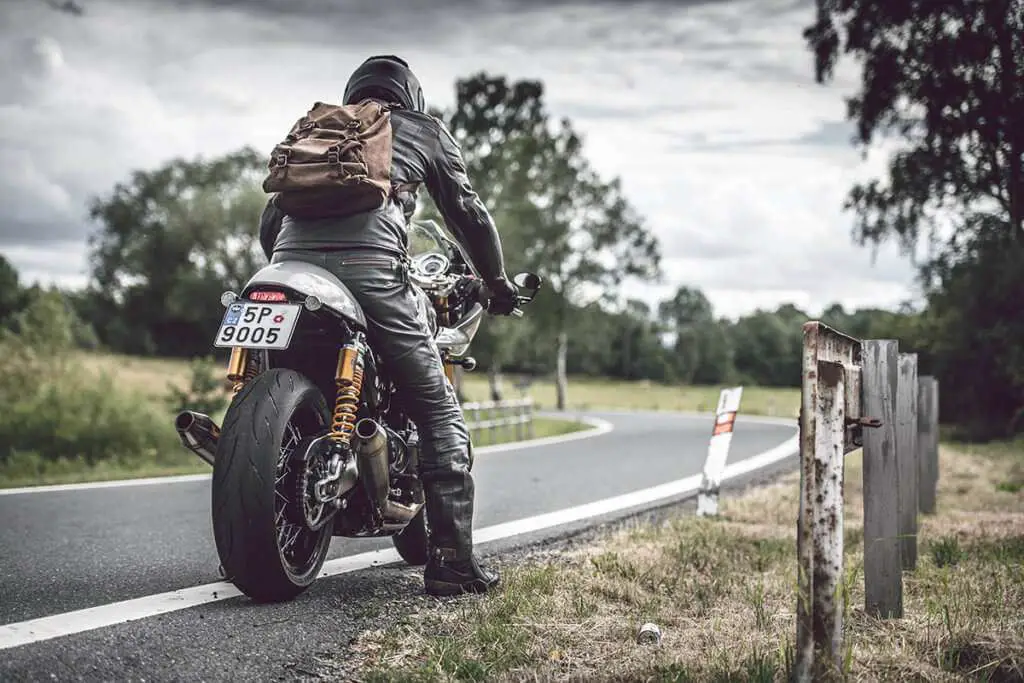 Durability
Abrasion Resistance
Out of all three types, leather motorcycle pants have the best abrasion resistance by far. Bar none. Regardless of the sliding speed. Cowhide with multiple layers is nearly impenetrable.
Wear Resistance
Unsurprisingly, leather fares the best again. Even lighter colored leather (subject to tarnish from being worn down) can be redyed.
Insulation
There are two kinds of leather pants- ones with perforations and ones without.
Perforated leather is great for very cold riding conditions, but must be strictly avoided in warmer conditions to avoid overheating.
Perforated leather is much more comfortable to wear due to air circulation.
Waterproof
Lacking. Leather doesn't fare very well in monsoons.
Repairing
Leather has been around so long that practically every gear shop knows their way around repairing them. Which is why it's the most easily repaired.
Maintenance
Needs regular cleaning and treating.
Textile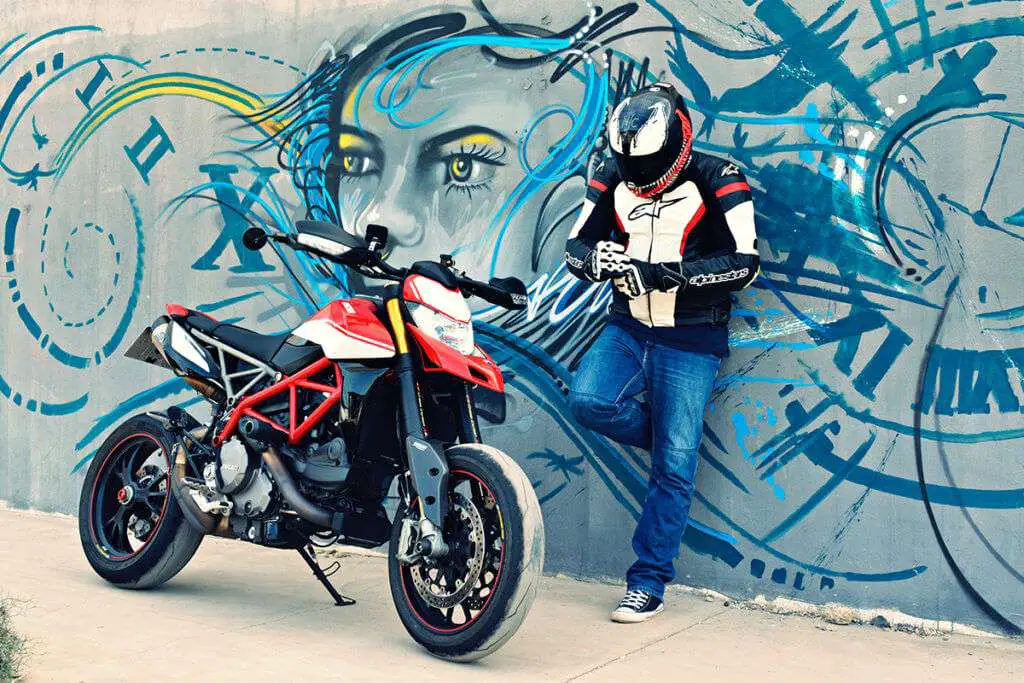 Durability
Abrasion Resistance
Textile can hold its own pretty damn good when crashing at street speeds, but it doesn't really square up to good ol' leather at higher speeds. Even when comparing leather to kevlar motorcycle pants, even though they might be easier on the eye when worn in a meeting.
Wear Resistance
Textile actually is surprisingly resilient to wear and tear- but you have to maintain it extremely well (cleaning, drying, etc.) so that it looks as good as new, all the time.
Insulation
This one is obvious- textile is more comfortable to wear in hot weather conditions than leather, and more under-equipped to deal with cold weather conditions than leather.
Waterproof
Ever since 1977, textile pant manufacturers have employed the use of Gore-Tex.
Gore-Tex is a synthetic fiber with a composition optimal for both breathability and waterproofing.
Which is why textile is perfect for areas prone to monsoons.
Repairing
Textile being relatively new and much more versatile as compared to leather makes it harder to repair.
Maintenance
Throw it in the washer and you're set. Way less maintenance than leather.
Mesh Motorcycle Pants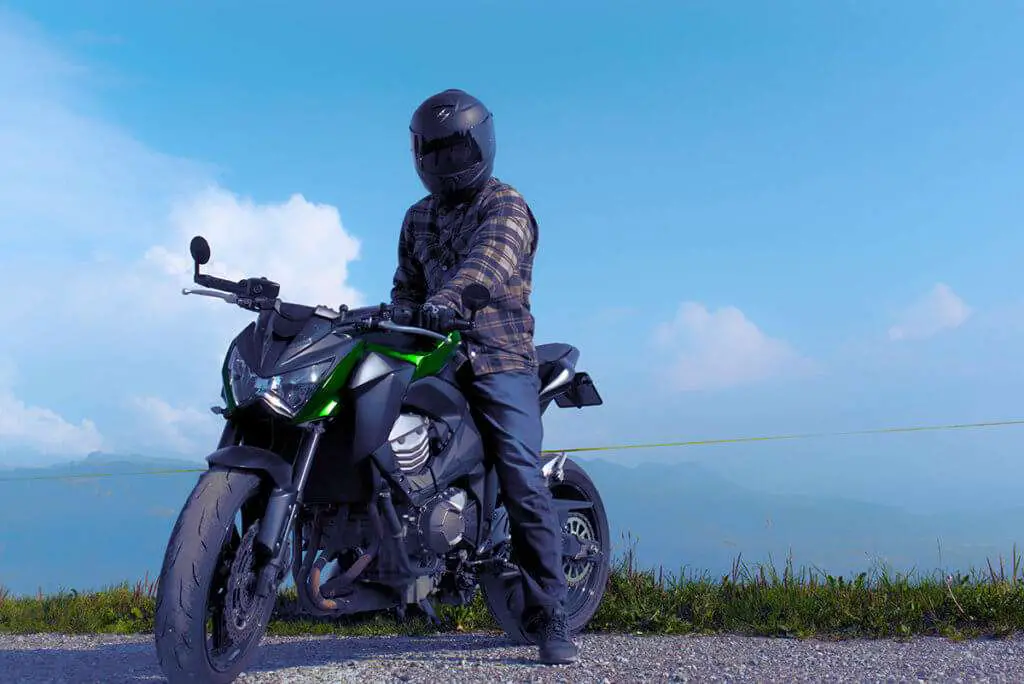 Mesh pants are much more niche. Because they were designed strictly with protection against hot weather conditions in mind.
By design alone, the ventilation offered by mesh pants is unparalleled. Even in comparison to the most perforated of leather pants and textile pants with most mesh panels.
The composition of these pants also involves a high degree of extremely light density material like polyester. Some manufacturers also have inserts for additional armor implants at the hips and knees.
Due to all of these reasons, mesh pants are also the cheapest by far.
Conclusion
There are specially designed, professional-grade pants with many variations.
Enough variations to suit:
The type of weather you're riding in
The protection required on different areas of your body
The average speed at which you ride
How much time and effort you can spend on maintenance
How much your budget is
Your heavy jeans are not going to cut it. Your regular jeans are definitely not going to cut it. And if you ride wearing shorts, you're going to cut it- cut it on your legs.
Motorcycles are powerful, agile machines capable of sustaining damage far more than our frail bodies can. But speed discriminates between neither the machine nor your frail body. In the event of a crash, both you and your bike are going to hit the road at the same speed.
This is why protecting as much of your body as you can is paramount.
We hope this article made you understand how important it is that you wear specialized motorcycle pants while riding a motorcycle.