Mike Corbin lived through some of the most interesting times of America. Born in 1943, he was very interested in all things mechanical from a very young age. His first motorcycle was a broken Lambretta scooter that he bought for $25 and repaired.
Right after graduation, he joined the Navy as the ship's electrician. Later, he was employed on the USS Ranger. He then joined a company that manufactured jet engines for the Vietnam War. During this time, Corbin wanted to replicate the bobbers he spotted in California during his Navy tour.
Unhappy with the seats on his Norton Atlas 1964, he reshaped and recovered them by borrowing an industrial sewing machine.  Another Norton rider offered him $40 for the seat at a rally. He later repeated this with other seats and sold them to his friends and acquaintances.
Word got around about his good work, and a Harley dealer from nearby Hartford eventually contacted him. The dealer ordered 15 at $25 apiece. Hence, what began as a hobby out of pure interest eventually became a full-time business.
Corbin [Manufacturing] was established in 1968. And today, Corbin (now) Pacific is one of the most popular seat manufacturers in the world.
Why You Need A Custom Seat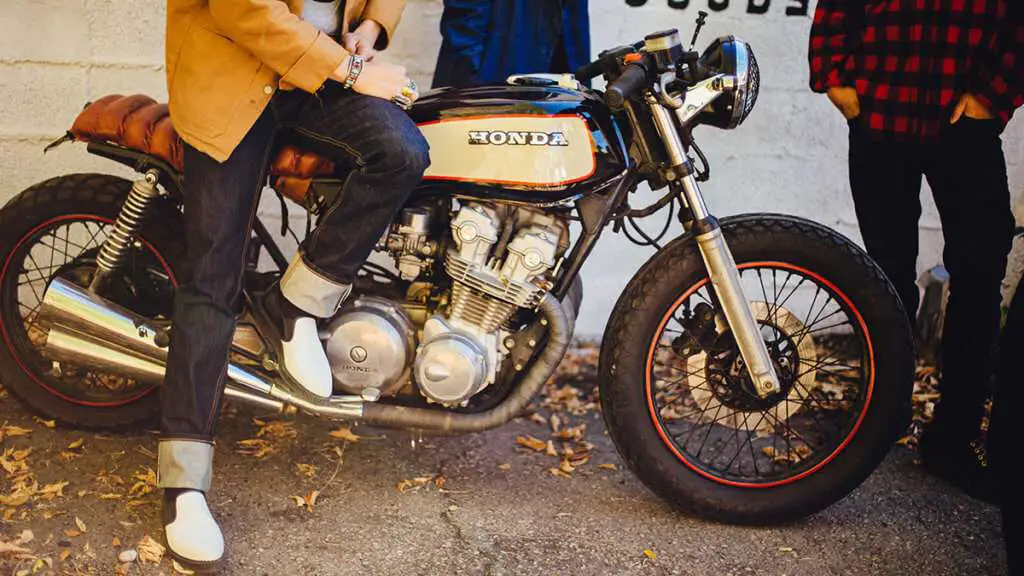 Human bodies are extremely diverse. Consequently, so are human posteriors. 
And different posteriors require different seats.
Your seating arrangement should be aligned such that your body sustains the least amount of stress to your spine. Very few ways screw up your ride better than the (often literal) pain-in-the-ass back pain. And shoulder pain. And hip pain. And neck pain.
Point being, proper riding posture allows you to enjoy your ride to the fullest. This is especially true of longer rides. And proper posture is subject to the type of motorcycle you have, the type of posture you have, and as mentioned above, the type of posterior (and by extension- body type) you have.
You have no control over your motorcycle or body type- but you do over your posture.
This is why you need a seating arrangement that allows you to assume the best posture, and why you need one customized to your body type.
Anatomy Of A Motorcycle Seat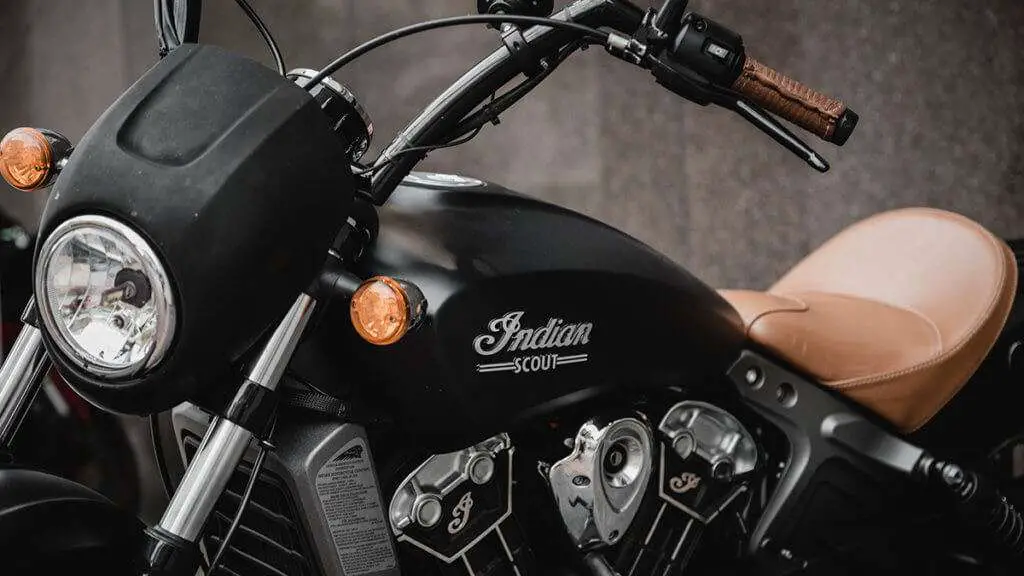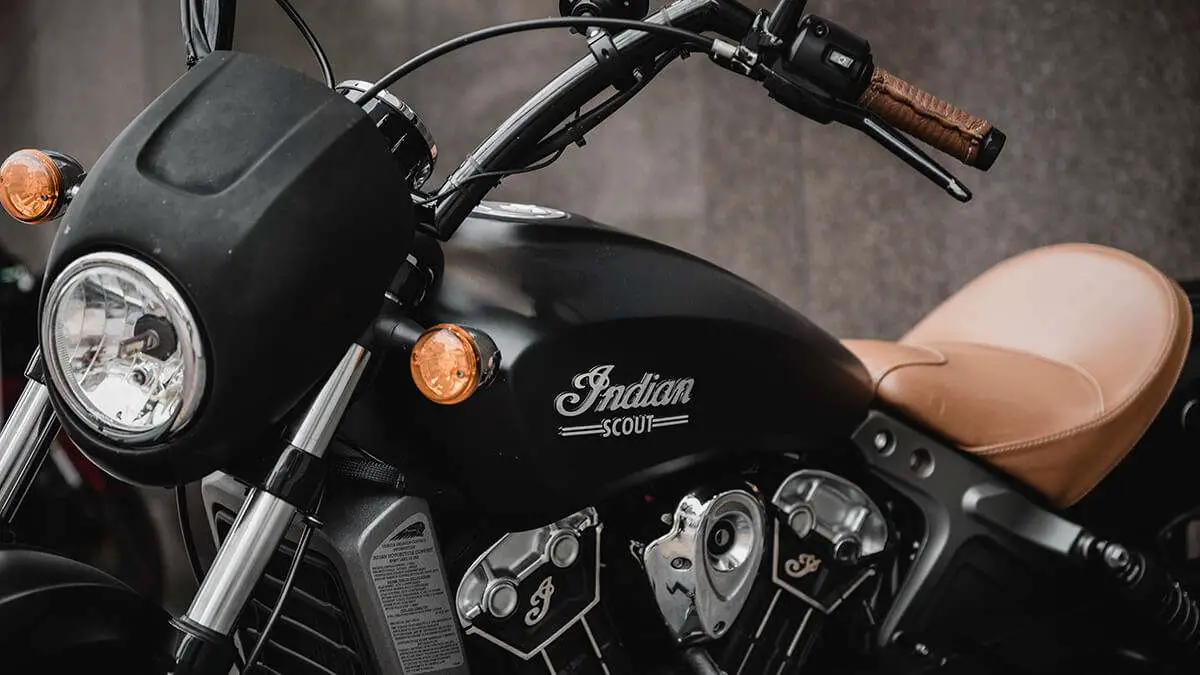 Before you start looking up custom seats, you need to know what they're made of.
Motorcycle seats are made up of three essential parts: the baseplate, seat foam, and cover.
The Baseplate
The baseplate is the foundation and of a motorcycle seat. 
There are single-piece and two-piece baseplates; the latter contains a separation (two 'pieces') for the pillion (and can also serve as one long seat if you have no friends).
The baseplate should contain:
The finishing of any exposed brackets
Bumpers containing material that reduces as much as vibration as possible
Stitching on cover edges
The cover to be riveted to close intervals around the edges
Vinyl insertions in base plate edge for impact absorption
A label containing the make, model, and year of the bike, along with the manufacturer's contact information.
Seat Foam
The foam inside the seat must be comfortable yet tough. For this reason, most high-quality seat foams are filled with polyurethane or polyethylene- both materials with low rigidity but high impact strength.
The foam should also be such that the "break-in" period (amount of time the freshly manufactured foam takes time to adjust to your sitting) for the seat is not more than 15 minutes. 
Seat Cover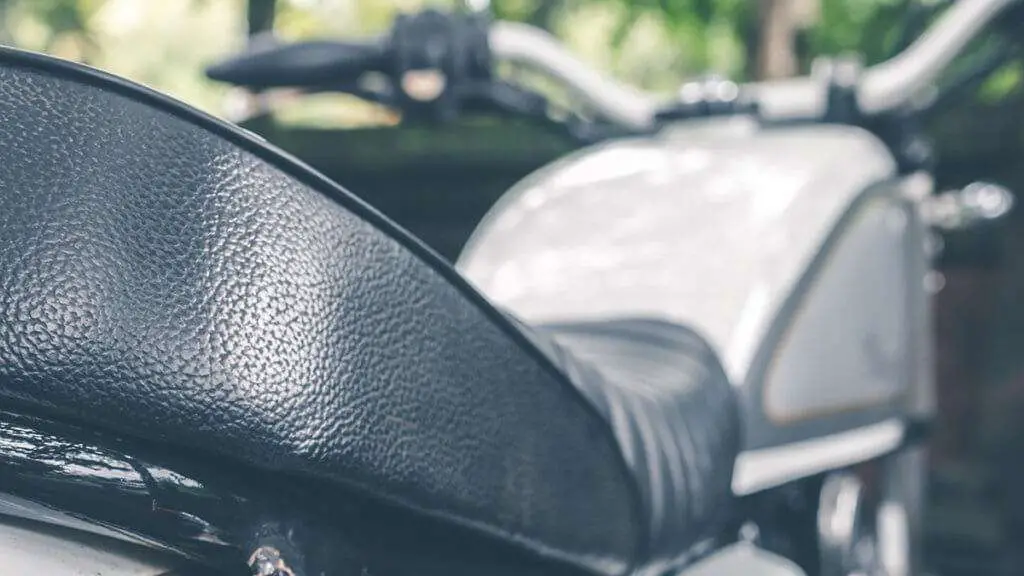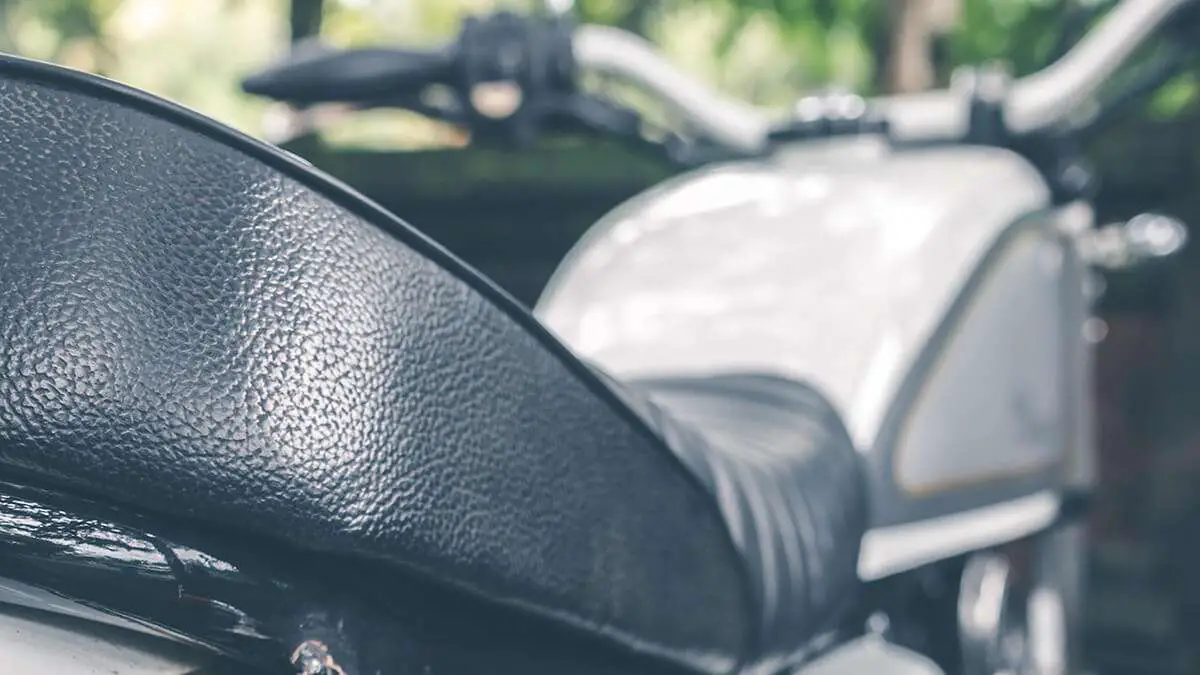 The best seat covers are those with precise enough measurement to be sewn tightly to fit the contours of the seat. Which is why they're individually assembled and hand-stitched.
Seat covers must contain the following features:
Heavy-duty, tight, uniform and evenly spaced stitching
Hemming on the edge between the bottom of the seat and base plate
The most popular materials used in seat cover construction are leather and vinyl, both of which have distinct qualities:
Leather
More expensive 
"Richer" feel 
Unlimited customization options
Very durable
The color will change over time
Vinyl
More popular
Similar to leather when high enough in quality
More resistance to external elements (eg. rain)
Maintenance is much easier
Motorcycle Seat Backrests (For Touring Motorcycles)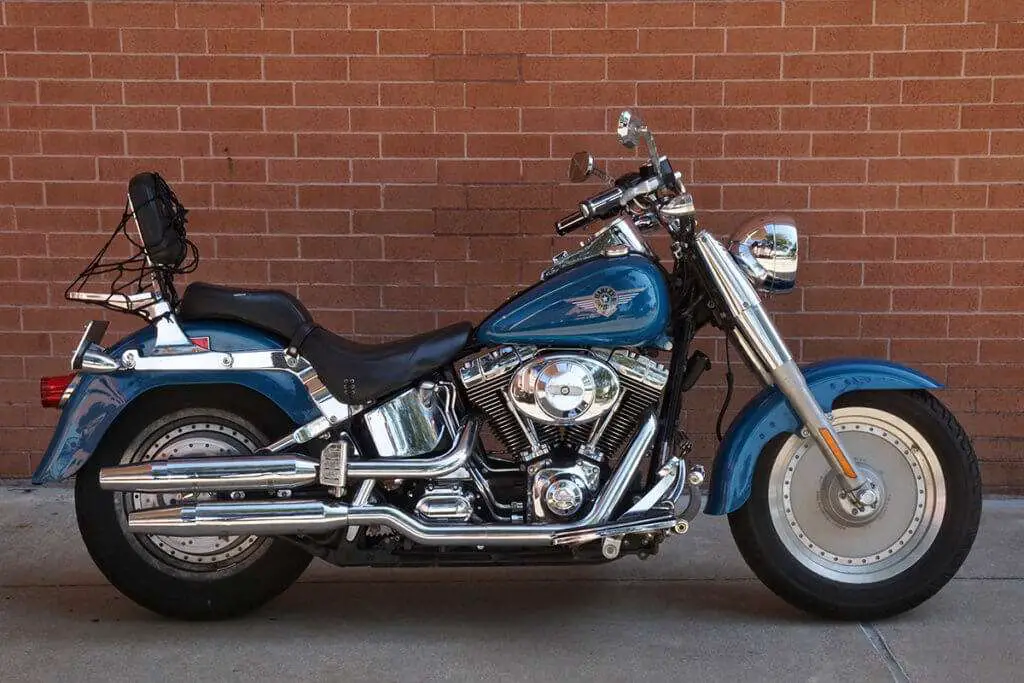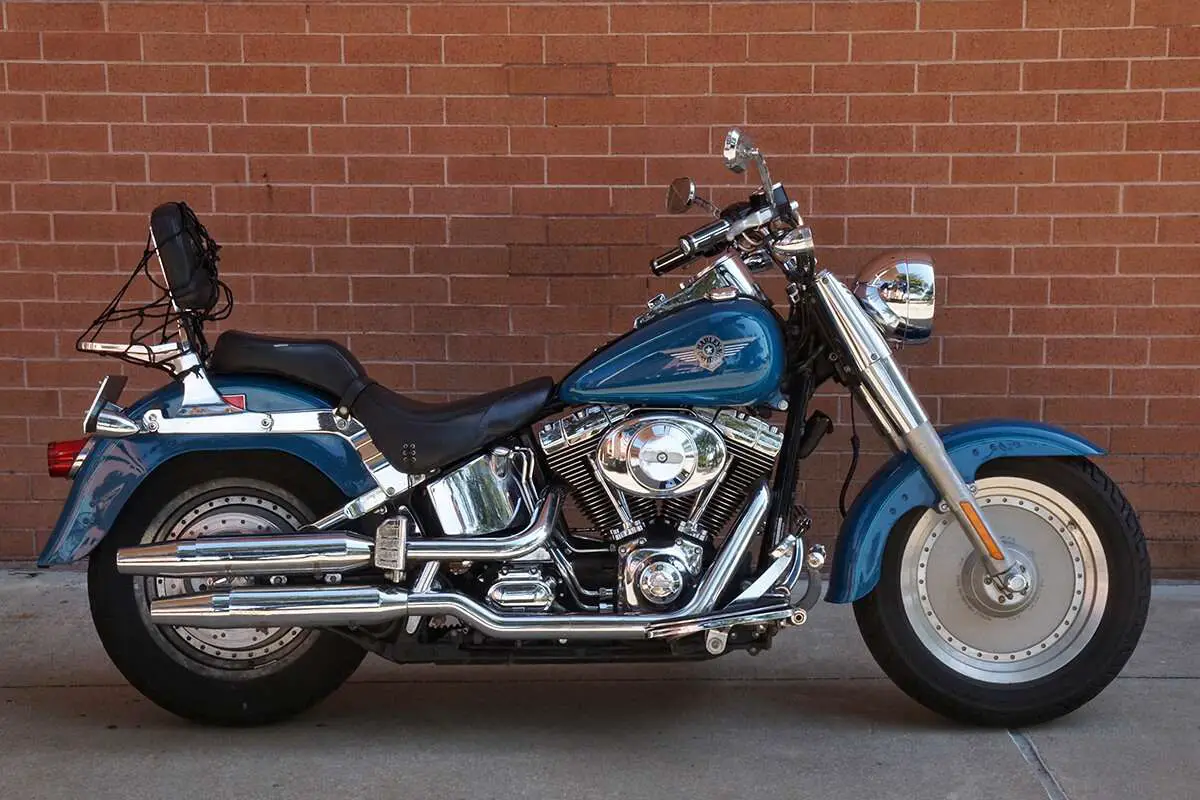 Motorcycles like touring motorcycles require backrests because riding without one can cause you to develop back problems over time. Especially if you routinely do long-distance tours.
Backrests should:
Be sturdy
Be adjustable with empty hands alone
Fold easily
While most touring motorcycles come with comfortable seats that have backrests already, you can get one separately. Provide it's compatible enough with your unit to firmly slide or click into place.
While these backrests won't be as sturdy or flexible as the standard integrated kind, the option to remove them whenever you want is pretty convenient on its own.
5 Of The Best Motorcycle Seat Manufacturers
We don't want you to get overwhelmed with analysis paralysis while going through the catalogs of different motorcycle seat manufacturers (and trust me- there are a lot). But we also want you to have freedom of choice. 5 choices to be specific. 
While not listed in any particular order, the following list of custom motorcycle seat manufacturers is widely considered to be the best in the industry.
We started the article with Corbin for a reason. Pretty much anyone who has googled "Best Custom Seats" has heard of them.
Established for over half a century, Corbin is among the household names in the industry.
The first company to manufacture gel seating for motorcycles, Saddlemen has the rights to the patented SaddleGel™. The genius behind gel seating is that 50% of all vibrations sustained are absorbed- you'll barely feel a thing. 
Based out of Rancho Dominguez, C.A., Saddlemen has been manufacturing durable, comfortable seats since 1987.
Founded by Bill Mayer Sr., owner of the patented Mayer Day Long Saddles- a spring device that was sunk into the foam- this company has been around since 1971. Bill Mayer Sr. is credited with revolutionizing seats for long-distance riding. 
After selling his business in the mid '80s, now known as "Russell Day Long Saddles", he founded Bill Mayer Saddles in 1990. He then formed a partnership 8 years later with his oldest son, and the company carries on to this day, serving as a testament to his legacy.
To this date, right from its humble beginnings over 45 years ago, Le Pera is one of the only companies that still exclusively uses steel for all its seat bases.
Working at one point with the likes of the greats like world-famous drag racer Tony Nancy, Bob LePera has been honing his craft ever since he was 12 years old, a testament to his talent and ingenuity. 
Around for close to half a century since its inception back in 1972, Danny Gray has been sought after so much that the company has provided custom seat projects to more builders than any other manufacturer in the world. It merged with High-End Products in 2004 for its reputation for innovation.
The current joint venture employs the best of both companies by using AIRHAWK Air Cell Technology in its seats. As a result of which it currently has some of the coolest and most comfortable seats on the market.