If you're serious about motorcycles, you know that you need at least one great pair of motorcycle boots in your wardrobe. Sure, you can wear regular shoes on a motorcycle, but a specially-designed pair of boots is a much better option if you want to keep your feet intact in case of an accident. Your feet, ankles and lower legs are more fragile than you might care to think, especially if worse comes to worst and they end up underneath a heavy bike in a crash – that's when you'll appreciate the tough materials and other protective features of a good motorcycle boot.
Of course, there are more reasons to wear proper motorcycle boots than just safety. From functional features like solid tread to keep your feet from sliding off the pegs and waterproof styles that will keep your feet warm and dry in even the worst weather, to the fact that motorcycle boots just look a whole lot cooler than ordinary shoes.
What you need in a boot depends on you and your riding style. You'll want a different boot for once-a-week high-speed blasts than for everyday commuting. You should also consider where you'll be riding – city streets, or dirt roads and track? What kind of weather will your boots need to handle? Which boots will work best with your foot shape, motorcycle type and clothing? And finally, what style suits your look?
TCX X-Square Sport Boots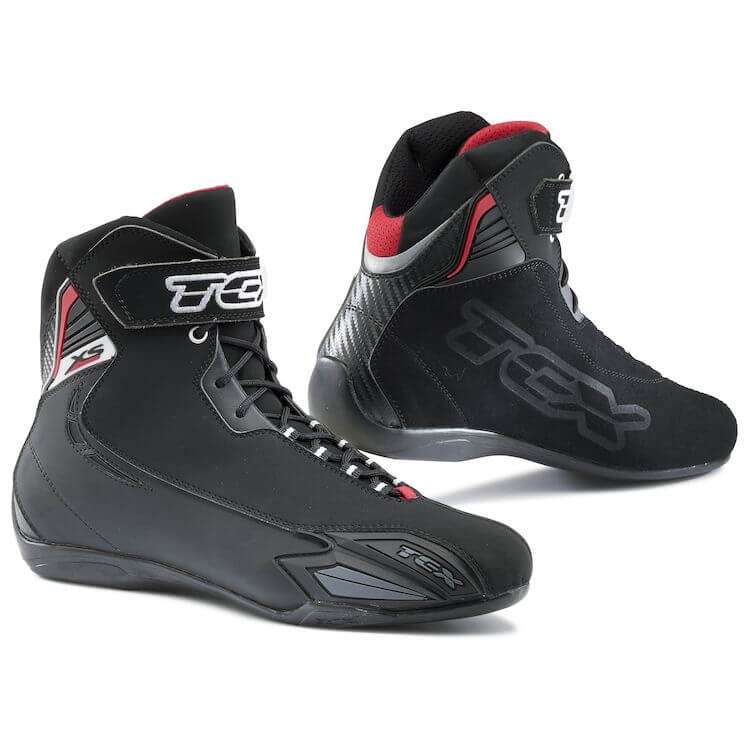 The TCX X-Square Sport Boots are perfect for everyday commuting. They're not a full-length boot; they're lower in the back to aid in shifting and braking. This also means they won't cut into the backs of your legs like some higher boots with the same stiffness.
Made from soft-touch microfiber and suede leather, these boots are light and comfortable enough to wear as everyday shoes, and they're not too hot for warm weather. They also have great safety features including reflective panels on the front and back, excellent grip on the bottom, and a Velcro strap to cover the ends of the laces so a loose lace doesn't get caught anywhere. Style-wise, these have real flair with red accents and the TCX logo on the front – they look great with riding pants or under jeans. These boots run large, so order one Euro size smaller than the size chart suggests.
Dainese TRQ-Tour Gore-Tex Boots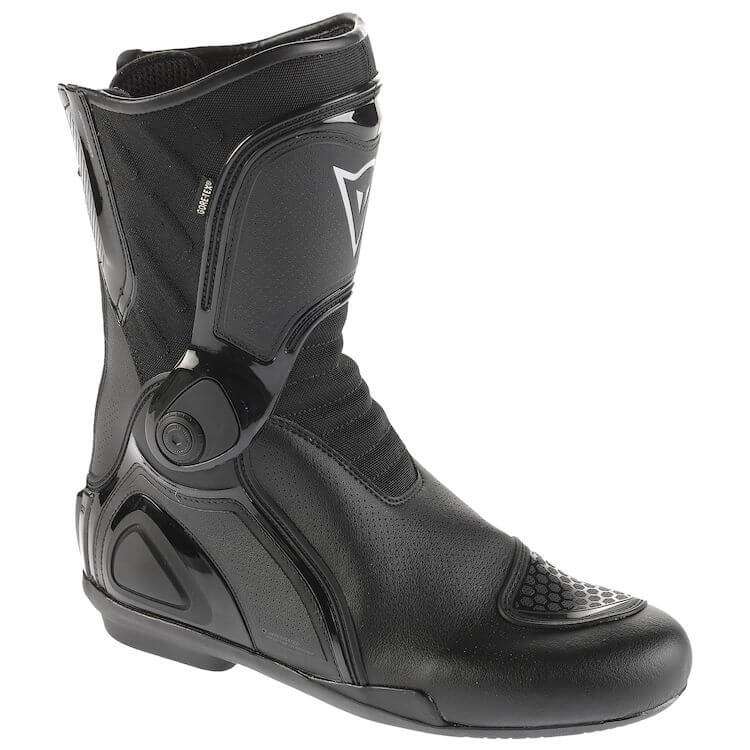 If you were to buy only one pair of boots for street riding, touring, commuting, and even the occasional track day, the Dainese TRQ-Tour Gore-Tex Boots are a great pick. The D-axial jointed anti-ankle twist back system creates an anti-torsion guard to prevent your foot and ankle from twisting in an accident, a feature more commonly seen in race boots. This axial hinge also makes for comfortable movement as you walk. These boots are completely waterproof but also breathable, thanks to the Gore-Tex fabric. There's adjustability on both sides of the boots to make the boots fit perfectly to your calves, while the back zipper with waterproof gaiter makes it easy to get your feet in and out. Recommended for all seasons, but especially ideal for colder weather and rain, these boots have a sleek, almost futuristic all-black style.
SIDI Canyon Gore-Tex Boots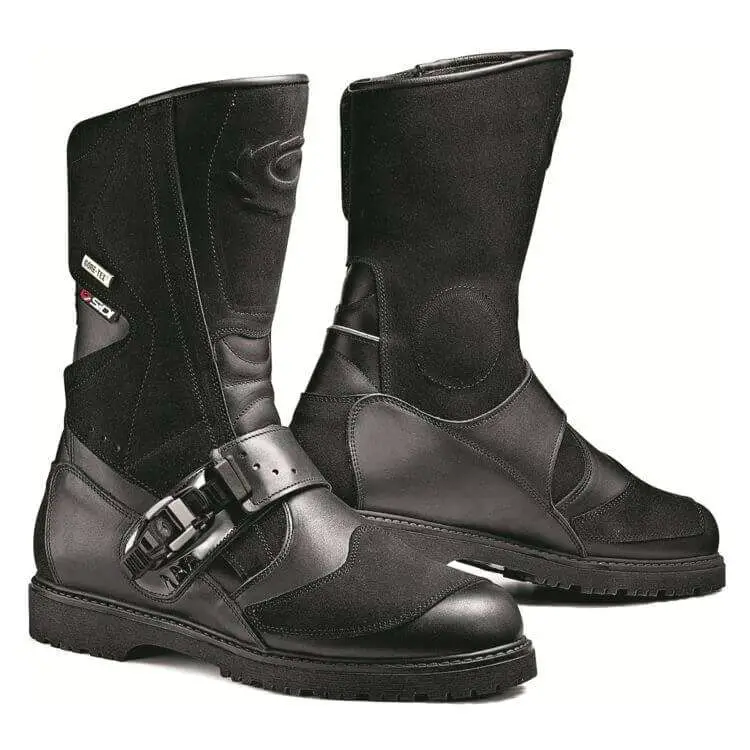 For long-range sport touring or adventure riders, the SIDI Canyon Gore-Tex Boots are a good option if you want waterproof boots with advanced protective features. The ¾ length style feels like a work boot and looks good under jeans, although you may find them a little too firm to wear comfortably all day when you're not riding.
The style is simple and classic, with only one small reflective element on the back. The two large Velcro panels on the outside of the shin make these relatively easy to get on and off and to adjust your calf fit properly, and there is a full-length inner gaiter to keep these boots completely waterproof. They also feature removable arch support, a reinforced toe box, and an internally padded shin plate to give you hard protection from shin injuries. The ratcheting instep buckle will help keep your heels firmly planted, and the thick soles work to dampen any road or engine vibrations coming up through the pegs. These also start at a size 37, making them a perfect choice for people with smaller feet and women – although these probably won't be a great fit if you have narrow feet.
Alpinestars Web Gore-Tex Boots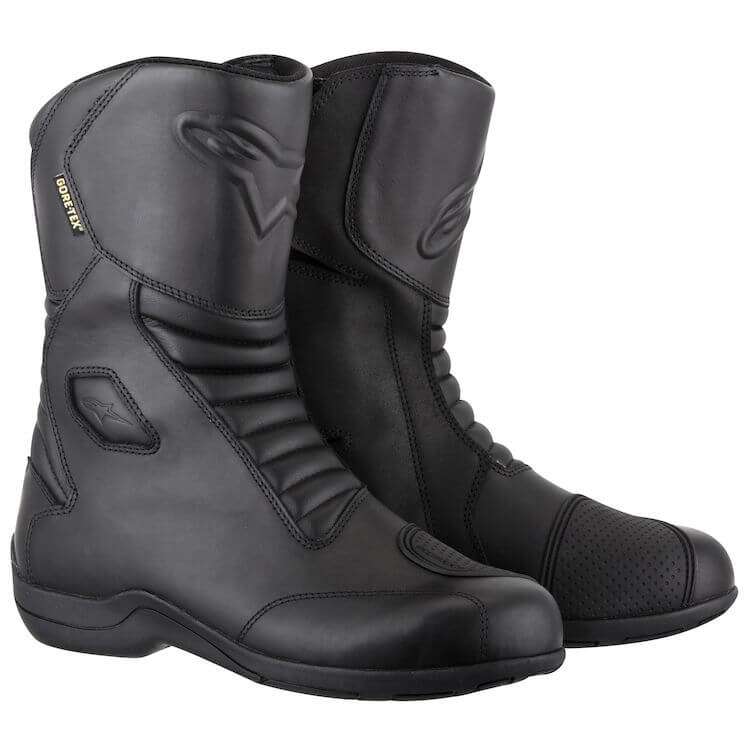 Alpinestars Web Gore-Tex Boots are perfect for touring and commuting in safety and comfort. With extensive front and rear accordion microfiber flex zones offering fluid forward and back movement, and a wider-than-usual cutaway at the top to accommodate larger calves, these American-designed boots are also popular with riders with wider feet. Featuring classic but contemporary style and a more muted logo than other styles by Alpinestars, these stylish black boots have a modest sheen to them. They also have a full Gore-Tex internal membrane ensuring 100% waterproof performance and a high level of breathability, as well as moisture-wicking microfibre fabric that will prevent your calves from getting sweaty.
Featuring Alpinestar's exclusive vulcanized rubber compound outer sole, these are no-slip wonders perfect for wet weather – but although they're comfortable for all-day riding, they're a bit too beefy to walk around in all day.
Daytona Road Star GTX Boots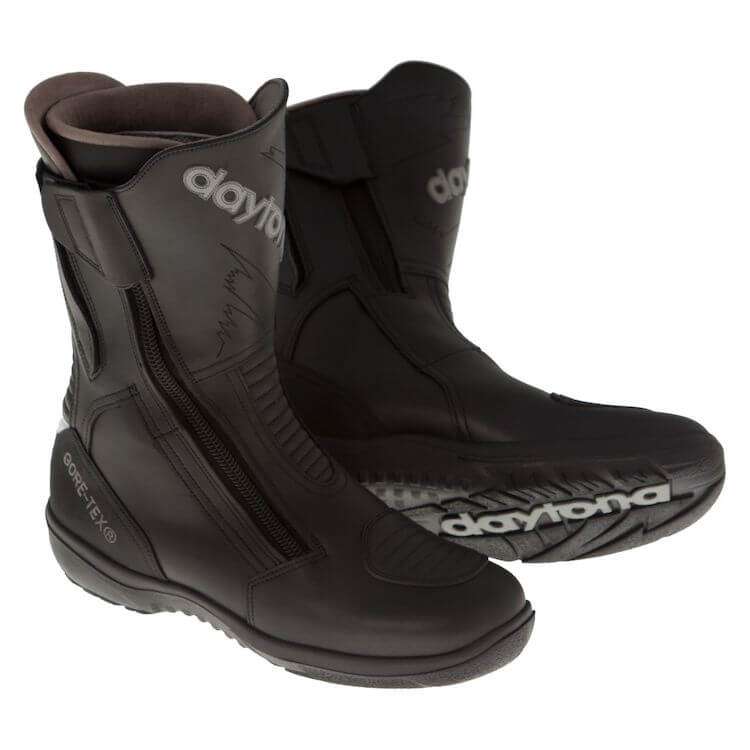 The Daytona Road Star GTX Boots may be more expensive than the other options reviewed here, but you get a lot for your money. Using full-grain leather, Gore-tex, Kevlar, and even kangaroo leather, no expense has been spared crafting these handmade touring boots to be durable, waterproof, four-season, comfortable, and stylish.
With a low-profile toe with an of TPU built-in to give you great crush resistance, there's also a huge padded TPU shin panel to protect your shin against injury. With a zipper on each side of the boot, these are easy to get in and out of, and also easy to adjust – adjustable Velcro panels in the back allow you to widen the boot to either fit over your pants or fit a wider calf. A layer of latex on the bottom of the boots dampens vibrations from the pegs and gives you an extra layer of waterproof protection. They also come in wide sizes for people who have wider feet.
Now that you've seen five of our favorite motorcycle boots, let us know what you love in a boot in the comments!