Adjusting your motorcycle chain is essential. Whether you need a regular readjustment after around 500 miles or a problem occurs that requires a chain adjustment, there are different ways you may go about adjusting your motorcycle chain. If you do not have a center stand, you might think adjusting your motorcycle is more difficult. So, how do you adjust a motorcycle chain without a stand?
Continue reading to learn how to adjust a motorcycle chain without a stand. Contrary to popular belief, doing so without a stand is just as easy and is potentially better for your bike than doing so with a stand. If you have a side stand, you can use it to aid in the process, but even without it, adjusting your motorcycle chain is not complicated.
Check The Chain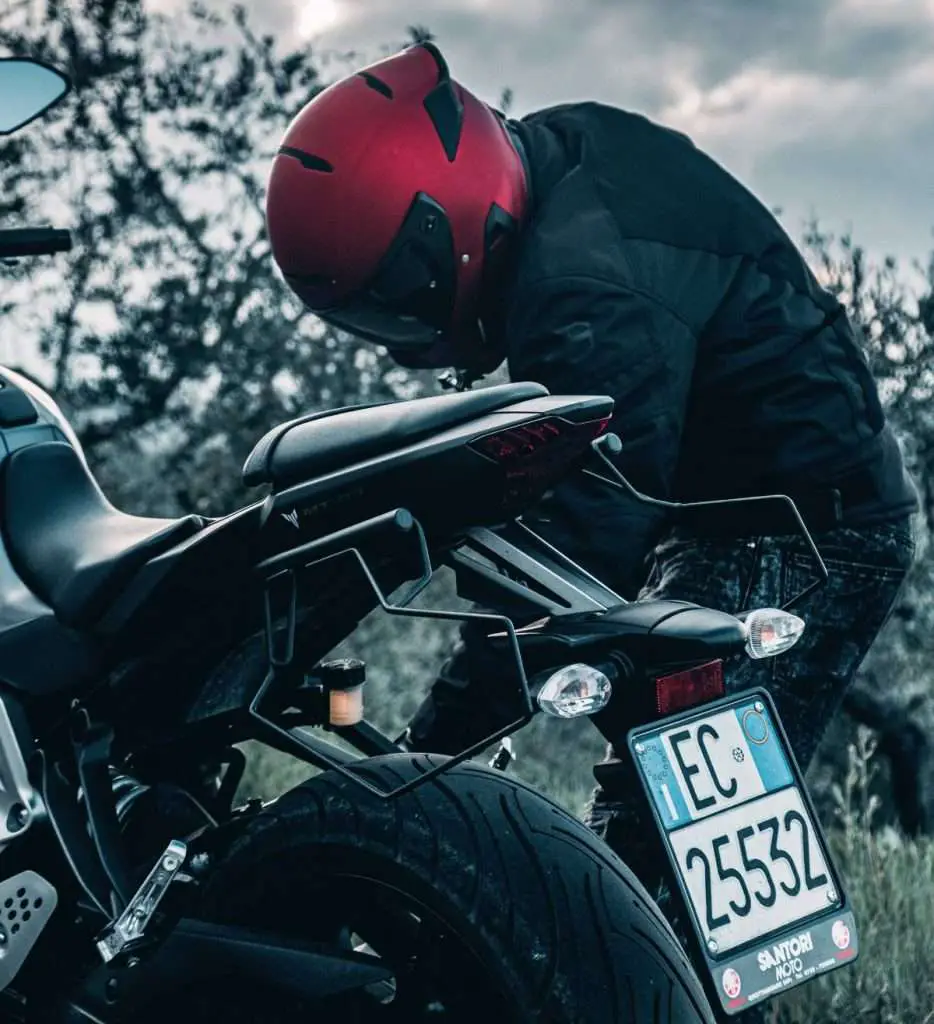 If you are doing a simple readjustment after 500 miles, you will not need to do any further observation on your chain. However, if you have noticed something wrong with your motorcycle's drive chain, you should check it immediately. A malfunction with your motorcycle chain can lead to serious and costly problems for your bike.
Read Owner's Manual
Take a look at the owner's manual of your motorcycle to figure out how much slack your drive chain needs. The correct amount of slack for a motorcycle chain is important for making your motorcycle work. Too much slack can cause the chain to pop off of the sprocket and lock your bike up, resulting in severe injury to yourself and your motorcycle.
Similarly, a chain that is too tight can disrupt other motor functions in your bike, causing extensive wear and tear. You can find how much slack you need in your chain by reading the owner's manual, and there might even be a sticker somewhere on your bike letting you know the correct amount of slack.
Forget The Center Stand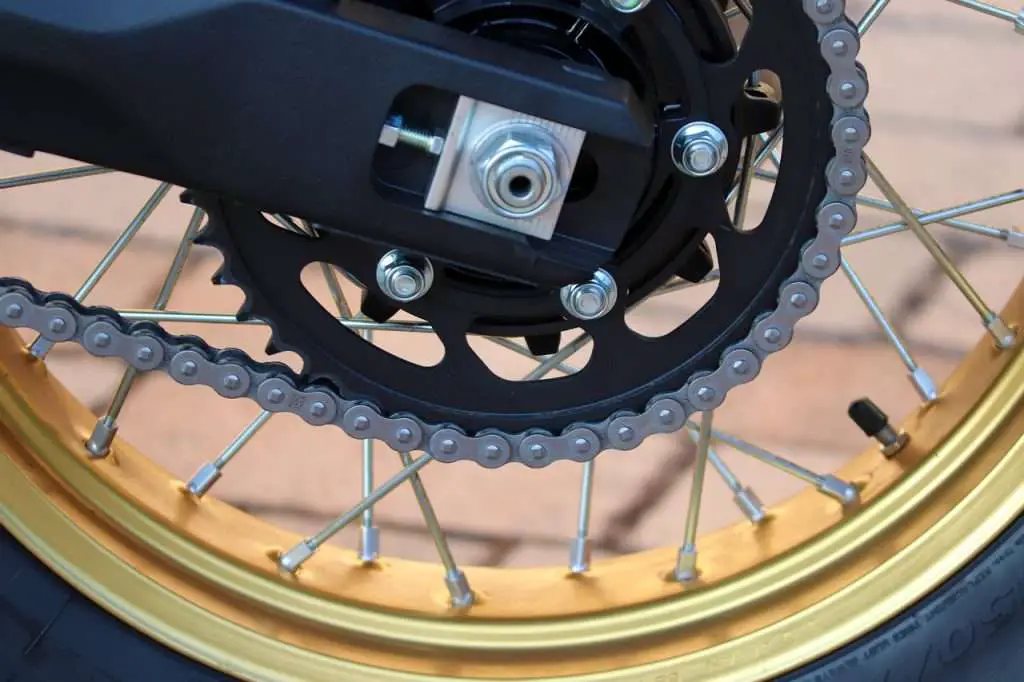 Many people think you have to have a center stand to adjust your motorcycle chain. This is simply not the case. Yes, a center stand immobilizes a bike completely and allows for a stationary bike for various mechanic work, but it is not necessary for adjusting a motorcycle chain.
When you adjust your motorcycle chain, you need to make as accurate an adjustment as possible. The best way to do this is by putting weight on the bike as if you were sitting on it. In fact, as you will learn below, having an extra person to help you can be beneficial. In any case, there are better ways to make your motorcycle stationary for adjusting your chain than using a center stand. 
When you adjust your motorcycle chain, it is best to do so with the bike in the same position as it would be while you are riding it. So, using a center stand to raise the bike wheels off the ground counteracts this necessity.
Find A Partner For Help
Especially if you are trying to adjust your motorcycle chain and have neither a center stand nor a side stand, it is best to have two people complete the project. As mentioned above, the most efficient way to position your motorcycle when adjusting the drive chain is by putting weight on the seat as if you are riding the motorcycle. What better way to do this than by sitting on it yourself?
For best results, the owner of the motorcycle should be the one sitting on the seat. This way, you replicate the exact weight of riding while adjusting the chain to fit the rider's position. If your partner is not well-versed in motorcycle maintenance, you will have to teach them the following steps to adjust the chain. You can also monitor the process and walk them through it while you are sitting on the motorcycle.
Make The Motorcycle Stationary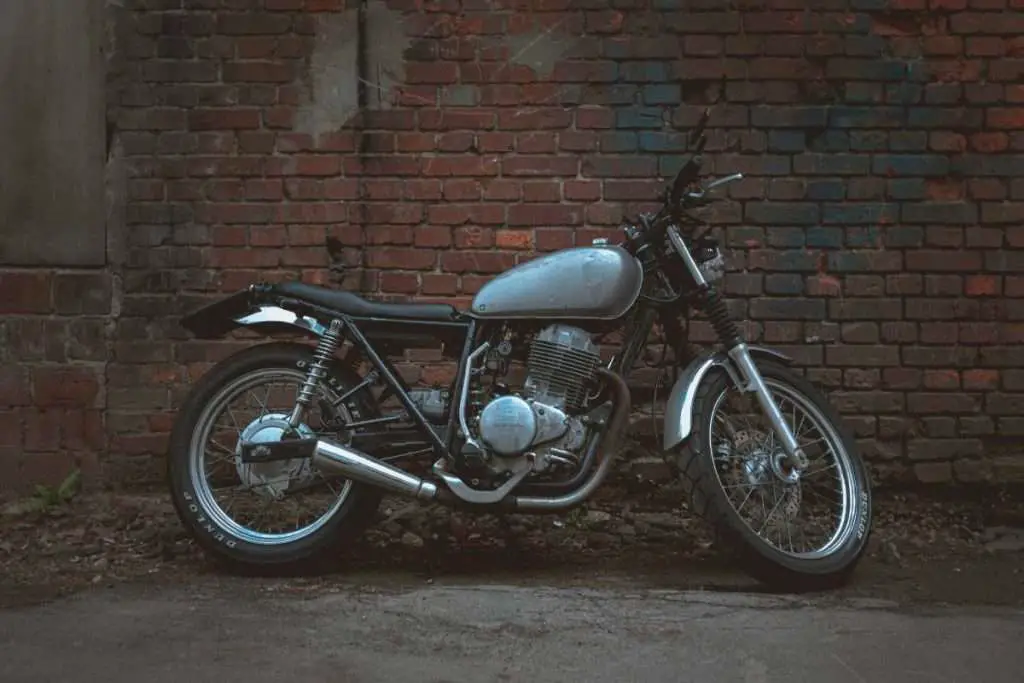 After you find a partner to help you but before actually sitting on the motorcycle seat, you need to position the bike to be as stationary as possible without you having to sit on it. This ensures that the motorcycle does not move while adjusting the drive chain.
Front Wheel
Make sure the front wheel is pressed against something stable. This could be a garage wall, a cinderblock, the wheel of a car, or a street curb. Immobilizing the front wheel reduces any risk of the wheel turning and causing the bike to move or fall during chain adjustment.
Back Wheel
Another misconception that comes with adjusting a motorcycle drive chain is the idea that the back wheel has to be off of the ground. This is incorrect. Yes, you can adjust the chain with the back wheel off the ground, but keeping it on the ground will result in a more accurate chain adjustment. 
If you do not have a partner, lifting the rear wheel off the ground can make it easier to complete the chain adjustment process. This can be done if you have a motorcycle jack, but you could also use something else, such as a cinderblock, a 2×4 piece of wood, or another stable structure that can support the weight of your motorcycle.
Sit On Bike
After you have immobilized the motorcycle, you can sit on it. As mentioned, this can provide the most accurate chain adjustment. Using a center stand makes it easier to adjust the chain, but you may not get the results you want. Failure to replicate the position of the chain with the rider on it can cause you to adjust the chain too loosely or too tightly.
Adjust Chain
When you have completed the steps above, you are ready to adjust the drive chain of your motorcycle. If you have adjusted your motorcycle chain before, you should have no problem. Nonetheless, below are the simple steps to take when adjusting your motorcycle chain.
Check Slack
First, check the slack in your motorcycle chain. The owner's manual should tell you what measurement of slack is suitable for riding. You can check this by using a tape measure. Push the chain up to gauge whether it has too little or too much slack. You can also measure how far the chain droops down when it is sitting by itself.
Loosen Axle Nut
You will then need to loosen the axle nut on the rear wheel to have the ability to adjust your chain. The axle nut secures the rear wheel in its position. Find the axle nut and loosen it. You do not have to completely remove it, but just make sure it gives you access and allows you to adjust your drive chain.
Adjust Bolts
Once you have loosened the axle nut, locate the bolts for your motorcycle's chain. If you cannot find them, they will be in the owner's manual, but typically there is a bolt on either end of the drive chain mechanism. If your chain needs to be loosened, use a wrench to twist the bolts counter-clockwise – or to the left. If it needs tightening, screw clockwise – or right. Make sure to turn each bolt an even amount of times so the drive chain remains stable.
Once you have adjusted the chain on your motorcycle, measure it to make sure it meets the measurements of the owner's manual. Then, you can fasten the axle nut, and you should be good to go.
Takeaway
You do not have to have a stand to adjust a motorcycle chain. In most cases, adjusting the drive chain without a stand actually results in a more accurate adjustment. The process works best if you have two people. Make sure to take a look at the owner's manual of your specific bike if you have additional questions.