The liter-class super-sports segment has seen a flurry of launches with MotoGP and WBSK trickling technology. The newest candidate, or should we say candidates to the superbike skirmish are the new Ninja twins. Say hello to the 2021 Kawasaki Ninja ZX-10R and the Kawasaki Ninja ZX10-RR with KRT-derived arsenal, all set to throw caution to the likes of the Panigales, Fireblades, and the S1000RRs.
Styling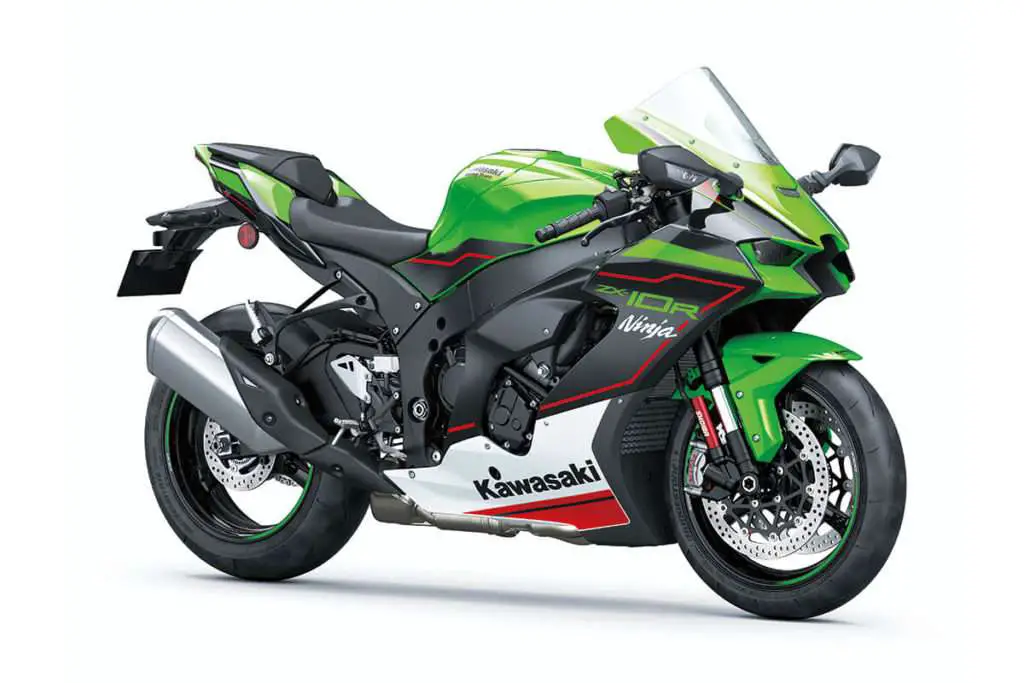 There hasn't been a substantial change to the design and the 2021 ZX10R retains the traditional Ninja theme. The H2 inspired front features integrated winglets for added downforce with a taller fly-screen to alleviate wind-buffeting at high speeds. Kawasaki claims that the restyled front offers 17% more downforce than the earlier model. Revised handlebar, foot-pegs position, and an upswept seat offer for aggressive and track-focused ergonomics. The side and rear panels have been marginally revised for aerodynamic efficiency with the fuel tank retained from the 2020 model.
Engine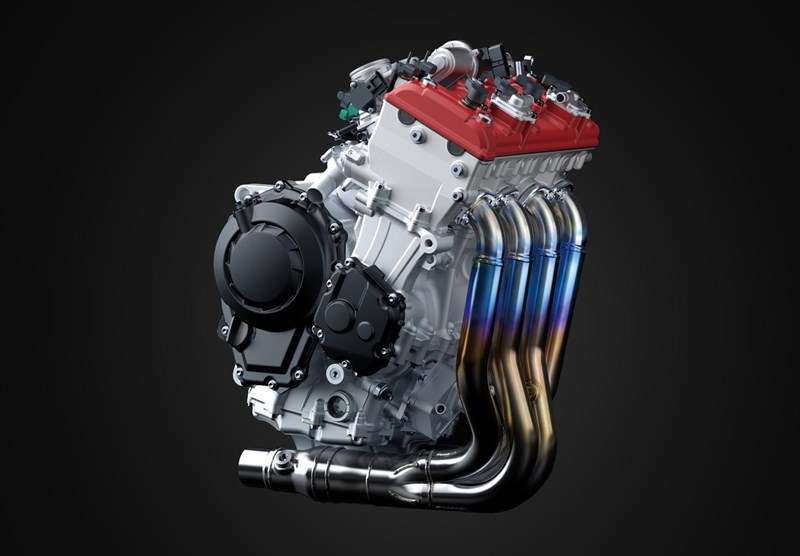 The 998cc screaming inline-four gushes out 203 ps @ 13200 rpm further augmented to 213 ps with RAM-air induction. Featuring a WBSK-developed air-cooled oil cooler, it should facilitate better oil temperatures and viscosity on the Ninja twins under high performance or sweltering riding scenarios. New electronic throttle valves offer more precise fueling and engine management that further extends to launch, traction, brake, and cruise control. The gearbox has been tinkered around with the first three gears now shorter for strong low and mid-range acceleration and faster corner exits. A bi-directional quick-shifter is standard equipment. A stubby exhaust unit has added weight to the new Ninja but seems to have shrunk the power-band by 300 rpm from the earlier 13,500.
Frame, Suspension, and Brakes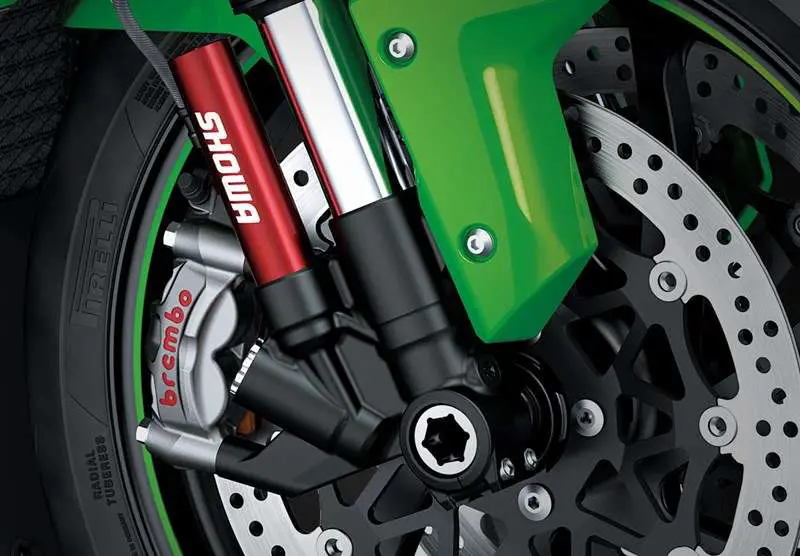 While the frame visually looks similar to the 2020 model, Kawasaki has revised the geometry to push the weight marginally to the front wheel- 0.2% to be precise. The wheelbase on the new ZX-10R is now longer by 10mm, thanks to a longer swing-arm and offset forks for added stability.
The 2021 Kawasaki Ninja ZX-10R stands suspended on Showa's Balance Free Front (BFF) forks and a Balance Free Rear Cushion (BFRC) monoshock. Compression and rebound have been slightly altered towards handling and comfort around the race-track. An electronic Ohlins steering damper is part of standard equipment.
The braking unit on the new ZX-10R comprises ABS-equipped twin radially mounted Brembo M50 monoblock calipers clasping a pair of 330mm twin front rotors. At the rear is a single-pot caliper installed over a 220mm single disc.
Electronics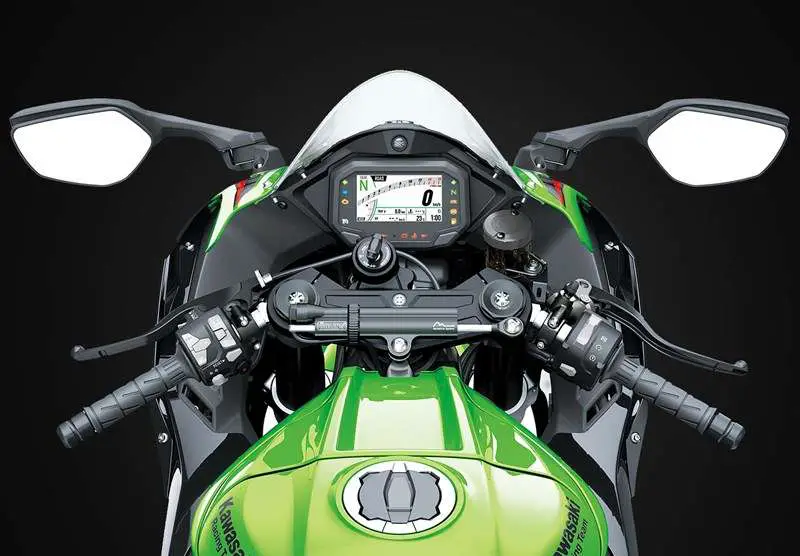 Kawasaki offers a delectable menu of electronic rider aids on their flagship superbike.
KIBS (Kawasaki Intelligent Braking System) and K-ACT (Kawasaki Advanced Coactive Braking Technology) further enhances the ABS for high-performance braking.
A six-axis IMU (Inertial Management Unit) adjusts engine mapping in real-time calculating the pitch and yaw rate of the motorcycle.
KCMF (Kawasaki Cornering Management Function) imparts added turning control thru engine and chassis monitoring.
KLCM (Kawasaki Launch Control Management) optimizes traction during launches eliminating rear wheel spin.
KEBC (Kawasaki Engine Braking Control) offers rider preferential level of engine braking on both road and track riding.
S-KTRC (Sport-Kawasaki Traction Control) minimizes wheelspin under hard acceleration offering a firm hold on the tarmac.
Four customizable ride modes in addition to three preset modes- Rain, Road, and Sport.
Smartphone connectivity through "Rideology the ride" App. It not only enables the rider to check call and message alerts on the motorcycle's 4.3 inch TFT display, but vehicle information can be viewed on the phone screen. Also, changes to the motorcycle display settings could be done from the smartphone.
With such an aggressive canted riding position, though not many would be venturing out on long rides on the new ZX-10R, however, that doesn't deter Kawasaki from offering an electronic cruise control.
Economy would hardly matter for a 200+ bhp motorcycle, but there's an Economical ride indicator in case you're in the mood to extract maximum fuel efficiency from the new ZX10R.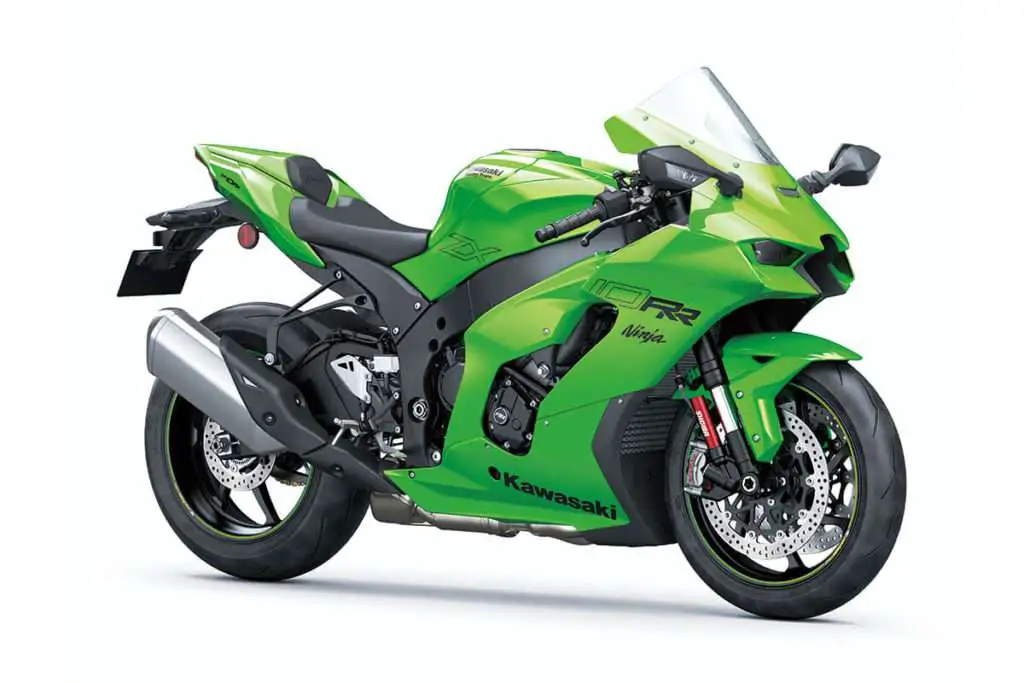 Quite an exhaustive list that- but we're not done yet for there's also the 2021 Kawasaki Ninja ZX-10RR offering amplified track performance. Tuned to even better the lap times set by the ZX-10R, the Double R features revised camshafts, titanium pistons, and con-rods, intake, and exhaust valve springs. The intake funnels have also been done away with for optimized air induction. New lightweight Marchesini forged wheels come shod with Pirelli Diablo Supercorsa SP tires. However while the 2021 Ninja ZX-10R offers a variety of flamboyant liveries, the 2021 ZX-10RR is being offered only in a lime green shade.
Pricing

2021 Kawasaki Ninja ZX-10R
US$ 16,399 for Metallic Spark Black and Metallic Matte Carbon Gray
US$ 16,699 for Kawasaki Racing Team (KRT) Edition
($1000 extra for ABS Variants)
2021 Kawasaki Ninja ZX-10RR
US$ 28,999 (only lime green color)
Photo Gallery