The silken has finally been pulled off Bologna's titanic touring machine. With comprehensive updates comprising of the new V4 engine and tech dripping features- the 2021 Ducati Multistrada V4 is here to take adventure touring to a whole new level.
Engine update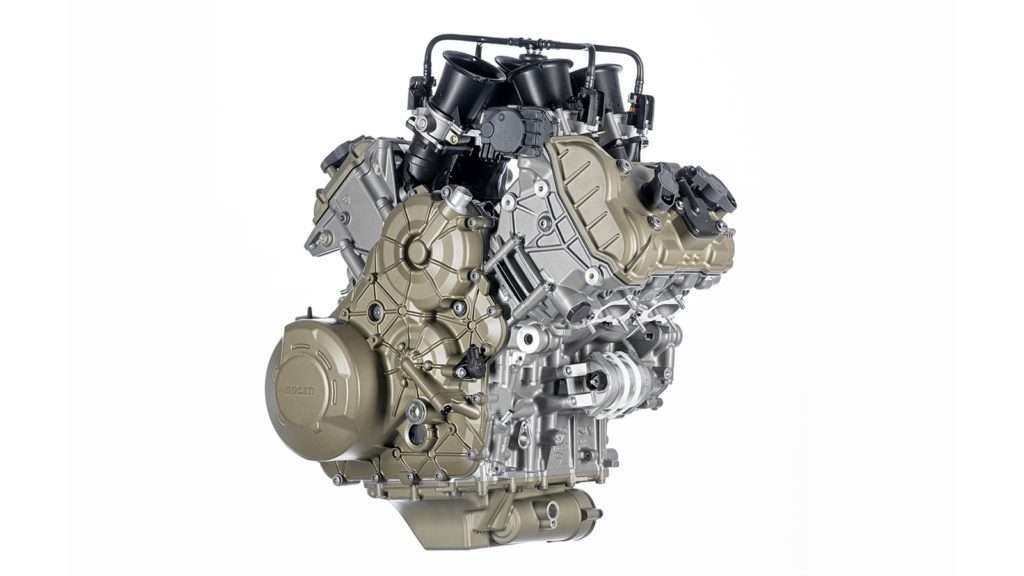 As the name suggests, the biggest upgrade on the 2021 Ducati Multistrada V4 is the new four-cylinder V4 motor. Termed as V4 Granturismo, the 1158cc four-cylinder powerplant pumps out 170 horsepower- up 12 bhp from the earlier 1262cc V2 motor while being lighter by 1.2 kgs. Ducati has ditched its staple desmodromic valves for the traditional spring system pushing the valve clearance adjustment interval to a much longer 60,000 kilometers. The new V4 Granturismo motor also features Ducati's MotoGP derived counter-rotating crankshaft and twin-pulse firing order offering increased exhilaration.
Featuring Desmosedici Stradale derived rear cylinder deactivation, where combustion in the rear two cylinders is deactivated when the motorcycle is stationary in neutral gear. This feature results not only in fuel-saving and low emissions but also reduction in engine heat. A slipper clutch is standard to the 6-speed gearbox with a bi-direction quick-shifter offered on the V4S and V4 Sport models.
Design and Ergonomics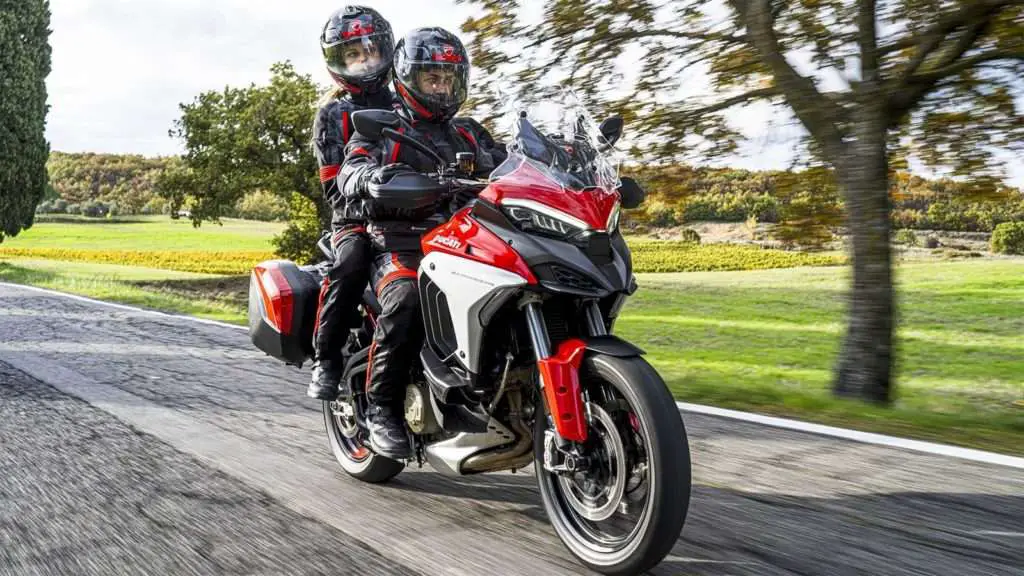 The revised design is claimed to club form with function. The new design offers better aerodynamics to reduce maximum drag off the motorcycle and the rider at high speeds. The front is sharper with a new contoured and adjustable Plexiglas screen incorporated with side deflectors. New shark-gill inspired radiator vents and a pair of turning vanes refract hot air away while increasing fresh airflow to the rider.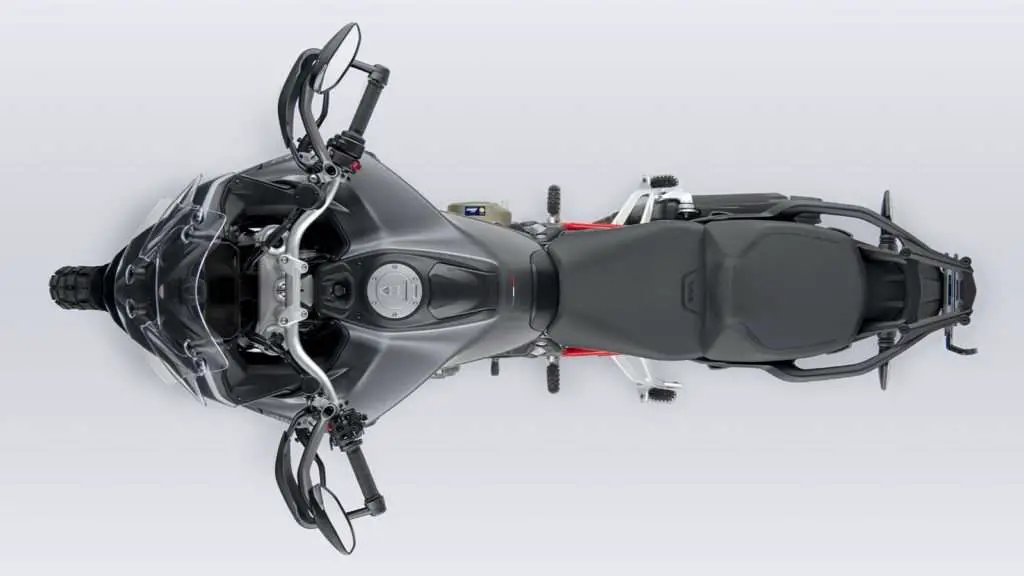 The central section on the 2021 Ducati Multistrada V4 has been narrowed down to offer comfortable riding offering a tucked in position while seated. It also facilitates flat footing and stand-up position during off-road stints. The seat height has been worked upon and is now two-stage adjustable at 840mm and 860mm. A low height 810 mm and a tall 875 mm seat is also being offered as options.
Improved hardware
A stiffer MotoGP-derived aluminum monocoque frame adds stability while being lighter in comparison to the outgoing model. The two-element trellis sub-frame has been modified for under-seat storage and adjustable seats.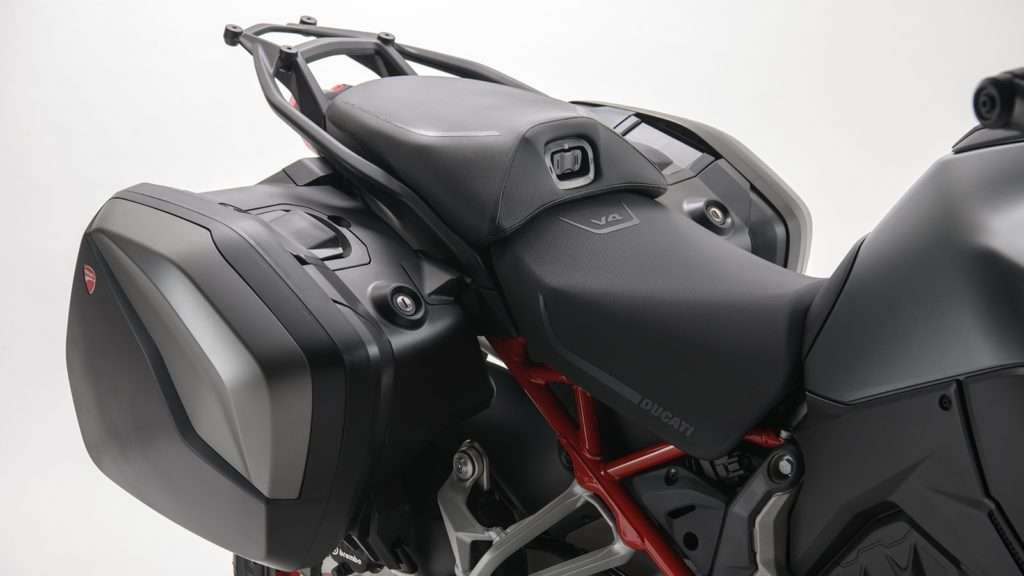 While the V4 model gets a conventional springer system- Ducati's Skyhook Suspension with an auto-leveling feature is being offered on the V4S and V4 Sport models. A new double-sided swingarm comes attached with a remotely adjustable mono-shock on the V4, while the other V4S and V4 Sport feature the electronically adjustable Skyhook shockers.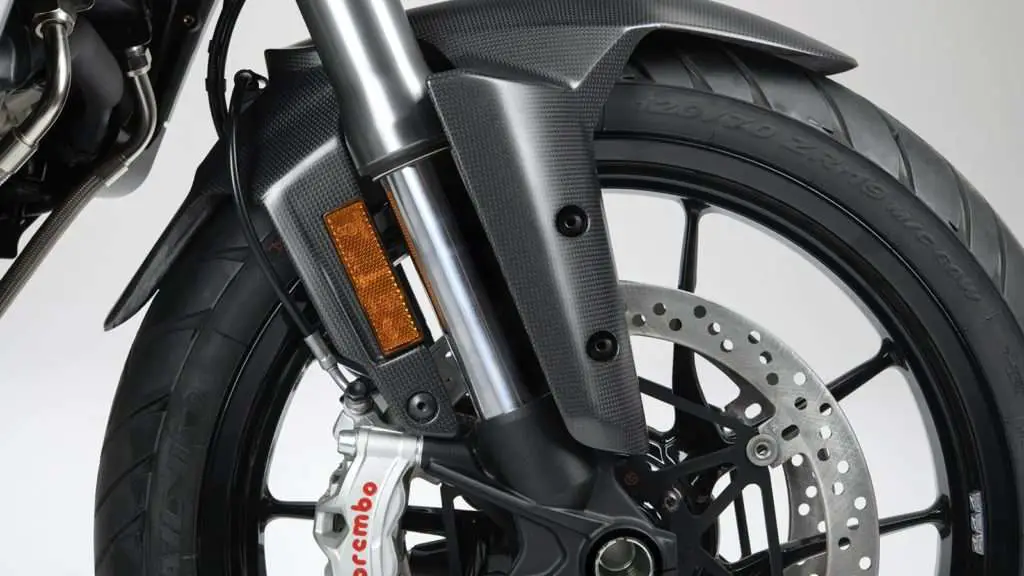 The V4S and V4 Sport feature 4 piston Brembo M50 Stylema calipers mounted over 330 mm twin discs, while the V4 model makes it with the Brembo Monobloc calipers on 320mm rotors. At the rear is a 2 piston caliper mounted over a 265 mm single disc. Cornering ABS is standard across three variants.
Wheel sizes are standard on all three with 19 inches front and 17 inches rear alloy cast wheels shod with Pirelli Scorpion Trail II tires. Hardcore adventure riders can opt for off-road oriented aluminum spoke wheels on the V4S.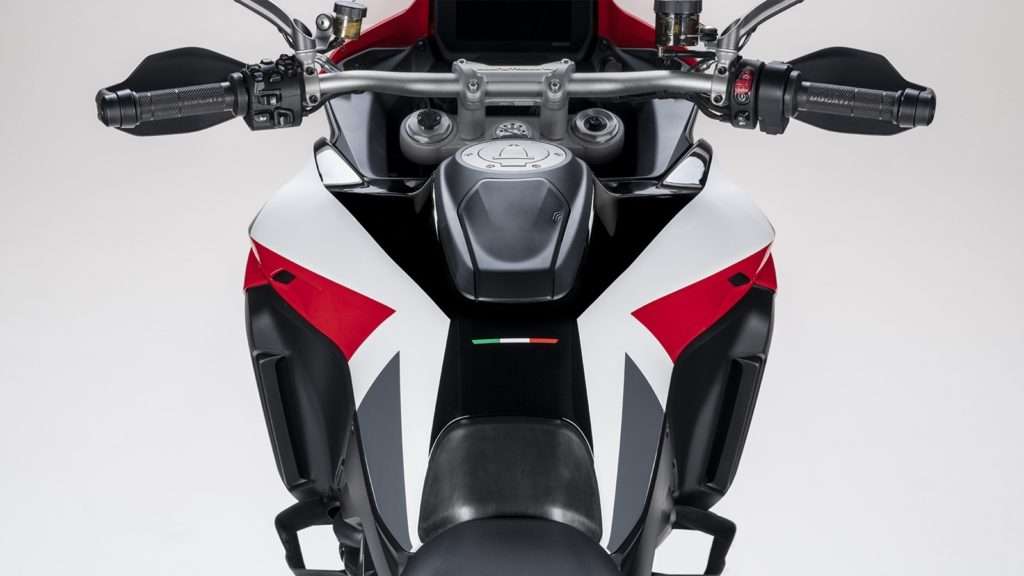 A 22-liter fuel tank with a claimed 6.5 liters/ per 100 kilometers should see the 2021 Multistrada V4 gallop for over 300 kilometers before needing a top-up.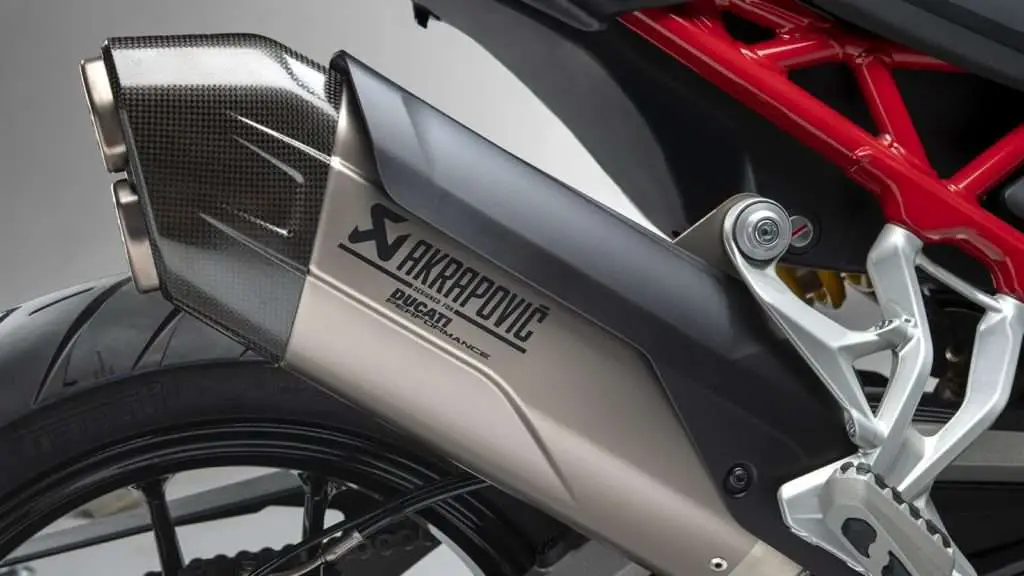 A stainless steel exhaust with twin catalytic convertors is standard across all models. The V4 sport model offers an optional carbon fiber Akrapovic exhaust system.
Electronics
The 2021 Ducati Multistrada offers a multitude of electronics starting with front and rear adaptive radar technology. Developed in collaboration with Bosch, it's a first for any production motorcycle. The radar feature can be linked to adaptive cruise control and blind-spot detections and only available on V4S and V4 Sport models.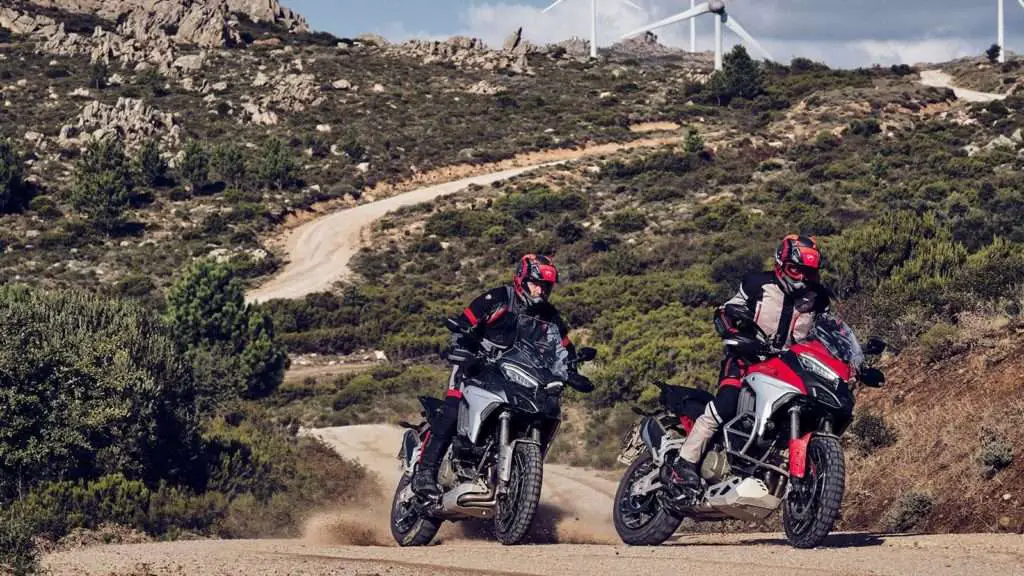 Four ride modes cater to a variety of riding styles. With SPORT and TOURING mode utilizing full engine power, the URBAN and ENDURO modes cuts engine power to a cautious 115 bhp.
Ducati Traction Control and Wheelie control extends an extra safety net to the new Multistrada V4. The V4S and V4S models offer an additional vehicle hold control facilitating easier restarts on gradients. Ducati Wheelie Control is standard on all three models.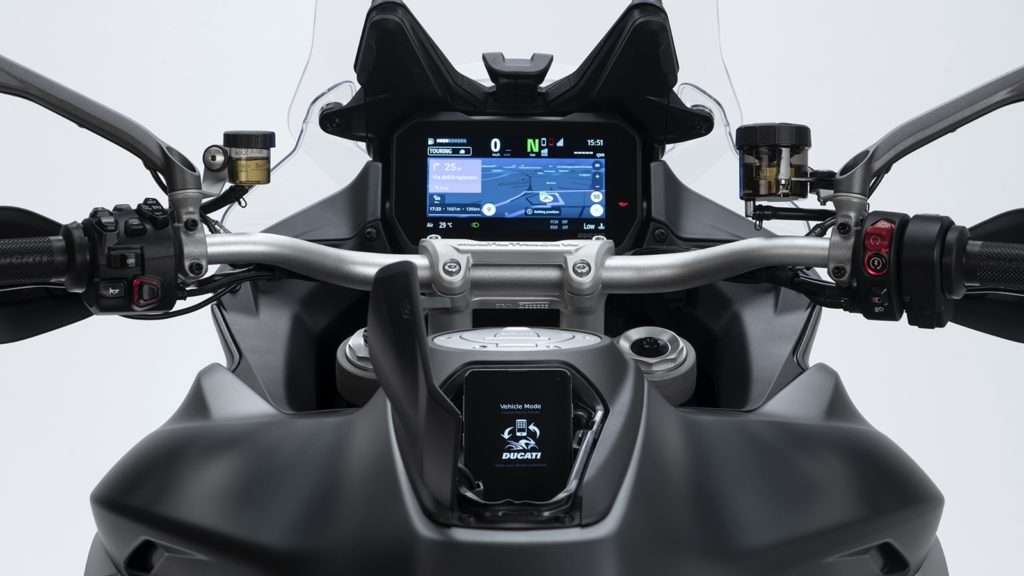 The aggressively styled new LED headlight houses integrated DRLs and turn indicators. The cornering function is allotted to the V4S and V4 Sport models. Sitting behind the headlights is the new 6.5 inch TFT color display. The ones on the V4S and V4 Sport offer Ducati Connect and a full-map navigation system.
If the long list of features and upgrades on the new 2021 Ducati Multistrada V4 still fails to catch your fancy, there's more. You may choose more from a long list of options for screens, seats, guards, protectors, Akrapovic exhausts, luggage, etc. Needless to say, the premium adventure touring segment has become more ADVENTUROUS!
2021 Ducati Multistrada V4 Technical Specifications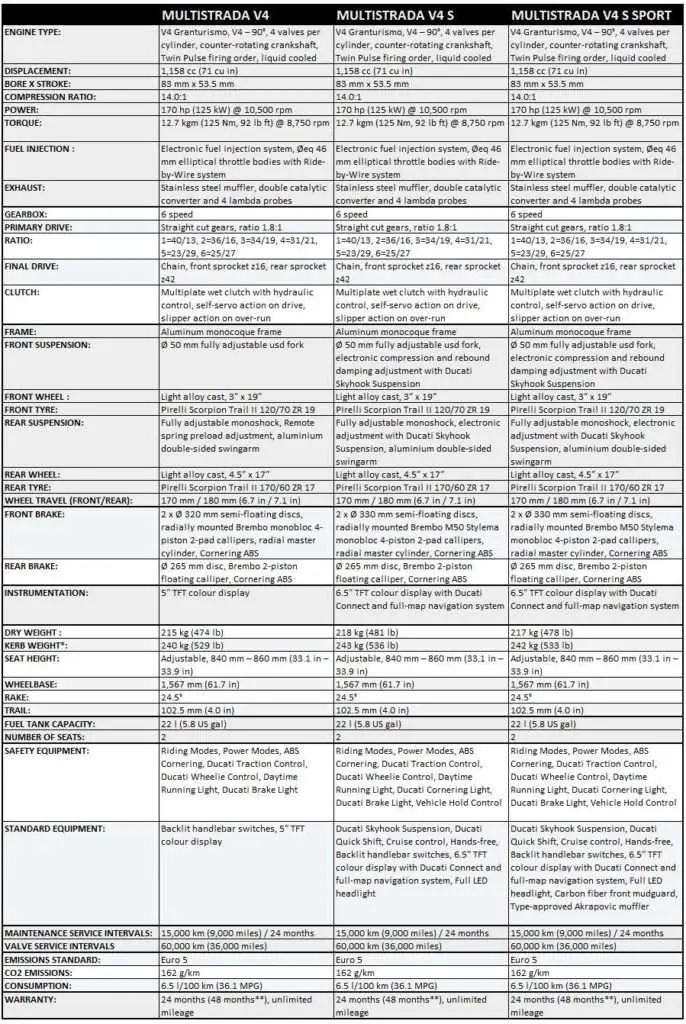 Here's an AV that describes the new Ducati Multistrada V4 in more detail:
2021 Ducati Multistrada Image Gallery