Riding on a motorcycle is one of the best feelings in the world. But imagine being able to listen to music and communicate with your co-riders as well. You might be thinking, how do Bluetooth motorcycle intercoms work? So if you haven't already taken the plunge and bought a Bluetooth intercom, you need to read this.
This guide will explain how it works and why it is a good investment for your motorcycle. Find out how you can boost the riding experience for yourself and your passengers. A Bluetooth motorcycle intercom could take your motorcycle ride to the next level. 
What Are Bluetooth Motorcycle Intercoms
You might know a bit about Bluetooth motorcycle intercoms. But you may be unclear how they work in practice. It is a digital wireless communication system that you can use while you are riding.
Well, it all comes down to short-range networking technology, which uses radio waves. There are a variety of frequencies and systems you can use. But it all depends on the type of product or brand that you buy. 
Out of all the ones on the market, Bluetooth devices are the most popular. A Bluetooth intercom lets you talk with other riders in your motorcycle group. Or chat with your family and friends. You can also listen to your favorite song as you cruise along the road.
Daisy Chain vs. Dynamic Mesh Systems
So, how do Bluetooth motorcycle intercoms work? 
Most Bluetooth intercoms use a "Daisy-Chain" system. But some more advanced ones also use a modern "mesh" system. How often you want to use it and where will affect your choice of Bluetooth intercom. 
Here is a short comparison of the intercom systems, so you can see how they work when you ride. 
Traditional Daisy-Chain 
Traditional intercom systems, known as "daisy-chain" systems, consist of linear pairings. The pairing connects from one rider to another, with another pairing to another rider, and so on. These linear pairings all create a networking group of communications. 
Bear in mind that it is a short-range communication system. Consequently, the daisy-chain system is prone to breaking down. For four riders together, it can function very well. But if a rider goes out of range, it can break the whole communication network. The group then needs to pull over and repair (connect) everybody all over again. This potential breakdown because of range can be the downside of Bluetooth communication.
Modern Dynamic Mesh 
But it is not all doom and gloom. There are also Bluetooth intercoms that use pairing with a dynamic mesh system. The dynamic mesh system connects all riders that are within a specific range. The group created is usually called a "pack." 
If a rider leaves the range of the pack, it does not break the primary connection. The group communication can continue as before. It is also possible for a smaller pack to break off and rejoin the main pack later on. This communication acts as usual, with no interruptions. So, you can enjoy your ride and communicate with your fellow riders without stopping.
The technology is so advanced that you can keep a connection with riders over 1.2 miles away. There is also the possibility of up to 15 riders in each pack. This type of communication is also known as Rider-To-Rider Bluetooth intercom. Some more advanced Sena systems can manage 24 riders.
You also have the option to create a set password for your network. This password means your group connection is secure, and no strangers can listen to your private conversations. 
Private and Secure Communication
You also have the option to create a set password for your communication network. This password means your group connection is secure. So no strangers can listen to your private conversations. 
How Do Bluetooth Motorcycle Intercoms Work In Practice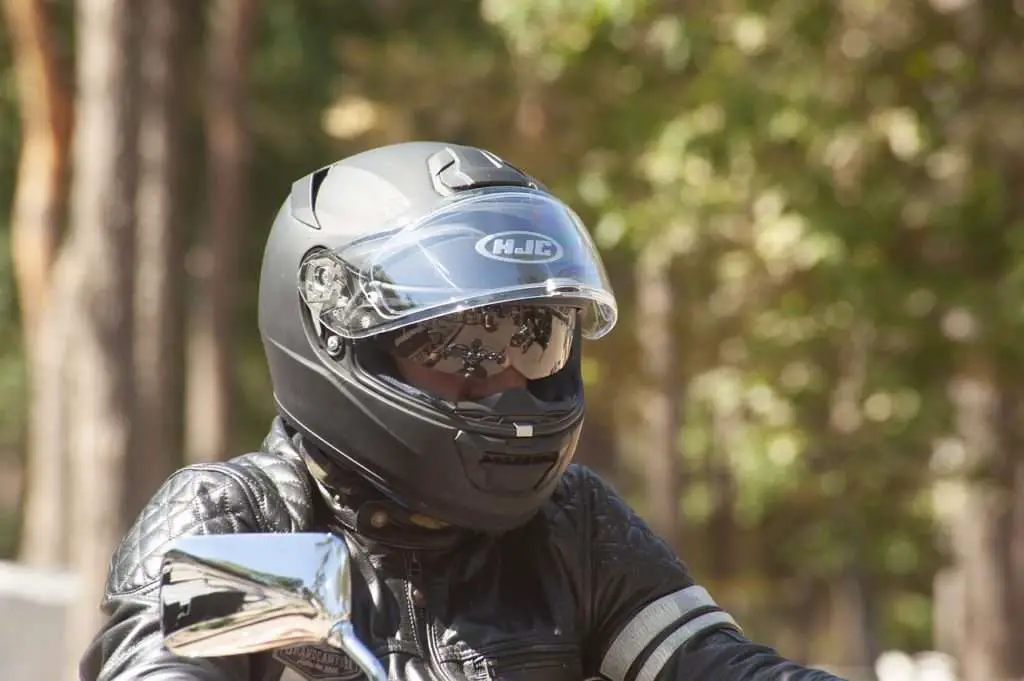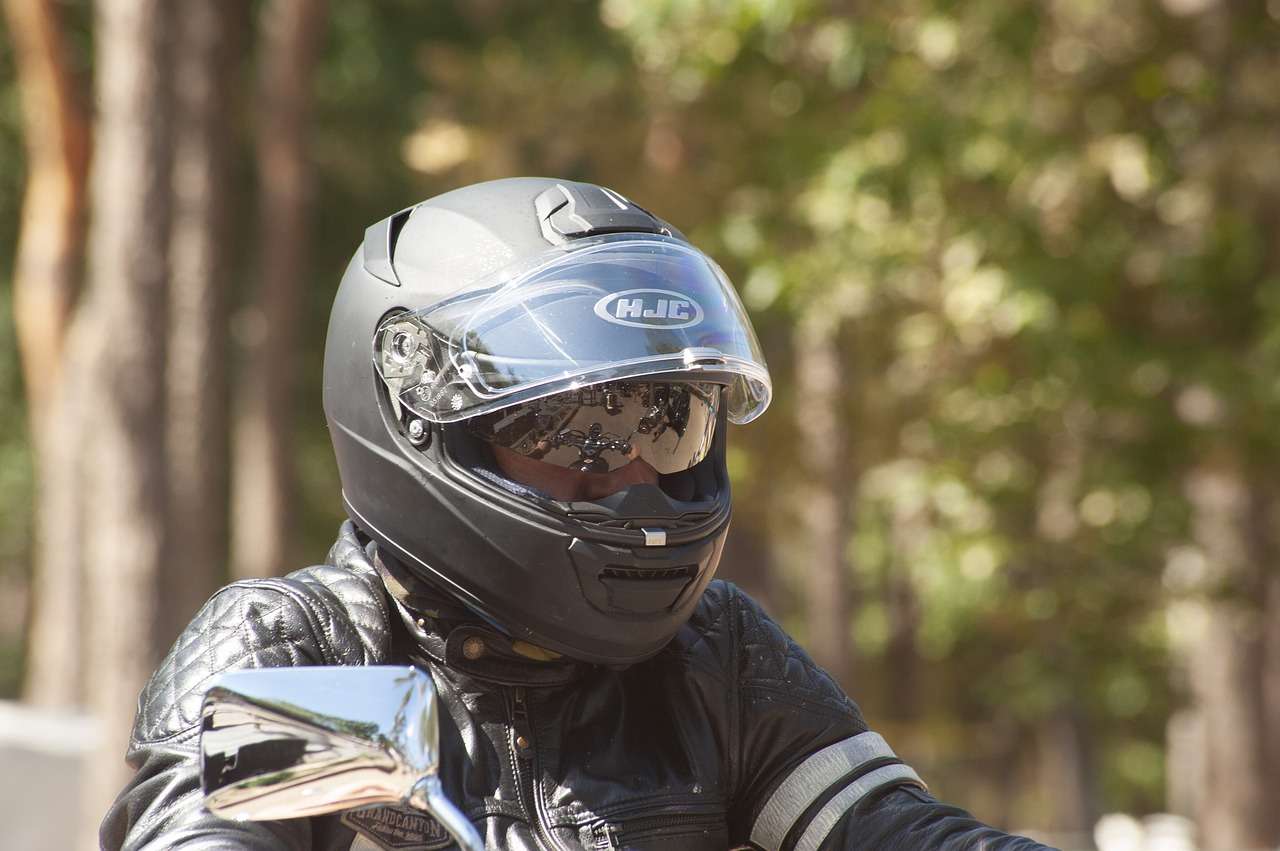 You might have already used Bluetooth on your smartphone. For example, to transfer a picture or file to somebody else. Bluetooth motorcycle intercoms work in the same way. It is as simple as pairing your Bluetooth with the Bluetooth of somebody or something else.
Of all the wireless communication systems, Bluetooth is the most popular for motorcyclists. It consumes minimal power and is simple to use once you have it set up. Riders find it is easy to control even with their gloves on. Voice activation also adds an extra safety element as it can minimize distractions.
Although the distance can be restrictive with Bluetooth, there are options to extend the range. Here are the main ways in which you can use Bluetooth intercoms with your motorcycle.
Connecting Your Bluetooth Intercom With GPS
There is nothing more frustrating than getting lost on a ride. You can lose valuable time, and it can destroy your riding experience. 
Luckily, you can connect a motorcycle GPS navigation system to your Bluetooth intercom. This connection enables you to receive voice instructions without fiddling with any buttons.
This Bluetooth connection can help if you: 
Get lost during your ride, and you need to find your current location
Want some detailed directions for a destination
Do not want to stop your journey and look at a map
Want to listen to instructions, instead of looking at a GPS device
How Do Bluetooth Motorcycle Intercoms Work With Smartphones
Sometimes it is nice to go on a long ride and disconnect from our hi-tech world. But, there might be an emergency or other urgent matter when you must respond to a call.
A wireless telecom system gives you a direct connection with the world in case you need it. Bluetooth also has some extra features that you can utilize.
With Bluetooth technology, you can:
Operate your smartphone, receiving or making calls with voice activation
Have private conversations without anybody listening in
Never miss an important telephone call
Play your favorite music from your smartphone to the speakers in your helmet
Have a built-in FM stereo (most Bluetooth headsets have this)
Using Bluetooth Intercoms Between Headsets
This area is one of the most exciting benefits of Bluetooth motorcycle intercoms. It can provide direct communication between headsets. This communication is fantastic if you travel a lot with a pillion. You will find this particularly useful when you see something memorable on your ride. You will be able to tell your passenger, instead of trying to shout at them against the wind.
The communication system can:
Help you communicate with a pillion on long trips
Provide clear-sounding conversation with a passenger, like being on a telephone
Let you stream music to their speakers so that you can enjoy the same music
Be handy in an emergency to alert each other to any potential problems
How Do Bluetooth Motorcycle Intercoms Work In Groups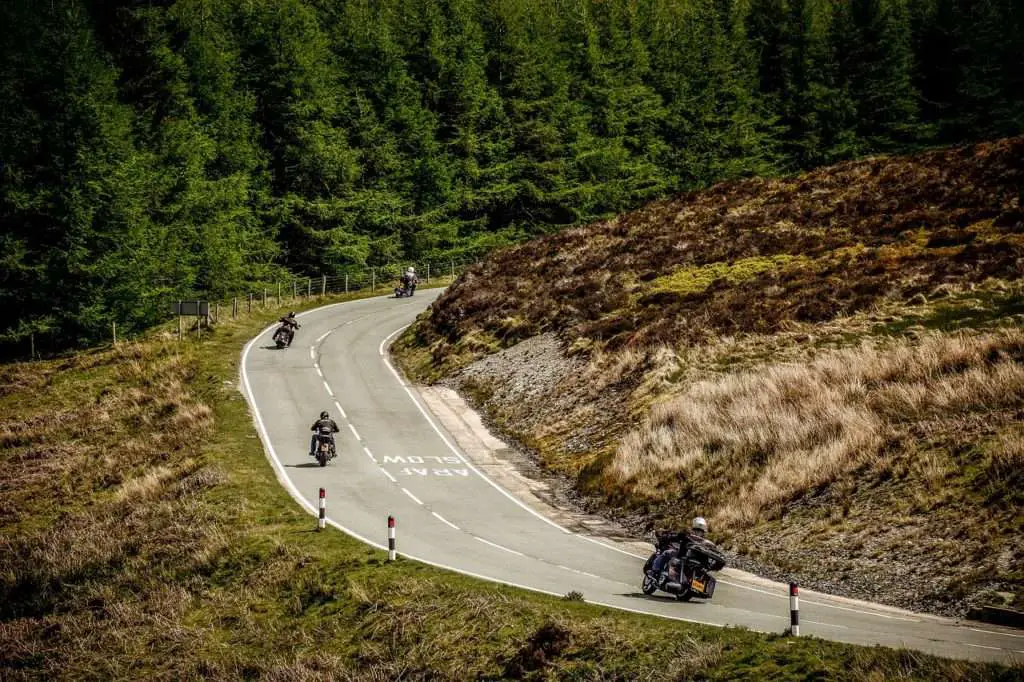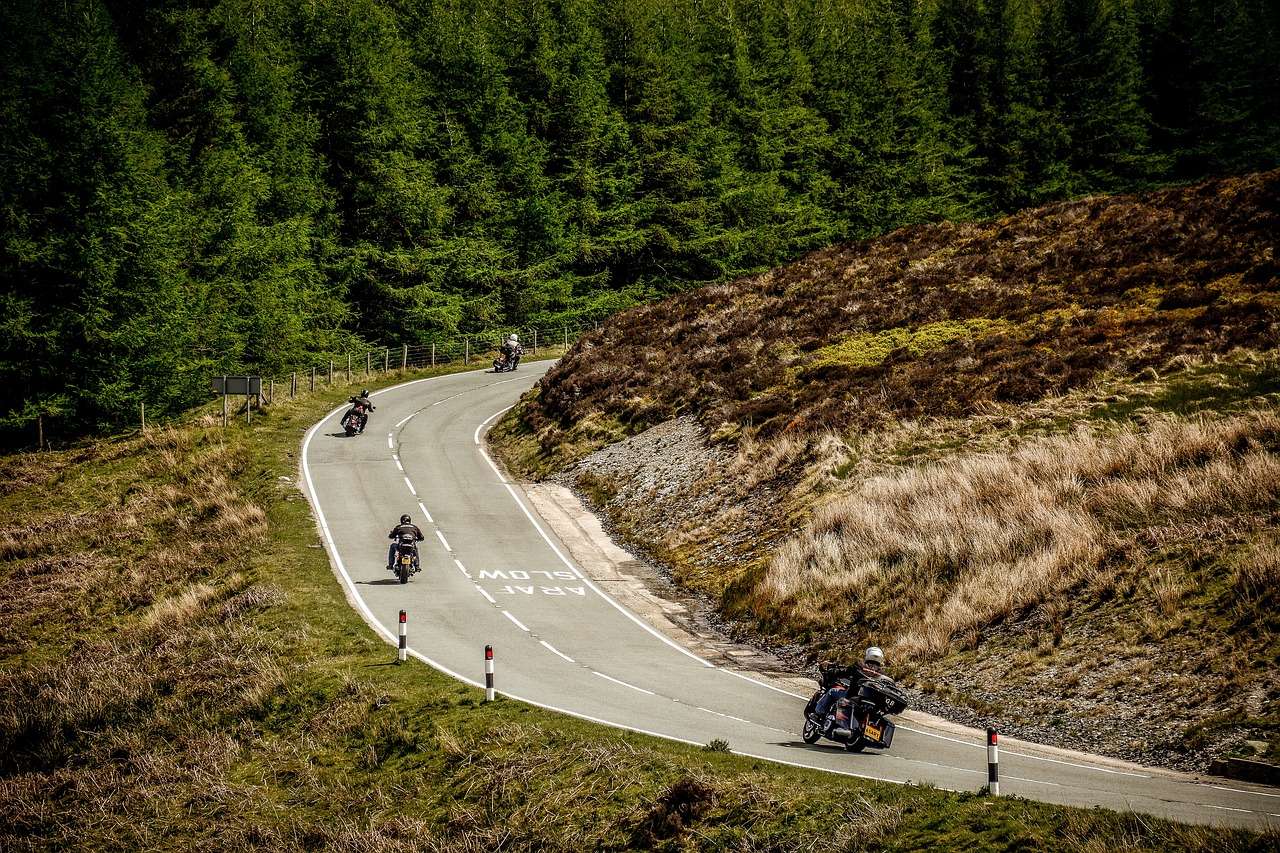 If you like riding your motorcycle in a group, a Bluetooth intercom can be invaluable. It can be hard to organize groups at the best of times. On a motorcycle, it can be even more challenging.
The Bluetooth intercom can help you:
Have conversations in real-time with other riders in your group
Tell your group if have any engine problems or need to make a route change
Communicate with your group without having to stop during the ride
Train other riders by riding behind them and giving them tips on the intercom
How Do Bluetooth Motorcycle Intercoms Work In Reality
A Bluetooth intercom is a fantastic addition to your motorcycle. But there are some other things you should consider before you go straight ahead and buy one. Here are some of the areas that you should look into to ensure that you pick the right intercom system for you.
Managing the Sound Quality
Bluetooth motorcycle intercom systems generally provide the best sound quality for a motorcycle. But it is worth bearing in mind that you are still in an outside environment. You are traveling at speed, and the faster you go, the sound quality will most likely reduce. So you can hear your co-riders and communicate with them. There are some extra add-ons you can buy that will make a huge difference.
Look for the following features when you select a new intercom: 
Noise-reducing capabilities
Wind and engine sound reduction
Digital signal processing (DSP)
When you want to buy a Bluetooth motorcycle intercom to listen to music, you need to check that the intercom has positive reviews for voice and music quality. The music sound will never be as clear as a music system when you are sitting at home. But there are some options, such as the Sena brand intercoms, that have high-quality sound.
Push-To-Talk and Voice Activation
You need to decide if you prefer a push-to-talk or voice-activated intercom. Some people like to have push-to-talk for reliability. Whereas voice-activated intercoms also have an advantage. They can go to inactive mode if not used for a set amount of time. This idle mode is popular as it can save battery.
A Headset for Both Ears Or One Ear
Choosing a headset for one or both ears might seem a bit trivial. But it can make a huge difference. Some people prefer to have a one-ear headset as it is more convenient. This preference tends to be because it is easier to hear if somebody honks their horn at you. Whereas, a headset for both ears can help with the volume of the headset. The audio volume can sometimes be an issue with intercoms, which counters any potential loss of sound.
Deciding Where To Fix Your Intercom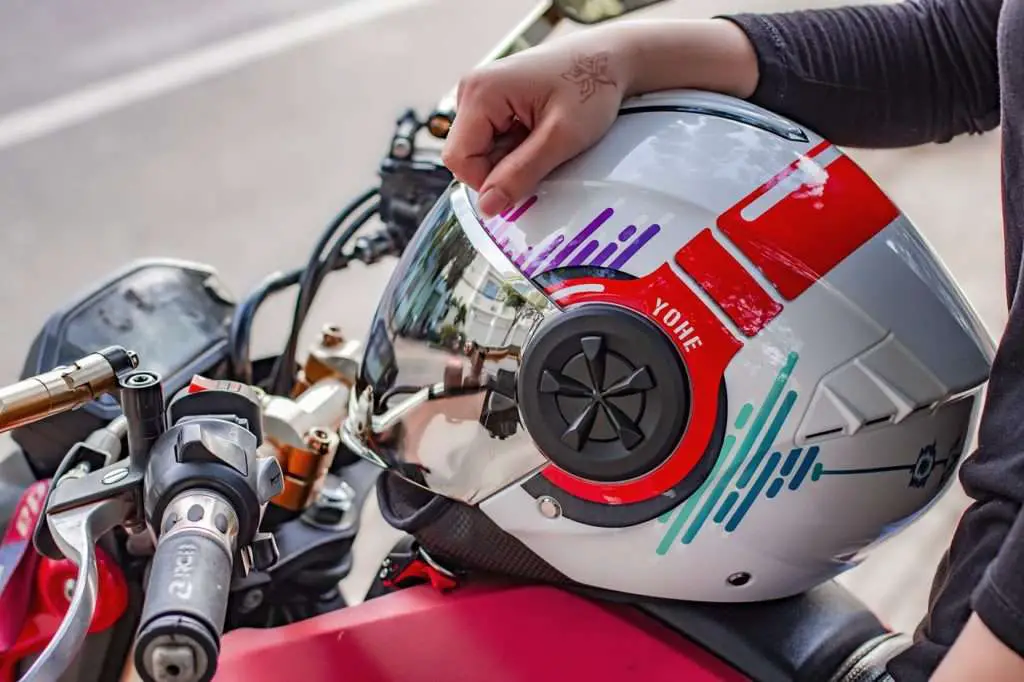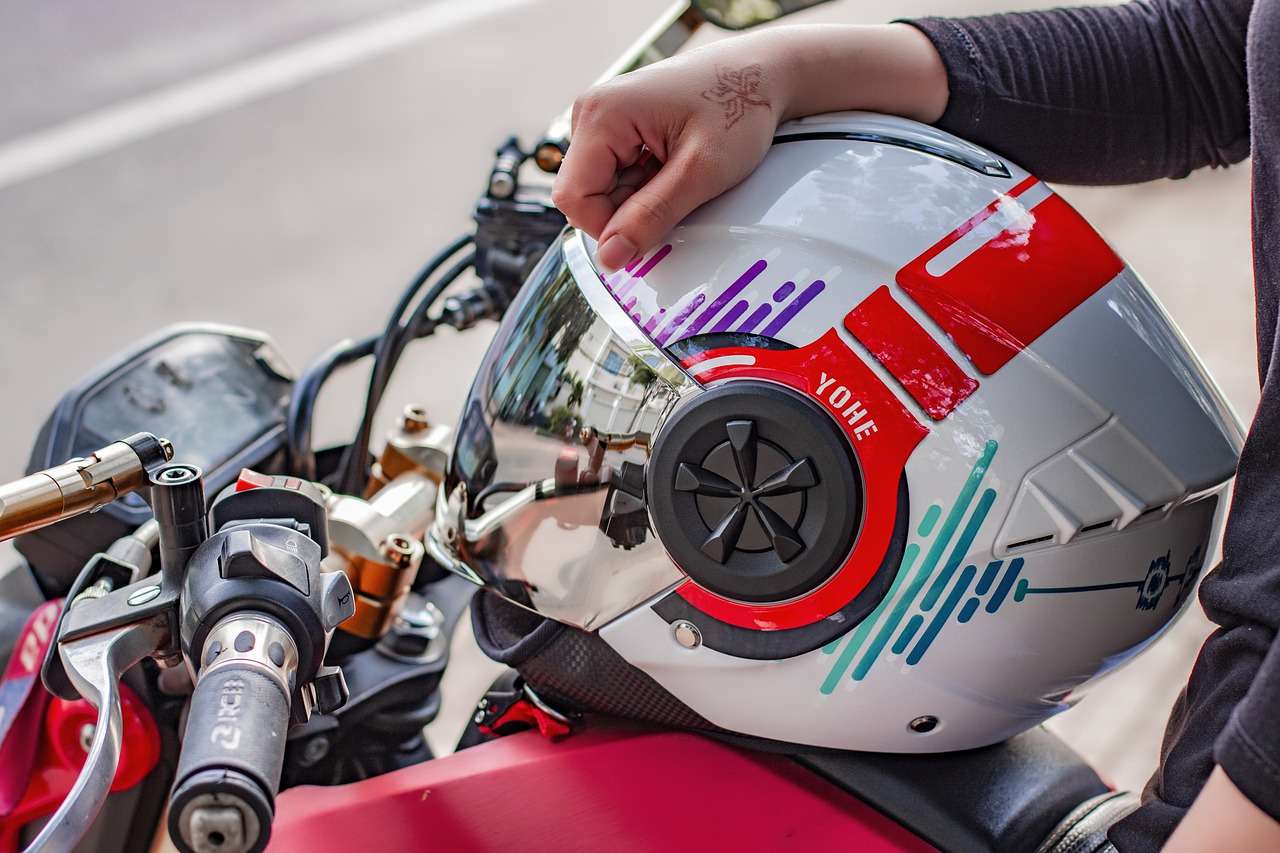 Deciding where to fix your intercom also needs some serious consideration. It can be a stand-alone system or an intercom mount. You can put motorcycle intercoms directly on your ears, clipped to the belt or bike, or mounted on the helmet. 
All universal units that fit a helmet are, in most cases, fixed with a sticky pad or clamp. These are the most popular type of intercom and, more often than not, the easiest to use.  It is best to pick the one that feels the most comfortable when you ride. They usually come with a microphone and a set of speakers. 
If you buy another helmet, you can transfer a Bluetooth intercom with no fuss as they are universal. You will find most helmets under $150 are Bluetooth-compatible. On occasion, they may not have a Bluetooth unit inside them. When this happens, you will need to buy the Bluetooth unit separately if you do not have one already. 
Using A Pre-Installed Bluetooth Helmet 
If you still don't like the idea of transferring your Bluetooth intercom to another helmet. You could use a pre-installed Bluetooth Helmet. These helmets have Bluetooth hardware integrated during the design process.  
Most are "ready to wear" out of the box and need no installation. Helmets in the price range of $150-$350 generally have built-in Bluetooth speakers. It is sometimes worth paying a bit more for the convenience of the integration. You could pay anything from $350 to $1,000 for a motorcycle helmet with the best Bluetooth integration. 
As mentioned before, the higher-end helmets work right out of the box. These helmets are lightweight in construction and made from materials like carbon fiber. The design features can make them more comfortable because they are less bulky than cheaper models.
Some separate Bluetooth headsets have a higher range than in-built helmet systems.  Also, some have more extended battery life. So it is worth double-checking everything before you commit yourself and buy something.
The Range Is An Important Factor
The range is not as important if you plan to use the motorcycle intercom to only talk with a passenger. But, if you are riding in a city or with larger groups, you will need more range. As a rule, if you are in a small group or are doing open-country riding, a range of 500 yards would be enough. 
One of the problems of wireless intercoms is that objects can decrease the range. For example, if you get separated in a city with a co-rider. You might not be able to communicate with them because of the buildings. But, you can extend ranges when you combine Bluetooth with other technologies.
The Best Bluetooth Motorcycle Intercoms On The Market
Now that you understand how Bluetooth motorcycle intercoms work. Also, the areas you need to consider before buying them. Here are a few examples of popular Bluetooth intercoms on the market and what they can offer a rider.
Sena
Sena is an excellent example of one of the leading names in motorcycle intercoms. It has been in the market for over 20 years and has moved with the times. It is a popular choice in the United States, France, and Italy and is known for its high audio quality.
It also has Universal Bluetooth, which means you can pair it with different intercom models that have Bluetooth. So if you have Sena, it does not matter if your co-riders have another brand.
The Sena 30K was a popular choice with riders until Sena released the 50 series this year. Here are the advantages and disadvantages of both of these intercoms.
Sena 30K
Advantages
Incredible sound quality and volume
Open Mesh 2.0 network
24 other users in Group Mesh
Compatible with different brands
Bluetooth controls for music and an FM tuner
Advanced noise control
Quality base mounts as slides vertically to connect
Travel charger
Intercom up to 1.2 miles
Audio multitasking
Multichannel communication
Disadvantages
Still has water-resistant issues (plus no customer replacement for water damage)
Some users have reported a software issue which turns off the device
Sena 50R and 50S
If you want to use one of Sena's latest intercoms, the 50 Series released this year is a great choice. These products demonstrate that you can gain some high-value benefits by paying a bit more for your intercom. Here are the main advantages and disadvantages of them both:
Sena 50R
Advantages
An elegant low profile three-button interface
Mesh 2.0 technology
Intercom range to 1.2 miles
Bluetooth 5.0
Multichannel communication
Incredible charge-battery ratio compared to competitors
Voice command for eight languages
Can stick directly on the helmet for maximum weather protection
Quick charge
Disadvantages
Quite expensive still, as new to the market
A few users have reported issues with the Group Mesh feature
Sena 50S
Advantages
Glove-friendly dial interface
Multichannel communication
Mesh 2.0 technology
Intercom range to 1.2 miles
Bluetooth 5.0
1 hour more talk time then the 50R
Ambient Audio feature
The clamp kit has an AUX port for an MP3 player that is non-Bluetooth
Slanted speakers offer more comfort when you ride
Disadvantages
Quite expensive still, as new to the market
A few users have reported issues with the Group Mesh feature
Cardo Packtalk Bold
Cardo was one of the makers of the first Bluetooth intercoms on the market. Cardo is also one of the main competitors for Sena. The Cardo Packtalk Bold Rider is one of their latest intercoms and comparable to the best Sena products. Below are the main advantages and disadvantages of this intercom:
Cardo Packtalk Bold
Advantages
Dynamic Mesh Communication
Waterproof 
Packtalk Bold Voice activation
Can manage up to 15 riders
Range up to 1 mile
40mm wide HD speakers
Can switch from DMC to Bluetooth mode
Smart audio mixing
Disadvantages
It is considered a bit pricey
Some users have reported problems with the Connect app
In Summary
You can create the ultimate road trip when you use a reliable Bluetooth intercom device. It can enhance your riding experience in so many ways.
In the event of an emergency or important call, you are contactable. You can also use voice-activated technology to make and receive any call. With GPS connections, you will never get lost again or have to pull over and do battle with your map.
A Bluetooth intercom is versatile and easy to use. It lets you communicate, navigate, and listen to music, all in one versatile accessory.  So even if you are the biggest technophobe in the world, you can use it without any stress.