Introduction
In his famous poem, Nobel laureate Pablo Neruda wrote: "You can cut all the flowers but you cannot keep Spring from coming." And a lot of us – especially our readers from places with near-constant snow such as Minnesota – were excited to finally take our two-wheeled best friends on joyrides because spring was coming. After months of keeping them in the garage in hiding from the brutal winters. 
Pablo Neruda meant for "Spring" to be a metaphor in that particular poem. A metaphor for adaptation. 
And this article is about adaptation: in storage. 
Because along with spring came the (quite literal and non-metaphoric) pandemic, and it got us thinking about keeping things in storage for extended periods of time.
But even in non-pandemics, your motorcycle needs to be quarantined the right way. Because a simple motorcycle stand is not going to cut it when in storage for a long time. 
Motorcycle wheel chocks keep your bike tethered and secure for extended periods of time, without having to lose any sleep over whether it would tip over or fall down like you would with a simple stand. In addition to this, they will save you a LOT of money in U-haul trips when transporting between places over long distances.
But first, what is a wheel chock?
Ever come across those pictures of city blocks with signs that say "free to use" bicycles? Notice how they usually feature multiple bicycles with the front wheels tethered to brightly colored, bifurcated wedges on the ground?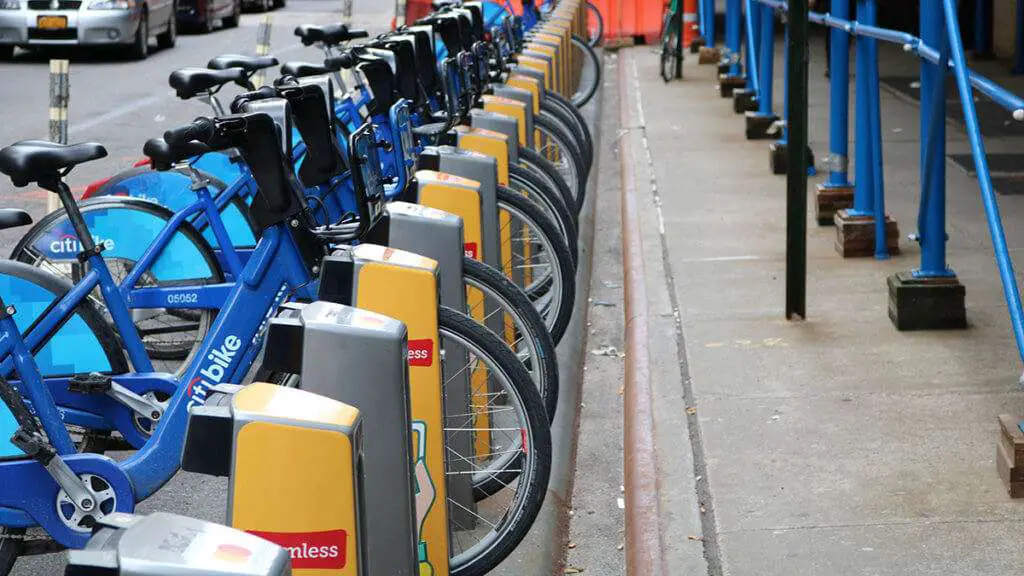 Motorcycle wheel chocks are almost identical to those wedges in function with varying designs- depending on both the size of the motorcycle tire and the weight of the motorcycle. "Chocking" either of the wheels of a motorcycle with wheel chocks makes sure it never tips or rolls over, especially when stored for a long period of time or while being transported.
So Why Not A Motorcycle Stand?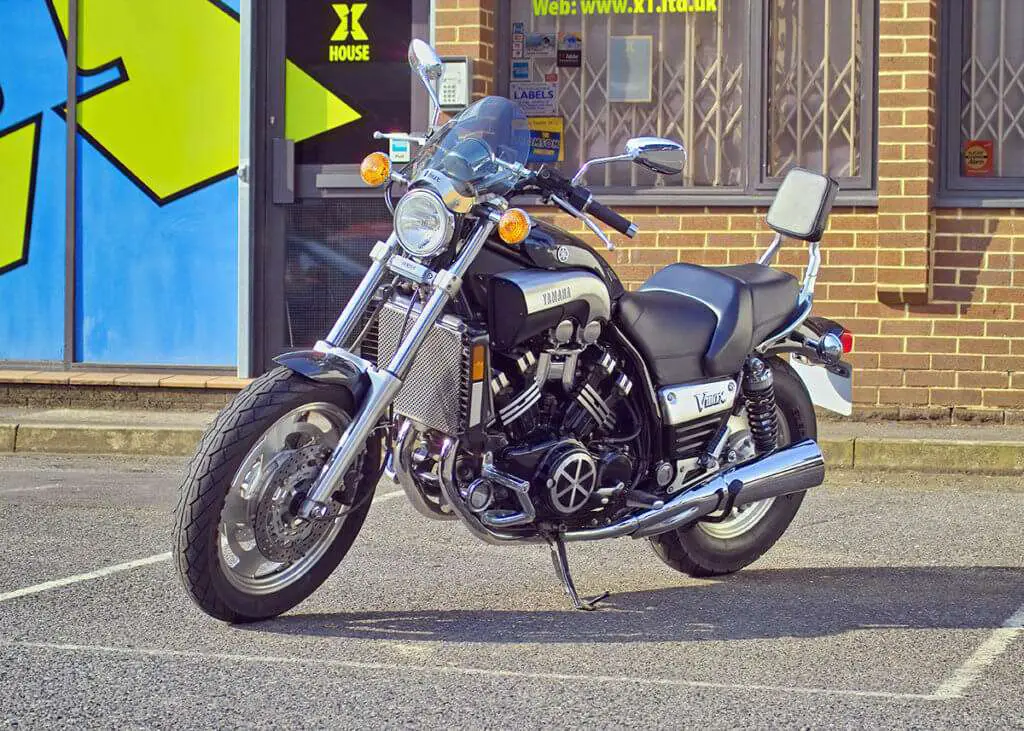 Parking a motorcycle with just a stand is fine when at the parking lot of a Walmart while you pick up groceries for the week. For most day-to-day tasks, a motorcycle stand is more than enough.
But it won't do much for you when you're storing it for months at a time. It's going to do even less for you while in storage in the back of a trailer or a truck bed transporting your motorcycle over long distances. Because the only thing securing the bike to the ground is using gravity to keep it in a bent position, which is risky.
Additional Benefits Of A Wheel Chock
Avoids Slippage
Wheel chocks avoid accidental slippage by restricting the movement of your bike via a sturdy, strict tether to the ground. But with a mere kickstand, there is a high possibility for unnecessary movement- to the point of the bike slipping.
This is especially true during transportation when the weight constantly changes on the rear wheel.
Much easier to repair
In our last article, we taught you how to use a jack lift on a motorcycle so you can work on it. While the biggest utility in a jack lift is leverage (so you can work on all parts of the motorcycle while leveraged at a constant angle), the next biggest is stability- once raised and locked, you can work on the motorcycle while not having to pay any heed to not tip it over.
A motorcycle front wheel chock may not provide that kind of leverage, but it does a fantastic job of keeping your motorcycle stable while you perform much-needed maintenance work.
Different Types Of Wheel Chocks 
i) Pivoting Bracket Wheel Chock
Pivoting bracket wheel chocks are the easiest to use among all motorcycle wheel chocks. They automatically lock the wheel of your motorcycle as soon as you roll it into the wheel cradle. 
These wheel chocks come with a mechanism that triggers the bracket within to lift itself and lock onto the wheel using its weight.
ii) Adjustable Cradle Wheel Chock
Adjustable cradle wheel chocks, as the name implies, allow the user to adjust the position of the cradle to accommodate the wheel size. While a lot of these chocks are similar to standard motorcycle wheel chocks (where all you have to do is load the front wheel into the cradle), they come with additional hardware to adjust the position of these cradles. 
Naturally, they require more hands-on work. But they also have a wider utility for different kinds of wheels.
iii) Recessed Flip-up Wheel Chock
Remember flip-phones? These wheel chocks are the flip-phone version.  Designed to save space and be easily portable, flip-ups have the most convenient design among all motorcycle wheel chocks.
Most wheel chocks (especially ones intended for heavy-duty use) take up a lot of space, which can be an issue in trailers that aren't very large. Which is where flip-up wheel chocks are especially handy- these bad boys allow you to save as much space as possible. 
iv) Extruded Rubber Chocks
Rubber motorcycle wheel chocks are the most basic of wheel chocks as far as design goes. They make use of a simple pyramidal/ triangular design where the securing of the wheel is done not via locking or tethering, but grip.
Due to both a simplified design and less expensive material, you'll save a lot of money. But keep in mind that rubber's properties are subject to temperature- the grip gets loosened in heat and hardened in cold- while using them.
5 Best Motorcycle Wheel Chocks
Analysis paralysis is real. Especially when every manufacturer claims their product is the best, and you don't have the time to go through all of them. 
This is why the following list of 5 of the most popular motorcycle wheel chocks is a good place to start.
Ease of installment/ assembly
The Extreme Max has a very easy bolt-together assembly.
Ease of use
Being a pivoting bracket wheel chock, the Extreme Max is very easy to use. Just lift and load the front wheel into the chock and you're good to go.
Sturdiness
The durable steel construction (with a gorgeous, glossy powder coat finish) makes the wheel chock very well suited for all things heavy duty. Perfect for motorcycles like the Harley Road King, you can trust this wheel chock with your heaviest, most expensive motorcycles.
Stability
The wheel chock comes with a very solid front bar, with a stance that is just wide enough for your wheel, but not to a degree where it gets unnecessarily bulky. 
If the default position isn't enough for you, you have four mounting holes that allow you a custom fit for a wheel size anywhere from 17″ to 21″. 
Ease of installment/ assembly
The MaxxHaul 70075 comes with the adequate hardware for a very easy installation. If you don't mess around, assembly won't take you more than 30 minutes.
Ease of use
The pivoting cradle of the MaxxHaul 7075 means all you have to do is load your bike into the wheel chock to get the job done. The mechanism present uses the weight of the bike to automatically lock it into place.
Sturdiness
Steel construction intended with heavy duty use in mind makes this wheel chock extremely sturdy.
Stability
The wheel chock comes with heavy duty mounting bolts and lock nuts. To accommodate the size of your wheels, the flip-up tire cleat comes with three position adjustments.
Ease of installment/ assembly
All you have to do is locate the mounting position by inserting the chock into keyed places on the surface where you want it to be. Very easy installation process.
Ease of use
The Pit Posse 11-017 does not come with a pivoting cradle, so you'll need to get your hands a little dirty. After pushing your motorcycle into the wheel chock, you have to connect the tie-downs to your bike using a secure mounting point. With the help of a soft strap around the fork leg, above the lower triple clamp.
Sturdiness
The 11-017 comes with a very good build quality and is extremely durable.
Stability
For such a relatively affordable wheel chock, the Pit Posse is surprisingly stable. Just keep a rubber mallet handy to install and remove the chocks from the mounts. 
Ease of installment/ assembly
The MaxxHaul 70472s, being rubber wheel chocks, require very little assembly work.  A built-in handle is present for easy placement.
Ease of use
Again, because these are rubber wheel chocks, they are ridiculously easy to use. Your wheels are secured by the traction (from the rubber) and not the tethering to a cradle- requiring little to no effort on your behalf.
Sturdiness
The rubber present in the 70472 wheel chocks exerts a very strong grip on motorcycle tires due to the build. This is as sturdy as a rubber chock can get.
Stability
As mentioned above, the build of these wheel chocks is incredibly well made and doesn't flex at all.  These chocks will stay in place for months, regardless of the dirt, dust, and grime that accumulate in your garage or trailer. 
However these are still rubber chocks- and come with the related limitations in both material and design. The former means you can't keep these chocks in extreme temperature conditions for extended periods of time, and the latter comes with the limitations imposed by an absence of a cradle/ external locking mechanism.
Ease of installment/ assembly
The design by the CONDOR line of wheel chocks is intended with easy assembly for the unaffiliated-with-assembling-things-other-than-IKEA-occasionally Joe in mind. It also lets your motorcycle sit upright, to save as much space as possible.
Ease of use
The CONDOR PS-1500 is incredibly easy to use- you can even (carefull) ride your bike right into it without using a kickstand. A single person can load and unload the motorcycle from the wheel chock. For transportation purposes, you can simply set up the Pit /Trailer Stop into the TK 3000 Trailer Adapter Kit which mounts to the floor of the trailer/ freight vehicle.
Sturdiness
This wheel chock employs a fully adjustable wheel locking system that is capable of accommodating both your front and rear wheel in sizes 15-22 inches or 80-220 millimeters wide. The locking mechanism securely supports your motorcycle in an upright position on any type of flat surface or transport platform. 
Stability
As mentioned above, the PS-1500 chocks are so secure that you don't need more than one person to load and unload. In addition, only two tie-down straps are required in most cases.
What To Consider In A Wheel Chock Before Buying One
1) Versatility In Wheel Size/ Design
Manufacturers design their motorcycles in a myriad of ways. And the fender-height and tire width vary widely between motorcycles. That's why wheel chocks with the most versatility (with respect to how much you can adjust the positions) are the safest to bank on. 
While come with adjustable cradles that can change their width to fit various wheel sizes, others have v-shaped cradles that can accomodate any wheel size. Adjustable cradles are generally more versatile- so long as you have the requisite hardware such as bolts and screws.
2) How Heavy Your Bike Is
While almost all the wheel chocks listed here are heavy duty, some of you with light motorcycles like dirt bikes may prefer chocks that go easier on the weighing scale (and in most cases, your wallet too).
Very few wheel chocks suit motorcycles of all weights, and depending on whether you want to store an FX5 or a Fat Boy, you need to factor the weight in accordance with the capacity, weight, height and durability of the wheel chock you're considering.
3) How secure the wheel chock is
This depends entirely on the build of the wheel chock and how many tie-down straps/ additional hardware you need to secure the motorcycle enough. Builds composed of heavy duty metals such as steel and aluminium are much better than the rubber found in basic wheel chocks.
4) If the wheel chock is prone to rust
A ship in harbor is safe- but it collects a lot of rust unless galvanized. And so do wheel chocks in your garage.
With the exception of extruded rubber chocks, wheel chocks are made of metals that are prone to rust when exposed to moisture for extended periods of time. Make sure that the wheel chock you buy comes with a powder coating that is anti-rust and anti-corrosion.
5) Cost
Cost is obviously a significant factor but we still recommend you evaluate how much the cut in cost is justified when compromising on the build/ sturdiness/ adjustability accordingly.
Higher pricing does not always equate to better quality- but better research can lead you to the right compromise between good pricing and good quality.