Look at the picture above. Carefully go through the details of both mirrors.  Note the differences between them.
Before you read the next paragraph, imagine yourself sitting on a motorcycle with just the mirror on top. Now do the same with the one at the bottom. Cover the other mirror with your finger if it helps.
It shouldn't take you long to figure which of these mirrors does a better job at being a mirror.
And that's because the mirror at the bottom is standard stock. The mirror on top is a convex mirror attuned to both the motorcycle and the person buying it.
Motorcycles have a reputation for danger. Everyone with a motorcycle has heard some variation of "Be careful!" by the people in their lives.
And this reputation is deserved, to a certain degree. In 2016, the NHTSA reported that when compared to cars, the death rate for motorcycle accidents was a whopping 28 times as much.
Due to this reputation, most riders have been paying heed to cover up more. Especially nowadays.
Key word being try.

Because the problem arises from the parameters we use to judge safety. We often overlook the things that are not as obvious as the other things. 
Ask Joe across the street what a rider should wear to keep safe before they do a cross-country. You're going to get a (predictable) cacophony of helmet, saddlebag, jacket. Maybe gloves. Boots if he's a little informed.
This answer is correct. But also incomplete. It misses many pieces of the puzzle.
One of these pieces is better motorcycle mirrors. Which also happens to be one of the most overlooked.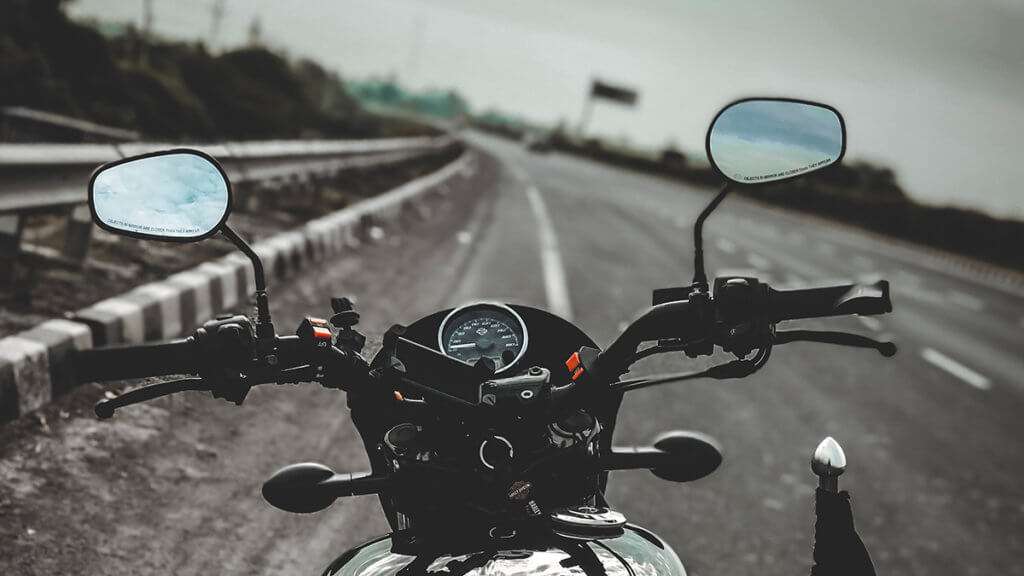 Despite how cheap and customizable most rear view mirrors upgrades are, people, don't get them due to a combination of a lack of awareness about better deals and the complacency you develop when putting up with crappy products over time. Motorcycle mirrors are often considered to be an extension of the motorcycle, not something you can and should upgrade.
We know that the pandemic's got you worried about your finances. But you can keep safe while being smart with your money. 
And you're reading the right article to help with both.
Because this article is going to help you find the best mirrors for both you and your motorcycle- some of which cost less than $20. 
Why You Should Get Your Motorcycle Mirrors Upgraded
1. Because they took damage
Breaking mirrors may not bring you 7 years of bad luck. But riding with broken mirrors might.
When riding, you're sharing the road with hundreds of other people. Most of whom are driving vehicles with at least twice the number of wheels beneath them, and many times the weight. Goes without saying that this warrants unwavering awareness of your surroundings at all times.
Which is why riding with mirrors in good condition is imperative. 
Just being aware of everything within eyesight won't suffice. You need to be aware of everything behind you, to your sides, and about to shift within and outside your blind spot(s).
2. For ergonomic reasons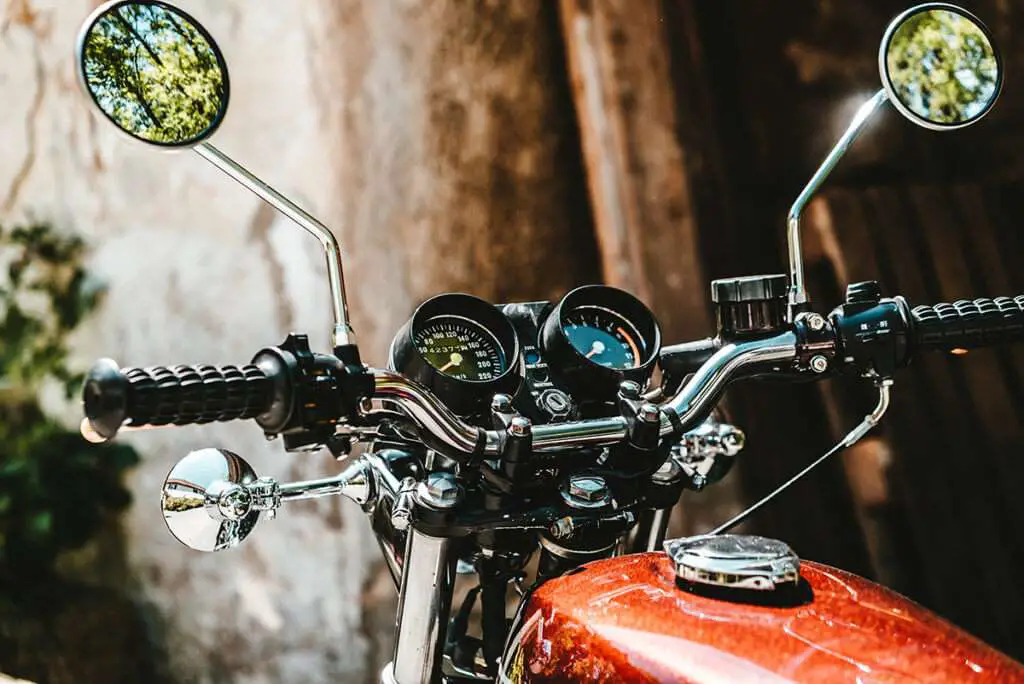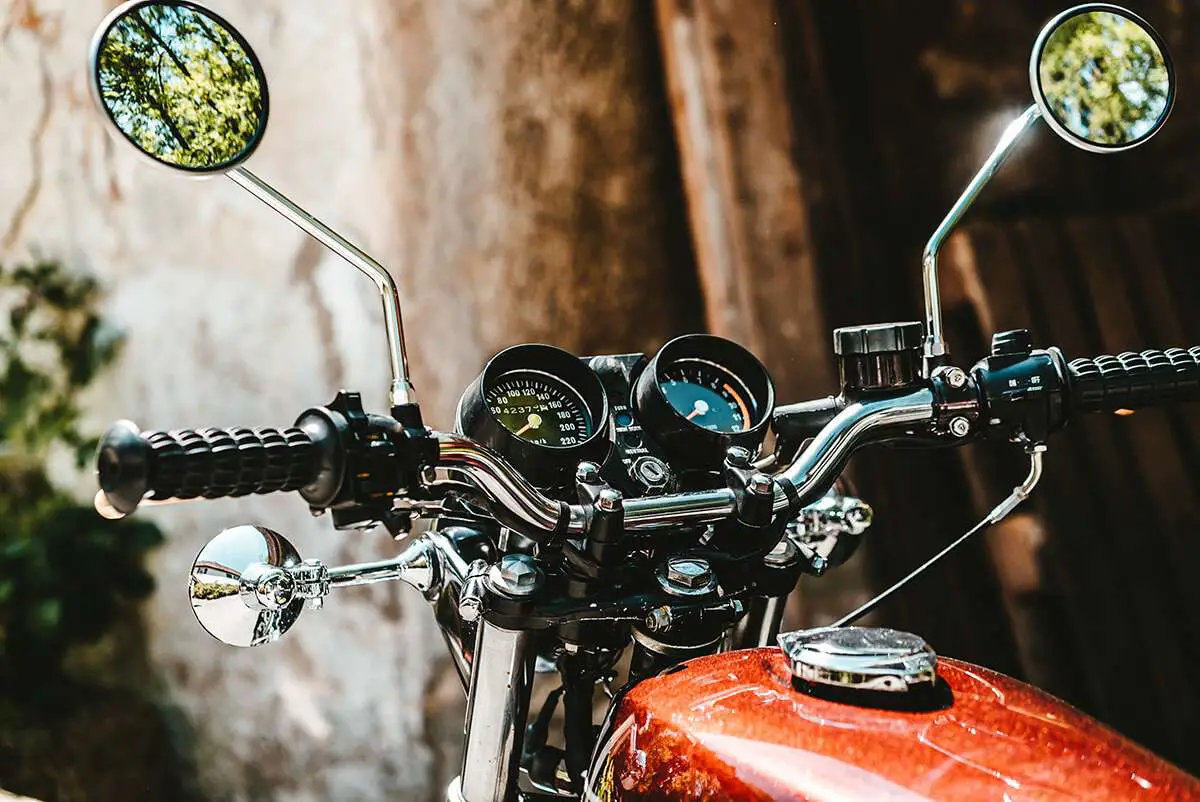 Handlebars on your mirror too short? You're not going to see past your shoulders. 
Too long? Unnecessary strain every time you check the mirror.
Takes a lot of the fun out of riding when you have to constantly swivel and adjust the mirrors to fit your field of view.
No mirror is a one-size-fits-all. But one that fits your size makes all the difference in the world.
3. Some mirrors look really badass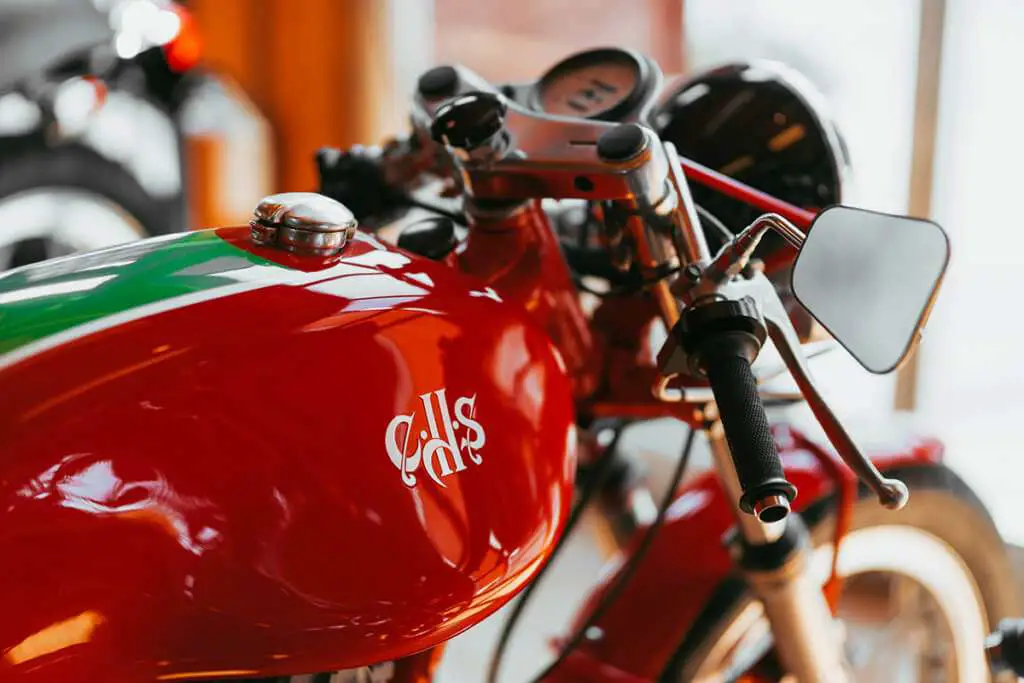 Aesthetics should never be your main priority when evaluating safety equipment. But it helps.
Ask any of your older relatives who used to ride motorcycles during the Bobber days. They'll let you know how much more badass your ride looks with chrome mirrors alone. 
4. Because they're (mostly) illegal to not have them in working condition
Many states mandate two working mirrors with at least 200 meters of rear-facing visibility. Some require only one. Others just require them to be in good condition.
We recommend you check the legality of your mirror with the DMV of your state. Customer service at the store you're browsing for mirrors in might know too. But in addition to this, we also recommend that you don't be an idiot and go with the mirrors that are the safest.
The 5 Best Motorcycle Mirrors
With a price tag below $20, a mirror like this is a steal. Without a doubt.
It's human nature to equate the lower cost to lower quality, but the MICTUNING Universal Hawk-Eye mirror is one of the wonderfully rare exceptions.
The mirrors being convex, the images are virtual and diminished (hence "closer than they appear"). These lenses are also of a large size- which means a wider field of view and little to no blind spots.
The "Universal" in the title refers to a universal fit. This means that the mirror can go with any type of motorcycle: Sports, Touring, ATV. One of the reasons being the ball-type connecting joint.
For the same reason, these universal motorcycle mirrors are also ambidextrous- you can swivel them in any direction. So don't be confused if your delivery package looks like you got two right mirrors.
Many stock mirrors aren't ergonomically optimized for wind drag. But the MICTUNING mirrors are designed with a streamlined shape, which cuts through easily. 
Adventure motorcycles suit both on and off-road riding. Which begets varying riding environments with unpredictable conditions. This requires mirrors that are both versatile and tough.
And with the word "indestructible" in its title, this mirror set by Doubletakes follows through.
If you don't believe me, watch this video. If you can concentrate all your strength on swinging a baseball bat at something and it takes no damage, that's a guarantee that it's going to survive almost any accident unscathed. 
That's the beauty of Zytel- a Dupont trademark. Zytel is a thermoplastic polyamide of Nylon 66 (among other copolymers). The material is renowned for its high strength, abrasion resistance and impact resistance. 
The length of the arms (6") means everything you need to see is visible. And changing the positions of these mirrors is a breeze- just loosen the screws with a half-turn and rotate to whichever position you want. One of the many perks of ball-joints.
But once you screw them in, the bars become stiff as hell- which means you have very little vibration to worry about.
90% of motorcycle mirrors for cruisers come with Harley Davidson applications. Not a bad thing, but for the rest of us with non-American Cruiser motorcycles that means limited options. Luckily, these mirrors by Hoosier Garage are a godsend for our Hondas and Kawasakis.
They're also ridiculously affordable.
In addition to these wonderful things, these mirrors also come with durable ABS construction and a thick steel frame.
Just like some of the other mirrors on this list, the ergonomic design is streamlined to deal with air drag. These wide mirrors also cover everything not within your peripheral vision.  
They're also incredibly easy to install.
Most conversations about motorcycle parts and riding gear often forget to include scooters. Which is strange because scooters are also two-wheelers.
Scooters and mopeds are only (and should only be) used for commuting purposes. Which means close proximity to other vehicles on the road. 
And the GOOFIT scooter mirrors (measuring 5 ½ X 3 ¼ inches) are perfect for such conditions. These mirrors also come with 360° rotation.
No products found.
No products found.
There's a reason the CRG Hindsight Bar End Mirror has the phrase "Lane Splitter" in its title.
Many states have laws permitting the practice of the subtle art of navigating between two lanes chock full of cars in a traffic jam. But with Bar End Mirrors, the width of the motorcycle reduces significantly, making this much easier.
For clearance, all you have to do is pull in the bezel of the mirror. When the coast is clear, fold the bezel back out. The mirror returns to its original position perfectly.
A cool thing about CRG mirrors is an in-built mechanism that retracts them upon contact with objects that don't move.
As is the case with some of the other mirrors on this list, the Hindsight Lane Splitter also uses convex mirrors. You have a clear view of your rear and sides, with no blind spots. 
The mirrors are 3" in diameter.
These mirrors are also tough as hell. Courtesy of aluminum billet construction, with precise CNC measurement to boot.
The CRG Hindsight Lane Splitter is considered to be one of the best Bar End mirrors currently on the market due to its innovative mechanism, precise design, large field of vision and durability.