The best gear is the gear you wear – so with that in mind, the 2 things to remember when shopping for motorcycle jackets with armor are: how much protection it offers (obviously) and how comfortable is it to wear. If you also end up with a good price it's a keeper.
One of the top concerns when having to choose any type of protective gear when riding a bike is: how will it feel? Aside from how you'll look wearing the full-body armor when you go in to pick up your coffee, protective gear has to be comfortable.
What's the point in buying expensive gear if you won't wear it correctly because it doesn't fit or even worse if you end up skipping it for "just a short ride".
What makes motorcycle jackets with armor safe?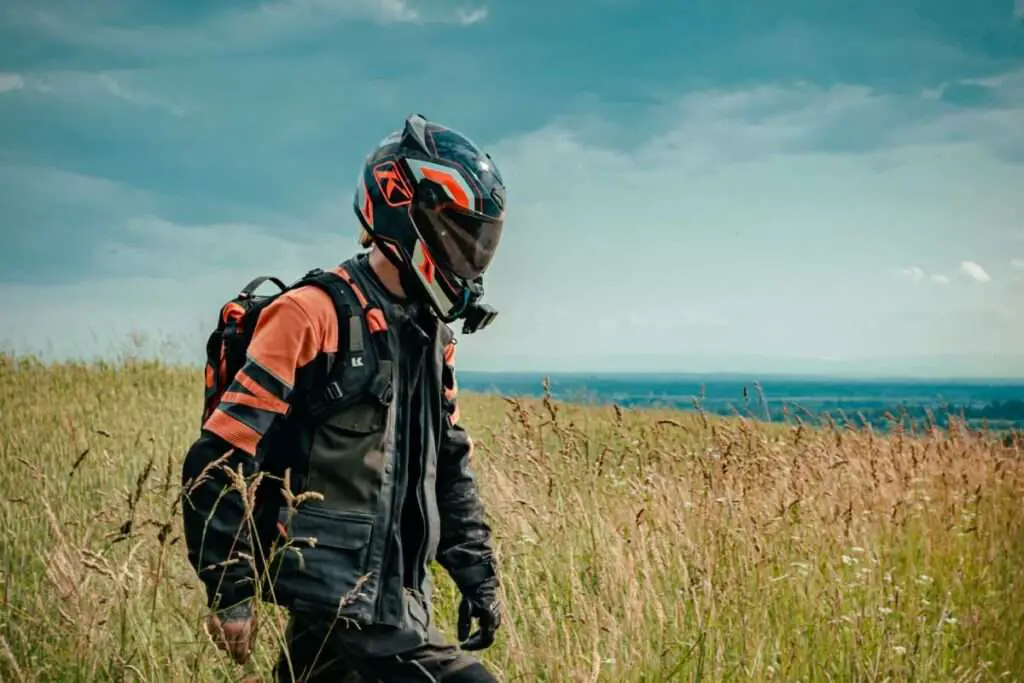 Mostly, it's in the name there: armor. Those are pieces of highly advanced materials that will absorb the shock if you fall (hopefully never) so that your body doesn't. They should also be stiff enough to prevent your bones from breaking. Especially the big one on the back should prevent tension from going on your spine.
How to spot good armor protection?
The main protective areas for most jackets are Chest, Back, Elbow, and Shoulder. For serious jackets, you will find individual ratings for the armor on each of the above areas. Without going into a lot of details in this article, I recommend them having a European rating as that is the industry standard for race tracks (even in North America).
Two main ratings you need to remember are:
EN 1621-1 – for any area that is not the back protector
EN 1621-2 – for the back protector 
Both of them have multiple indicators for things like abrasion, impact, etc with a rating of level 1 or level 2 – level 2 is always better. A good source for more information can be found in this detailed article on motorcycle armor ratings.
Can motorcycle jackets with armor be comfortable?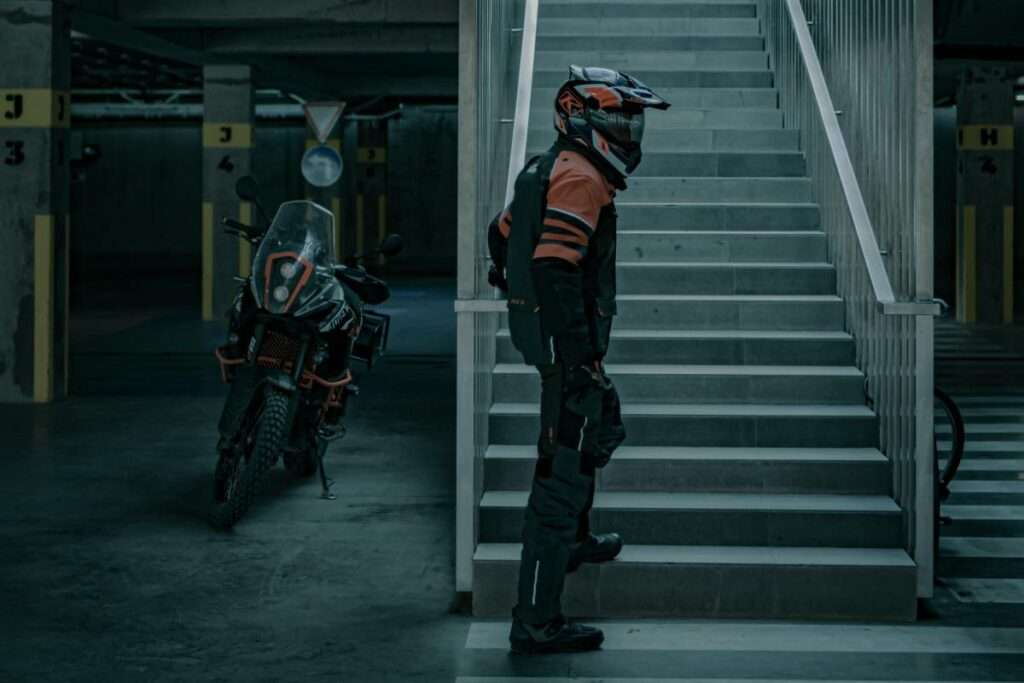 Because, as mentioned before, even the best jacket can't protect you if you're not wearing it (correctly or at all). 
Size and fit
Simple as that – if the jacket fits you well and is the right size for you, half of the job is done. Not only will that make you more likely to wear the damn thing, but the protection is also going to be superior.
Sizes can be deceiving, especially when shopping on the internet. What I like to do to reduce that risk is to check the reviews. I find that for most motorcycle gear that you wear you'll find someone complaining about the size or complementing a great fit. If you're lucky they'll also share the size they bought and their own dimensions. Take those with a grain of salt though – you were not there when they last weighted themselves.
Most manufacturers have a sizing chart you can use – the trick to those if you don't want to measure yourself is to find another sizing chart from a product that fits you well and compare the sizes.
Temperature control
This may not be a problem if you live in a northern area. For those of us who go through at least 3 months of hot summer, it's very important.
Like I mentioned before, it's important to wear the jacket as it was intended to be used. If you have to open the main zipper cause you can't take the heat, well, you can imagine it's not going to help with protection if the jacket falls off.
Some jackets achieve this by using special materials that "evacuate" sweat. This keeps you cool & dry. Most jackets will attempt to improve the cooling function using some kind of airflow. Key features took for: ventilation and wicking fabric.
Recommended jackets
After some thorough research, we have 3 recommendations for you that fit the above criteria well. If you looked around already, these are not going to be a big surprise as they are some of the most popular motorcycle jackets with armor but for good reason!
Top pick: Leatt 5.5 Body Protector
While this is not the absolute top best-seller for this category of products, it's definitely our favorite. Not from an underdog position really but having a lot of features. The price is aligned with similar products so it's not really a steal.
Favorite features:
Can be worn under a shirt – great protection and you'll look super fit.
Keeps you dry with MoistureCool and AirMesh wicking fabrics. Bonus: 53 ventilation slots!
Level 2 chest and back protection – reminder: it's better than level 1.
2nd pick: Alpinestars Bionic Tech V2
This one may just be the bestseller when it comes to light armor jackets. It seems to have it all: great protection, breathability, lightweight. The one thing you have to watch out for: it may be a bit difficult to find the right fit, multiple users reported they needed to go up one size.
Another thing that annoyed some is the "cheap" feeling for the stitches/zippers. At this price point, you'd expect the highest quality. Hopefully, this is just a feeling when touching/looking at the materials and it doesn't affect the safety features.
3rd pick:Fox Racing Titan Sport Jacket
The third pick on this list is considerably cheaper – you might save over $100 compared to the first to recommendations. It's a very appreciated product – especially considering the price.
The main reason it's last on this shortlist: the protection is not as good as the others. The design seems to be a bit outdated, the first version being over 10 years old. Some things you should look out for: the arms run a bit long so some riders might have issues with the fit of the elbow pads.
In the end, it definitely beats not wearing protection – so if you can't afford the first 2 options definitely go for this one.
Conclusion
When it comes to jackets, they are kind of the minimum aside from your helmet. That's why we think you should have a flexible armor option for all seasons.
As with all protective gear: don't skip it. And if you pick up new items make sure they are comfortable. You don't have to break the bank to get decent protection but if you can afford it – better protection is worth it.